Travelling doesn't mean you need to compromise on looking good as long as you prepare for your trip with the right styling tools.  While there are certainly worse problems then a bad hair day, a string of them can leave us feeling less confident and even downright cranky.  And everyone wants to look their best in the photos you took to capture an amazing trip that you will want to share with your friends and family.  The right hair dryer is the first step is ensuring your locks look their best for your travels.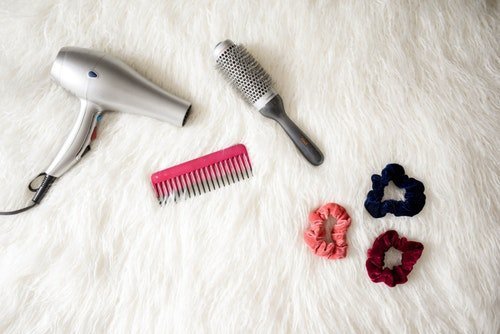 While you might be tempted to leave your hair dryer at home to save precious luggage space, that could be a gamble.  While a hair dryer is considered a basic amenity in U.S. hotels, it's not always the case. When traveling internationally– especially in moderately priced hotels or vacation rentals – hair dryers may not be available at all.
If they are available, there is no way to know what quality the hair dryer will be or if it will even be effective.  And having to rely on drying hair naturally is not ideal especially in humid, wet or cold weather conditions. The solution is a good travel hair dryer that is portable and works well.
So, what to look for in a travel hair dryer? First, make sure you have a dual voltage hair dryer (120 and 240 volts) so it will work in all locations.  Note: you will still need the appropriate adapter to plug it in but you won't need a converter if you have dual voltage. Most appliances will need to remain in low setting at the higher voltage but should still work well. 
Secondly, you want it to have adequate power to be effective but be light and compact in your luggage. Lastly, make sure it works for your particular hair style and concerns with similar features to your daily dryer so you can get the results you're used to at home.  So if you rely on a diffuser at home to smooth your curly locks or a cool set button to hold your style, search for the same features in your travel dryer so you don't end up frustrated with the results while on the go.
We've rounded up our top recommendations for dual voltage travel hair dryers :
Best Dual Voltage Travel Hair Dryers
Baby Bliss Pro Nano Titanium Travel Dryer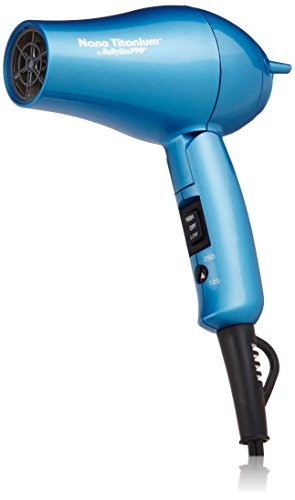 The Nano-Titanium Travel Dryer is compact and lightweight with a foldable handle so a great space saver in your luggage.  It has a 1000-watt motor making it a good compact dryer for shorter or fine hair but the two settings might lack high power for thick, wavy or long hair.  The Nano titanium technology creates ion-generated shine.
Pros:  
Super compact and light with foldable handle

Nano Titanium technology for natural ion-generated shine

Two heat settings
Cons:
No cold setting

Some reviewers found it takes too long to dry hair so might not be best for thick/long hair

The higher setting not hot enough for all hair types
Conair 1600 Watt Compact
Dual Voltage
Travel
Hair Dryer with Folding Handle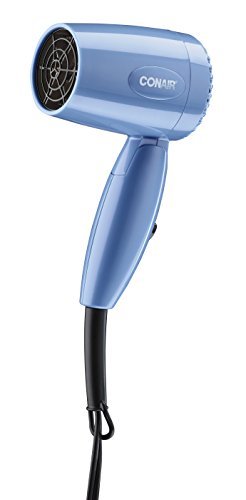 This Conair 1600 watt dryer is a great choice for travelers that are short on budget and space – it's super compact, lightweight and reasonably priced. With two speed and heat settings, it's small but packs a punch for the size with two heat settings and an easy to handle design.
Pros
Lightweight and compact model

2 heat and speed settings

Easy to handle design
Cons
Switching voltage button can be difficult

It can get hot to handle

Some users felt it was louder than average
Jinri Travel Hair Dryer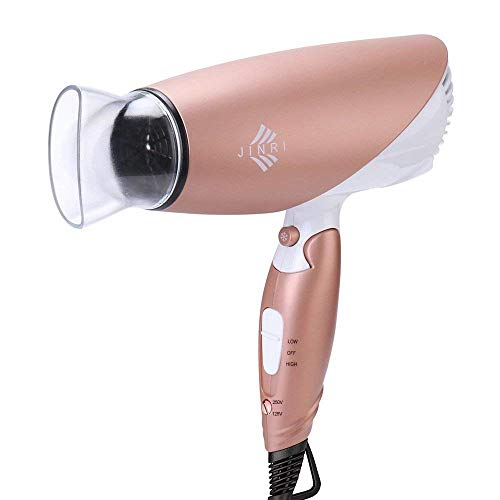 This hair dryer by Jinri is equipped with a ceramic tourmaline air outlet to achieve professional hair care while reducing frizz and adding shine. It's more powerful than some of the super-compact models as it's slightly bigger so it's a trade-off but a good choice for those with thick or long hair who need additional power in their styling tools.
Pros
Removable concentrator

Swivel cord with hanging loop for easy storage

One year replacement and two-year warranty available
Cons
Some reviewers felt the concentrator did not stay put

Voltage button can be challenging to turn

Not as compact or light as some models
Revlon 1875W Compact Travel Hair Dryer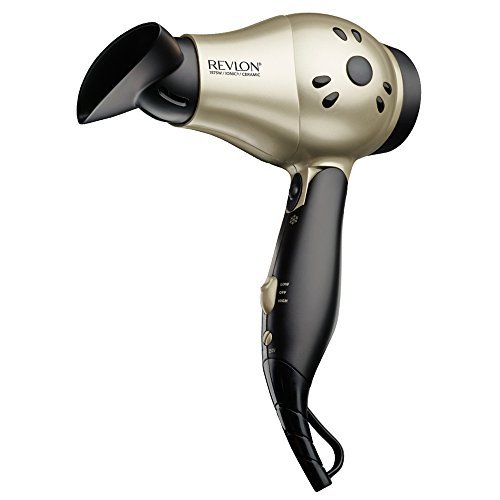 Achieve a great blowout on the go with this compact Revlon dryer built with triple ceramic and ionic technology which is said to reduce hair damage and unwanted frizz and give smooth and shiny results.  The foldable handle tucks into your luggage and saves space.
Pros
Light and compact model

Foldable handle to save space in your luggage 

Iconic technology for a smooth gorgeous blowout
Cons
Some reviewers felt it was loud

Attachment tends to fall off when using

Voltage setting can be difficult to change
Hot Tools Ionic Travel Dryer with Folding Handle and Dual Voltage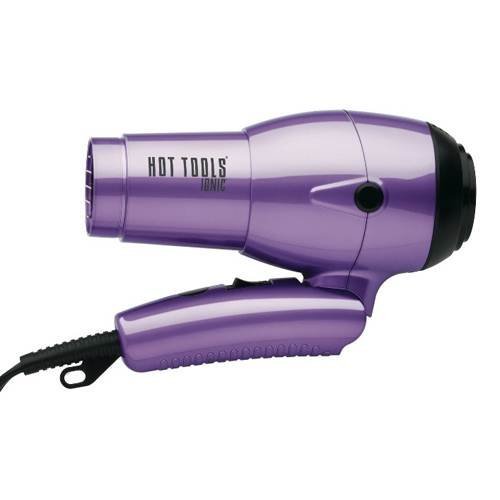 Get a smooth shiny blowout with this powerful yet compact travel dryer from Hot Tools.  It comes with a hard to find diffuser attachment so great option for those with naturally curly or frizzy hair who rely on a diffuser for styling at home and want similar results while on the road.  
Pros
Come with 2 attachments – diffuser and concentrator for different styling methods

Cool Shot feature for longer hold

Long cord for easy movement
Cons
Slightly heavier than some compact models

Some reviewers felt it was too hot to use with a diffuser attachment

Some felt it was too loud
Berta 1875W Folding Hair Dryer Dual Voltage Blow dryer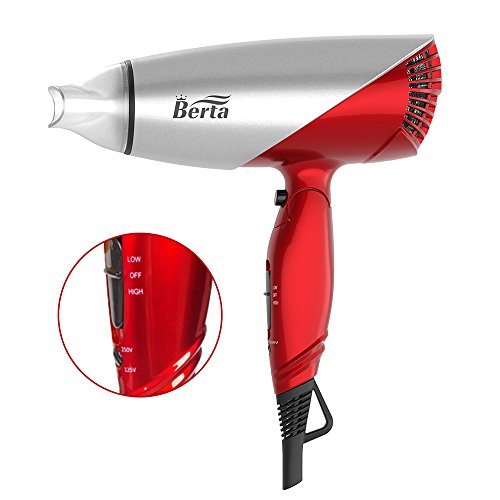 This Berta foldable hair dryer makes a great travel companion for gorgeous hair on the go. This dryer is a powerful tool for drying for even long thick hair and the tourmaline coated grill leaves hair noticeably shiny and sleek.  The foldable handle tucks into your luggage with ease.
Pros
Foldable model

Two heat /two-speed settings

Airflow concentrator
Cons
The nozzle has been reported to fall off

Not as compact as some travel dryers

Handle tends to heat up
ProVersa JHD71T Micro Turbo Dual Voltage Portable Hair Dryer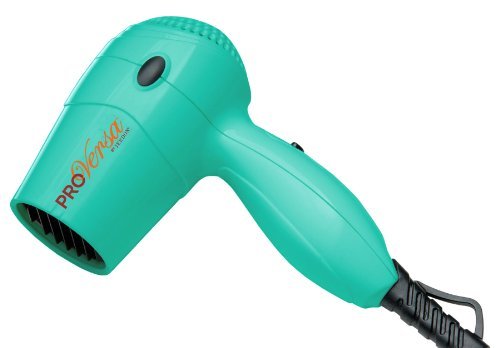 The ProVersa is the perfect travel companion with a compact design for travelers with limited luggage space but with the power of a larger dryer for salon-style results.
Pros
Lightweight and compact

Easy to handle

Dries hair fast
Cons
No cool setting

Prone to overheating due to small size

Short handle 
Andis 1600-Watt MicroTurbo Dual Voltage Hair Dryer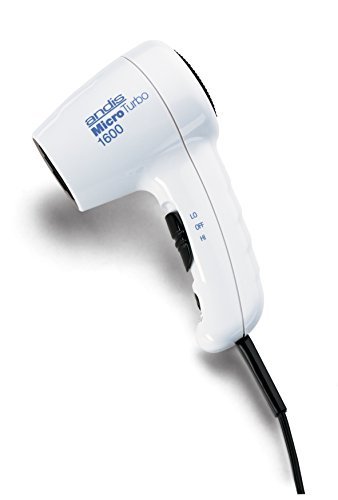 Don't let the small size of this compact dryer fool you – it boasts plenty of power in an easy to handle space-saving design.  Reviewers loved the compact yet powerful model for beauty on the go.
Pros
2 heat settings

Quiet fan

Compact design
Cons
No cool shot

No attachments

The low speed is too low for some reviewers
VAV Negative Ion Travel Dryer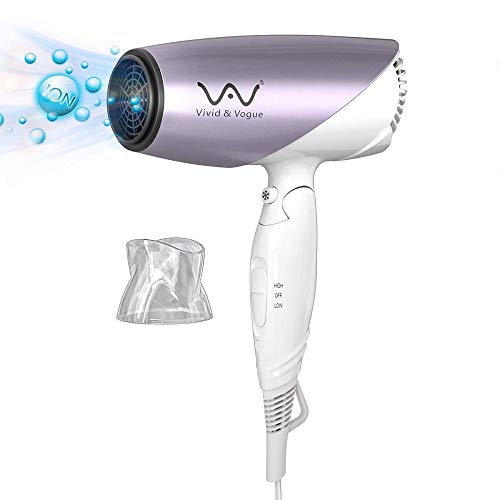 This lightweight travel companion using ceramic technology and negative ions to create a healthy shiny blow out that reduces frizz and leaves hair sleek.  Negative ions work to dry hair faster reducing frizz and providing results you would expect from a trip to the salon.
Pros
Has 3 heat settings in addition to low and high speed

Includes cool shot button which helps hold a style

Has a concentrator attachment
Cons
Some complaints about the noise level

Low setting not high enough for some

Challenges with foldable handle
Pro Dual Voltage Hair Dryer 1875 Watts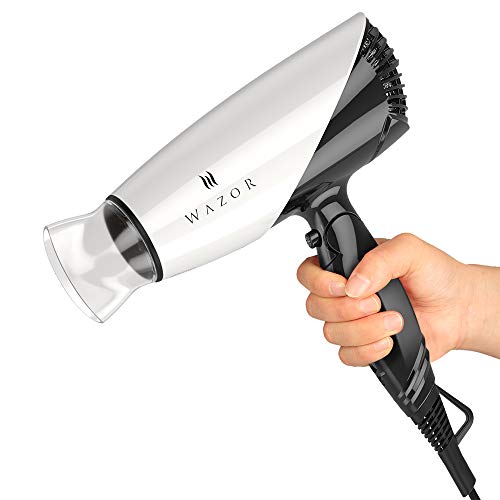 This Wazor Professional model has a negative ion charge which enhances shine and smooth hair and reduces frizz.  The dryer comes with a narrow concentrator attachment which is ideal for styling hair straight and sleek.
Pros
DC motor is lighter and quieter

Easy-grip design makes it easy to handle

Narrow concentrator attachment
Cons
Larger than super compact models

Hot to touch

Voltage switch hard to turn
DAN Technology D29 1200W Mini Travel Hair Dryer with Diffuser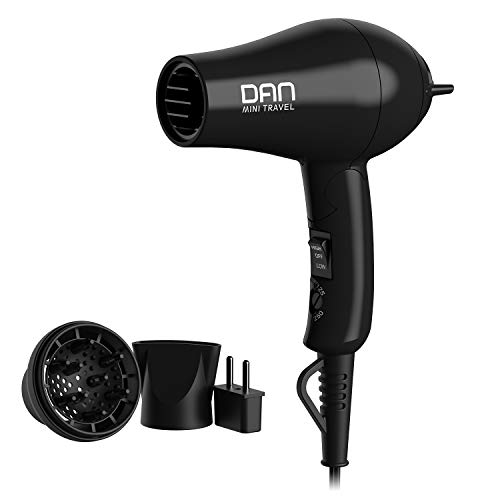 This is a lightweight model for styling on the move with lots of great features in a small package including two attachments – both a diffuser and a concentrator to style curly or straight hair beautifully.  
Pros
Two attachments which are hard to find in a travel dryer – concentrator and diffuser – for different hair types or styles

Includes a mini wrench to turn voltage dial

Lightweight – weighs just under a pound
Cons
No cool setting

Some reviewers felt it was too hot

Attachments are small 
Conclusion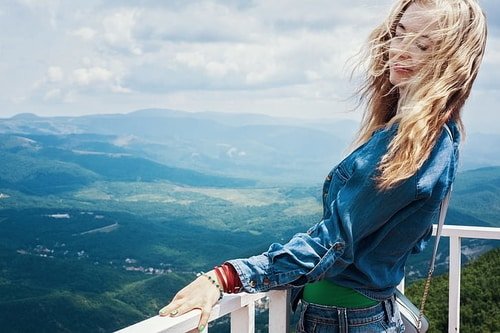 Keep your hair looking picture-perfect while you travel with the right style tools.  Ditch the bulky dryer you use at home and opt for one of these compact and portable dryers with dual voltage that will work anywhere you go.  Don't trust your locks to the hotel dryer which can be weak, ineffective and can even damage your hair while traveling.
Or you might find that a dryer doesn't even exist in some properties and you don't want to be stuck with dripping wet hair with no style.  As we have all experienced, looking good and feeling good are often synonymous when on the road. It's hard to have fun when you're having a bad hair day. And having the right products and tools that are packable are going to go a long way in making your trip enjoyable. Hair dryers are also handy tools if you need to dry any dampness out of wet clothes or a swimsuit before packing up again.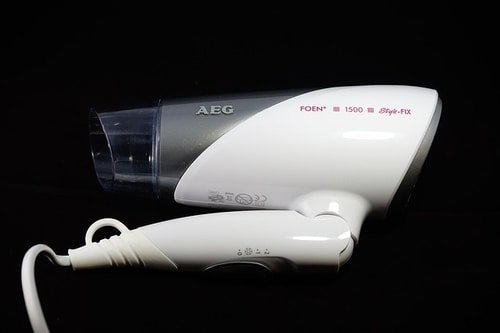 The most important element in a travel hair dryer if you are planning to travel overseas is to make sure the dryer is dual voltage so that it works in different countries.  You will still need an adapter for the countries you are travelling to – but the voltage will not be an issue. As with most appliances, the hair dryer will need to be on a low setting at the higher voltage or you could cause the dryer to burn out or have safety issues with it.  
Hopefully, this buyers guide helps you pick up the right styling tool for all your adventures and keeps you looking good on the run so that you spend less time worrying about your hair style and more time having fun on your trip.
Pin For Later