Two years ago, my boyfriend got a call in the middle of the night asking if he would like to move to Costa Rica for a couple of years to help a friend set up a business.
Oh, and why don't you bring your girlfriend, too? Well, it wasn't a difficult decision.
I had studied Spanish at university, so moving to a Spanish-speaking country really was a no brainer. And did I mention that it was the middle of January and snowing in England? My bikinis were packed by the time breakfast rolled around.
Costa Rica is one of the most beautiful countries in the world. With such a variety of things to do and great areas to stay, there really is something for everyone.
The majority of the land is designated as rainforest. It may be a jungle out there, but as long as you know where to go in Costa Rica, it's a fantastic opportunity to get into nature and have a great time while doing it.
You may also like: Making The Most Of Machu Picchu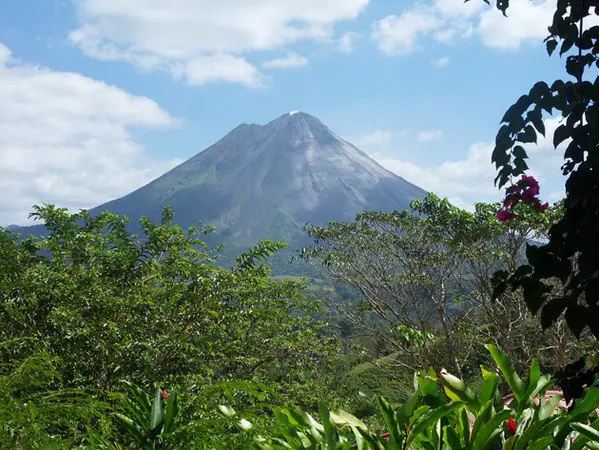 My recommendation for a great trip in Costa Rica would be to combine a volcanic area like Arenal with one of the main beach areas, such as Manuel Antonio, Guanacaste, Nicoya or Puerto Viejo.
Whether you are a pampered princess or more of a GI Jane type, you will not be disappointed. Almost every hotel across the country has a spa, and most around the volcanic areas specialize in natural hot springs and beauty treatments that embrace the nature around them.
Mix adventure and spa treatments at Volcán Arenal
Volcán Arenal, or the Arenal Volcano, is situated in the north of the country. There are lots of hotels in this area that offer quad-biking, hiking and zip-lining during the day, and amazing massages and chocolate and coffee body wraps in the evening.
Combine that with stunning views and you can't go wrong.
Near Arenal, the area of Monteverde, known as "a cloud forest in the sky," is a sought out destination for its high adventure activities. Fly through the rainforest on a zipline, explore the jungle on a guided quad bike tour or ride the rapids with a day of whitewater rafting.
Explore the beaches of Guanacaste
The main reason most people visit Costa Rica is its stunning coastline. From the north of the Pacific side of the country, you will find the beautiful beaches of Guanacaste, with delights like Playa Tamarindo, Playa Flamingo and smaller areas like Potrero and El Coco.
Guanacaste is a fantastic place, full of a great blend of international people. I was often tempted by this area as an option to get out of the capital city, San José.
Guanacaste has everything you need to fully enjoy life, ranging from huge luxury resorts to pretty vacation rentals, breathtaking beaches and an amazing mix of restaurants. This area is served by Daniel Oduber Quiros International Airport (known as Liberia Costa Rica Airport), making it perfect for a short trip straight to the beach.
Get in touch with your inner hippy on the Nicoya Peninsula
Moving slightly further south, you come across the cool bohemian areas of Mal País, Santa Teresa and Montezuma on the Nicoya Peninsula. These small beach towns are full of artists and surfers. The amazing views are something I will hold in my heart forever.
You may also like: Things To Do In Siem Reap 
Wondering where to find paradise in Costa Rica? Consider Manuel Antonio National Park
If you want to be closer to the landlocked capital city of San José, Jacó and Puntarenas are two areas full of great luxury hotels and condos.
Still, it's well worth heading slightly further south to find Manuel Antonio, which sits along the Pacific coast.
The nearby town of Quepos has great transport links including its own domestic airport and recently improved roads, making it a simple 2.5 hour drive from the capital city of San José. From the national park to the stunning beaches and scenery, Manuel Antonio is a region of Costa Rica that you will never want to leave.
Discover the sunny Caribbean side of Costa Rica
On the Caribbean side, Puerto Viejo in Limón is not to be missed. It has a really cool, laid back, hippy vibe and boasts some of the most beautiful beach areas in the country.
It is less built up and commercialized than popular areas like Guanacaste, but this place can really hold its own. It is also a good bet for finding sun during Costa Rica's rainy season (May through mid-November).
I have never been happier than I was when in a hammock on Playa Cocles with a Cuba Libre in my hand. It's the perfect place to relax. There are also some amazing national parks in this area, such as Cahuita and Parque Refugio Manzanillo. And to view sea turtle nesting sites, travel further north to Tortuguero from June to September.
You may also like: Best Things To Do In Borneo
In fact, you will find stunning wildlife wherever you go in Costa Rica. From white-faced monkeys to sloths and huge iguanas, nature is right on your doorstep.
I never fail to be amazed whenever stunning red macaw parrots fly overhead together. And when a sloth crawled across the sand and climbed onto the sun lounger next to me in Puerto Viejo, I could not believe my eyes!
The colours of nature always astound me and Costa Rica is a country where you will find every single one, from the blue of the Caribbean Sea to the green of the rainforest and the orange of a toucan's beak. Costa Rica is a place to enjoy, relax and be amazed all at the same time. 
All photos property of and by the author and used with permission.
Pin For Later