Hats are a great fashion accessory while also being really practical.  They protect your face from the damaging rays of the sun which is linked to premature aging and skin cancer.   With skin cancer on the rise, dermatologists recommend both a hat and sunscreen to protect your skin.
Hats are also a great way to hide a bad hair day or eliminate the need to style your hair at all on days you're just not feeling it (or if you forgot your travel hair dryer). 
A hat adds style to just about any outfit and can keep you cool on summer days. Whether your travels take you to the beach, city or outdoor adventures, there is no need to forgo a hat with so many great styles available on the market that are also packable.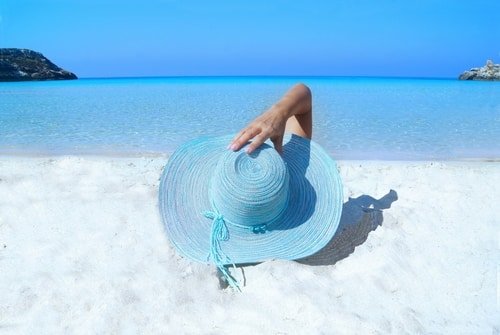 For sun protection, it's important to check the UPF rating (ideally 50+) and that the fabric is tightly woven so that the UV rays don't penetrate the fabric -avoid see-through straw hats). You might want to consider other features in your packable hat, depending on your travels and what adventures you are planning. 
For example, if you are including beach time, water adventures or a rainy destination, you may want to consider a waterproof or quick-dry option.  If you are going to be active or in windy conditions, a string to keep the hat in place Is a great feature.
The team at Travel Belles has rounded up our favorite packable hats for your next travel adventure.
Best Packable Sun Hats For Travel
San Diego Hat Company Ribbon Brain Had with 5" brim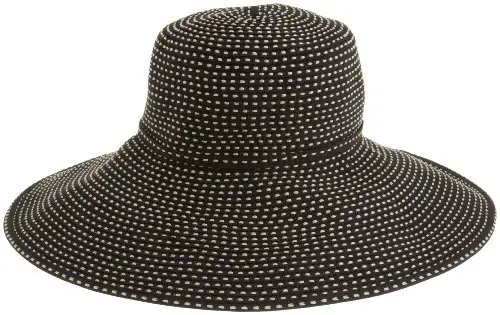 San Diego Hat company makes great packable hats in a variety of styles and color combinations.  A favorite is this black and white combination as the pattern is subtle enough to go with pretty much everything but it packs a good little punch to your travel outfits.  If you travel with a lot of black and white or neutral basics, this hat will top you off in style. There are other great color options available so pick what's going to complement your packing list for an all-around basic that you'll love wearing every day for city chic, poolside or a day at the beach.
Pros
5-inch brim for excellent coverage

UPF 50+

Ribbon bow can be adjusted for the perfect fit 
Cons
Thicker fabric – some felt it was too hot

Hat would take some time to dry if it got wet

Some felt it ran too large
Furtalk Sun Straw Hat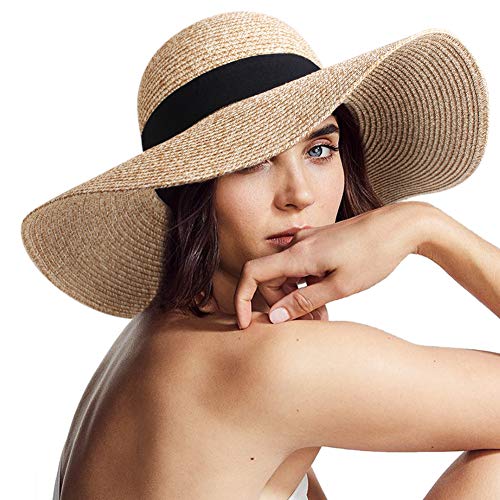 Floppy hats are trending and this beauty by Furtalk gives you the fashionable floppy look in a foldable fabric making it a great choice for a stylish travel hat. It features a wide brim and is made of a tightly woven straw which provides some breathability for your head while still providing good sun protection with a UPF rating of 50+.
Pros
Wide brim for sun protection (4")

Adjustable inner band to customize fit

The removable strap keeps the hat in place if windy
Cons
Some reviewers did not like the floppy brim look

Floppy styles don't hold their shape as well

Chinstrap not high quality
Lanzom Panama Roll Up Fedora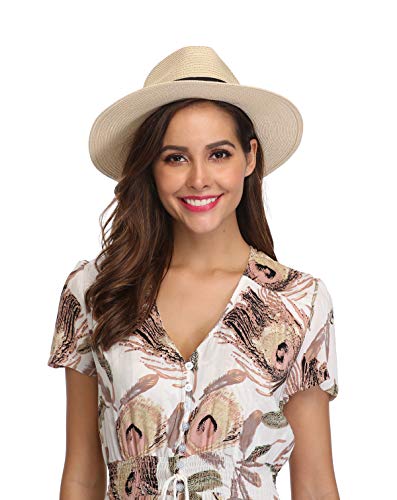 This classic fedora by Lanzom is a popular look that will accompany many different types of outfits – both sporty and more dressed up taking you from the beach to a night out in town.  This roll-up style also features UPF 50+ while keeping you cool and stylish in a light shade. Other color combinations are available in this style.
Pros
Excellent Sun Protection with UPF rating of 50+

Easy to wear Fedora Style 

Light-weight and breathable
Cons
Smaller brim – just under 3"

Some felt hat was too small for thick hair

Not suitable for water activity
Ordenado Boonie Hat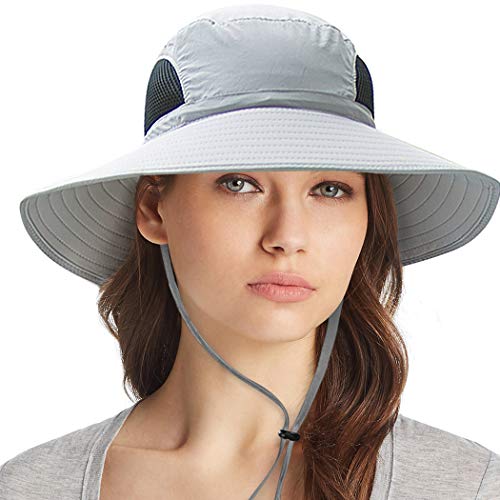 If you're planning any water sports this sporty hat is a stylish and practical option for both sun and water protection.  It comes in multiple color options and features a 4-inch brim to protect your face.
Pros
Sun and water protection

Adjustable chin strap

Mesh design keeps you cool and comfortable
Cons
The hat is not fully waterproof due to mesh sides

The brim is stiff and can't be shaped

More casual look than dressy
HDE Roll Up Sun Visor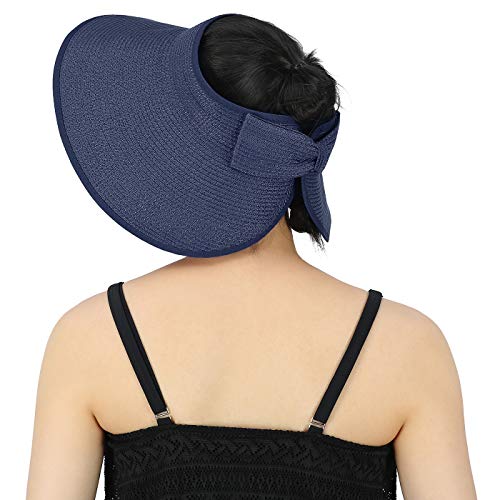 If you prefer a sun visor to a hat, this roll-up travel version has got you covered.  Featuring a wide brim and open-top, it's a great option if you like to wear a ponytail or pull your hair up or you just prefer to avoid hat head at the end of the day.  It rolls up easily into your handbag or suitcase so perfect for your travel adventures.
Pros
Great for a variety of hairstyles – ponytails, top knots, curly

Wide brim with 50+ sun protection

Rolls up easily and keeps its shape
Cons
Brim was too large for some reviewers

Brim is loose weave 

Some had issues with Velcro staying put
FaroDor Reversible Bucket Hat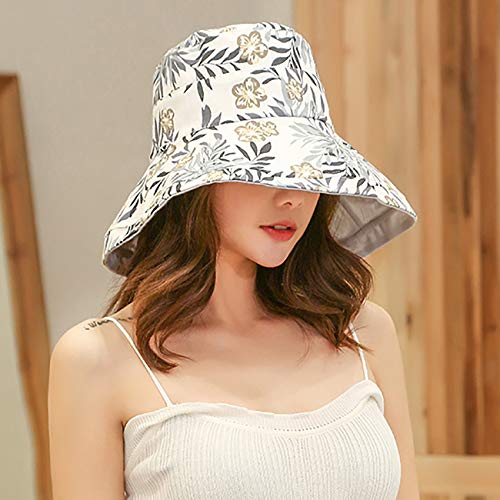 We're loving this reversible bucket style hat for its versatility – opt for the plain side when you need a good neutral topper and then style up a basic outfit with the fun pattern on the reverse side.  Perfect for extending your travel wardrobe with multiple looks and goes with anything from bathing suits to jeans to maxi dresses. The bucket-style hat can be worn straight down for more sun coverage or rolled back for a different look.
Pros
Good sun coverage

Versatile style

Washable
Cons
No chin strap

Not adjustable size
Some reviewers felt it didn't hold its shape when washed or wet
Wallaroo Victoria Sun Hat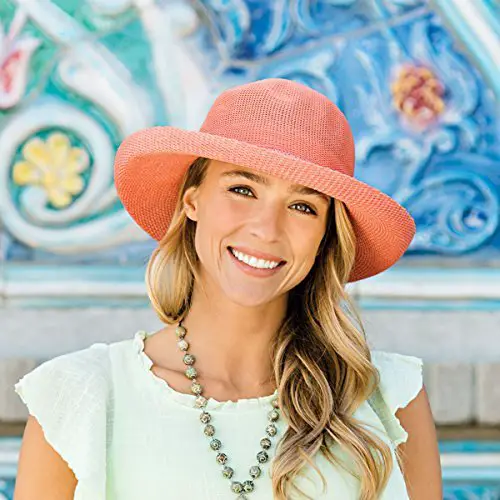 Leave it to the Aussies to perfect a sun hat with this packable classic style by Wallaroo Hat Company that comes in a variety of great color options and a 3.5" brim with a roll-up style that is easy to wear on the go.
Pros
Lightweight and stylish

Internal drawstring for sizing

Great color options
Cons
No chin strap

Some felt fabric was too stiff

Required hand washing
Sunday Afternoon's  Sunset Hat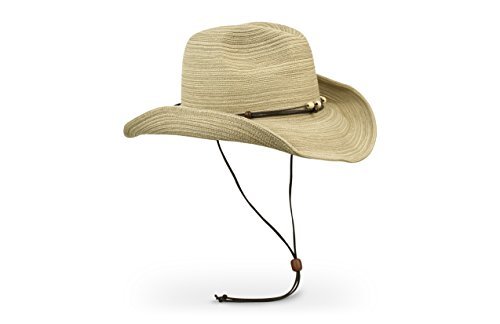 If your style is more cowgirl than city slicker, this hat by Sunday Afternoons is a fun option with beaded trim. The brim also features an interior wire rim so you can mold in different shapes.  It has a chin strap and the size can be adjusted.
Pros
Comes in variety of color options

Chin Strap

UPF 50+
Cons
Some felt it ran large despite adjustable sizing

Not suitable for getting wet

Polyester fabric not breathable
COOLIBAR. Marina Sun Hat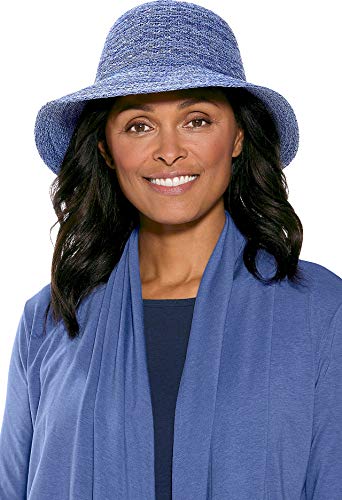 This Coolibar hat is rated UPF 50+ and comes in a variety of colors to match your travel wardrobe.  It's made in a lightweight breathable fabric making it great for hot weather making it a great staple for any adventure.
Pros
Lightweight and breathable

Packs well

Holds its shape
Cons
Polyester – needs to be spot cleaned

No string or chin strap

Not water resistant 
JANE SHINE breathable mesh hat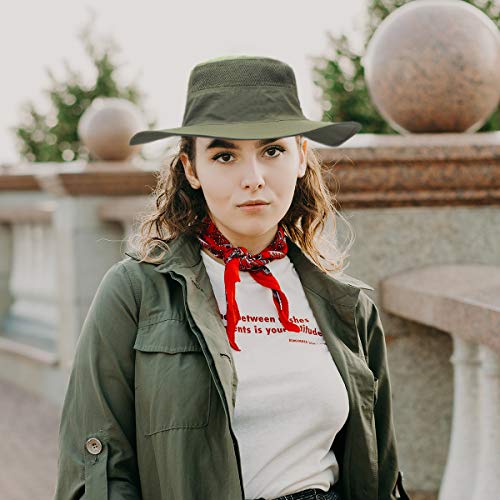 This is a classic hat by Jane Shine for safaris, sports or water adventures.  This breathable lightweight hat packs easily and keeps you cool.  It comes in a variety of colors and its classic style goes with just about anything and keeps you effortlessly stylish on any adventure.
Pros
Breathable mesh top and the inner cotton band keeps you cool

Adjustable drawstring for flexible sizing

UPF 50 rating
Cons
The brim is not stiff, some found it floppy in the wind

Polyester material – not machine washable
What to look for in a packable hat?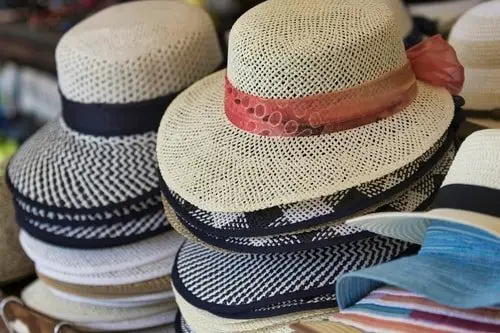 Firstly, sun protection – sun clothing is rated with a UPF rating (Ultraviolet Protection Factor).  UPF ratings indicate how much of the Sun's UV radiation is absorbed. The Skin Cancer Foundation recommends a UPF rating of 30-49 for very good protection and 50+ to be considered excellent protection (ie. only 1/50th of the harmful UV rays will penetrate the material.  
| UPF Rating | Protection | % UV radiation Blocked |
| --- | --- | --- |
| UPF 15 – 24 | Good |      93.3 – 95.9 |
| UPF 30 – 49 | Very Good |      96.0 – 97.4 |
| UPF 50+ | Excellent |      97.5 – 98+ |
SPF (Sun Protection Factor) is the rating used for sunscreens and other sun products and measures the amount of time it takes for skin to redden in the sun.  Note that while wearing hats provides great sun protection, dermatologists recommend using sunscreen with SPF of 30+ in addition to a hat as the sun can be reflected onto your face especially on water or snow.
The best sun protection from a hat comes from any material that is tightly woven – if you can see through the material such as a loosely woven straw hat, it's not the best protection against harmful UV rays.  Your hat should ideally have a brim of at least three inches for best coverage. Three inches ensures that your face is adequately covered and should also shade your nose, ears and neck from the sun.
Pairing your hat with other sun protection clothing like long-sleeved shirts or pants is a good packing strategy. Check out our list of top recommended travel pants here.
Pin For Later