It's no secret that sunscreen should be part of your daily beauty routine for sun protection and anti-aging.  But many women are debating what's worse for your skin – your largest organ – using sunscreens that are full of chemicals or getting sun exposure. 
Fortunately, there are plenty of natural products on the market to alleviate that concern. If using natural mineral sunscreens on your face has you fearing that you'll be left with an unflattering white chalky tint, think again. There's plenty of great choices of mineral sunscreens formulated for your face with a light tint that will not only provide great sun protection but give you a gorgeous glow. 
Tinted sunscreen can be a girl's best friend combining a light foundation with sun protection. If you're looking to streamline your travel makeup bag, this is a winning combo. And with mineral sunscreens, you're protecting your face and the environment with natural ingredients. Don't forget to rub mineral sunscreens in thoroughly and allow time for ingredients to sink in.
And while sun protection on your face is vital, dermatologists also recommend wearing a hat and sun-protective clothing, so it's a good idea to double up your sun protection for all your outdoor travel adventures.
Related articles
The Travel Belle team loves these tinted sunscreens that are all chemical-free: 
Best Tinted Sunscreens For Your Face
EltaMD UV Clear Tinted Facial Sunscreen
Dermatologists recommend this oil-free tinted sunscreen with SPF 46.  It has a lightweight formula that glides on easily for a smooth glow. It's also recommended for sensitive skin and skin prone to problems.
Supergoop! Daily Correct CC Cream SPF 35
This formula acts as a foundation, corrector, and sunscreen all in one, making it a winner for sun protection on the road. It comes in 4 shades to match skin tones and covers imperfections for a flawless finish while protecting your face.  SPF 35
Image Skincare Prevention Daily Tinted SPF 30+

This tinted moisturizer with SPF 30 boasts plant extracts and Vitamin E to give skin a beautiful healthy glow.  It has a sheer, lightweight formula that blends well while providing protection against harmful UV rays.
COOLA Mineral Suncare, Matte Tint Face Sunscreen
This mineral face moisturizer is lightly tinted and smooths skin with sheer coverage and SPF 30 protection.  It's unscented and made with natural calming ingredients, including rosehip oil and shea butter for hydration.
Australian Gold Botanical Sunscreen Tinted Face Mineral Lotion
This mineral tinted sunscreen has a powder-like finish that's great in hot weather – leaving your face feeling fresh, never greasy.  It's formulated with Australian botanical ingredients leaving you with a golden glow.
Raw Elements Tinted Facial Moisturizer
Packed with vitamins, minerals, and antioxidants, this natural sunscreen also comes in a travel handy tin that is plastic-free and re-usable.  Formulated with moisturizing ingredients including Cocoa butter, mango butter, and vitamin E.
Colorescience Mineral Sunscreen Brush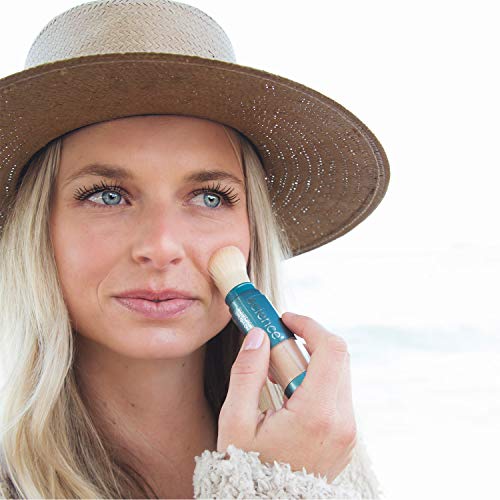 If you haven't tried a sunscreen brush, you need to try this handy tool, which provides both SPF 50 and light sheer coverage, perfect for hot sticky weather.
It comes in 4 shades for all skin types and is also gentle enough for sensitive or acne-prone skin.  It can be used alone or over your makeup so great for reapplying SPF throughout the day. Throw one in your bag for extra sun protection that's perfect for travel with a no mess, no fuss application.
Beauty By Earth Tinted Sunscreen
This natural lightweight formula comes in 4 shades and provides SPF 20.  It's made with anti-aging ingredients, including organic argan oil and coconut oil.
SUN BUM Tinted Face lotion
With a fresh coconut fragrance and SPF 30, this nongreasy formula glides on skin, leaving a sheer smooth foundation.  Good for sensitive skin as well. Sun Bum also made it on our list of top Reef-Safe Sunscreen.
BADGER Tinted Sunscreen
This natural SPF 30 lotion is lightly tinted for smooth coverage. Organic ingredients include seabuckthorn, Vitamin E, and sunflower oil for hydrating and soothing skin while providing natural sun protection.
Main Image Credit: cancer.gov
Pin For Later