Since you'll be using your purse every single day, you'll want to ensure it suits your travel needs so you're not stuck with a bag that's too small, too big, uncomfortable or weighing you down.
Things to consider for your perfect travel bag are the size that you'll need for your travels, the functionality and comfort of the bag and whether you need anti-theft protection for your trip.   A good travel bag is essential for any trip and you'll want to consider what best fits your needs before you set out on your next adventure.
Travel Belles team rate these bags as perfect travel companions for their form and function. We've included everything from cross-bodies and totes to hand-painted purses so hopefully, there's something on our list that fits your style. 
Best Travel Purses
Baggallini Everywhere Cross-Body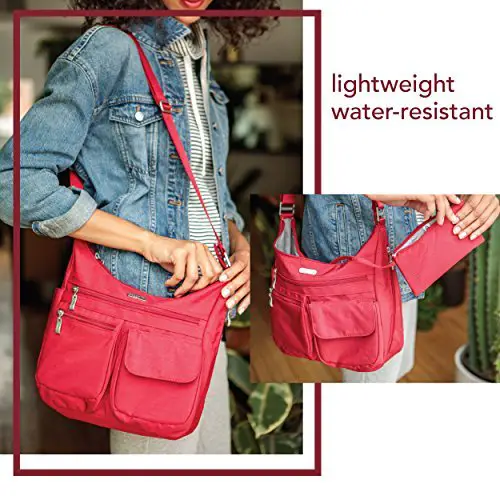 Baggallini bags are designed with travel in mind – these bags are made for adventures with features including RFID protection, organized interiors, luggage handle sleeve, zipped pockets and cross-body style.  This version is a classic hobo style bag that can go anywhere and is made of water-resistant nylon that comes in a variety of colors. If this particular style doesn't grab you, the brand has a wide variety of travel bags, backpacks and travel totes. Click here to see all their bags on Amazon.
Travelon Classic Crossbody
This is a great travel bag from Travelon as it sticks close to the body in a stylish shape without weighing you down.  There are plenty of pockets including two front pockets that lock for extra security and two pockets that have magnetic closures for items you want to keep conveniently close.
Charmore Women Travel Backpack Anti Theft Rucksack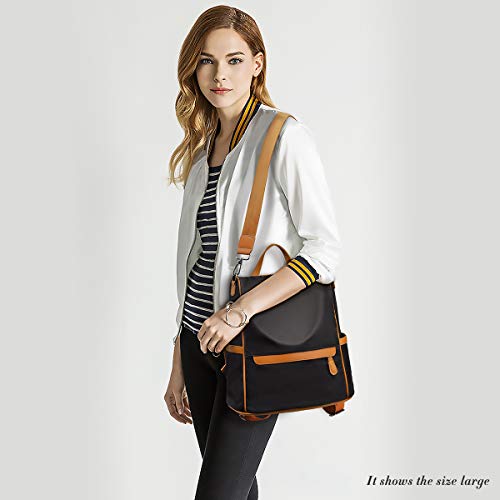 If you prefer a hands-free style, we love the versatility of this backpack, which can be worn on your back or simply converted into a shoulder bag.  It's made of waterproof nylon so no need to worry about getting it wet and has lots of pockets and storage. It's even big enough for your tablet or computer if you're travelling with larger devices.
Anuschka Handpainted RFID Blocking Travel Organizer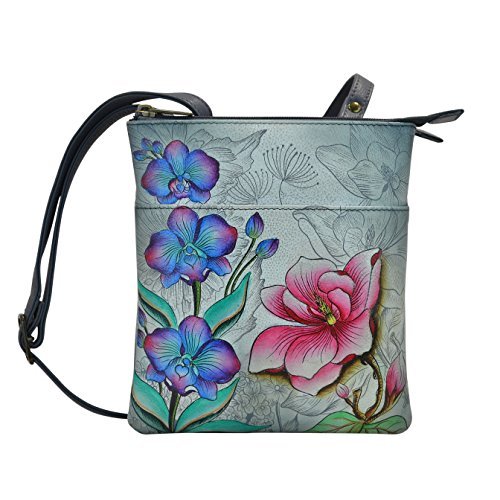 Read Amazon Reviews | See on eBags.com
Anuschka makes the most unique travel bags that we've seen.  Each one of these bags is hand-crafted from the selection of the leather is hand-painted design on each purse. Many of their designs are inspired by nature themes. While they are hand-made they are also very modern with many of the bags incorporating  RFID Blocking. The brand makes a wide variety of bags, totes, and purses and also has travel wallets and passport holders.
See the full line of Anuschka hand-painted bags on Amazon.com or shop direct on anuschkaleather.com 
Tumi "Just In Case" Tote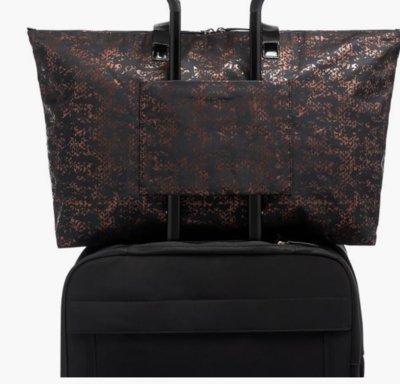 Tumi is known for making elegant travel luggage designed for the business traveler. This "Just in Case" tote is a perfect companion to your carry on luggage. The lightweight nylon bag measures 14″ x 23″ x 9″ giving you plenty of room to fit it with travel necessities but the best thing about this bag is that when not in use is how compact it is- it packs down into a small zipper pouch. The tote comes in 8 different patterns including several solid colors as well as a floral pattern so there are plenty of options.
The North Face Electra Travel Tote Special Edition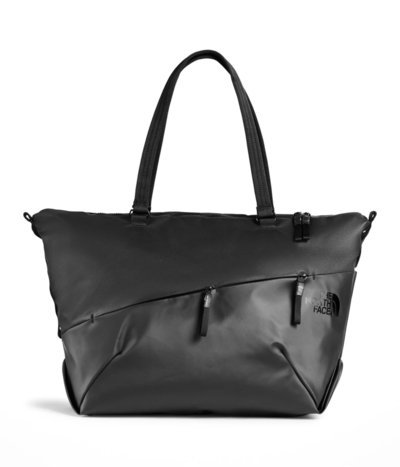 This sleek-looking travel tote from The North Face is very versatile. This rugged bag can be used for the gym but the design is elegant enough to fit in perfectly if you have after-work dinner or drinks. When it comes to travel, this tote has two internal hidden zippered compartments as well as two on the outside giving you plenty of options to store valuables in hard to reach places.  There's also a zippered divider on the inside of the bag that's perfect for separating dirty clothes from clean ones. Another plus in the travel column is that the straps are padded for added comfort and the shoulder strap can also be removed if needed. The tote is covered by The North Face Lifetime Warranty.
Mosiso Sling Backpack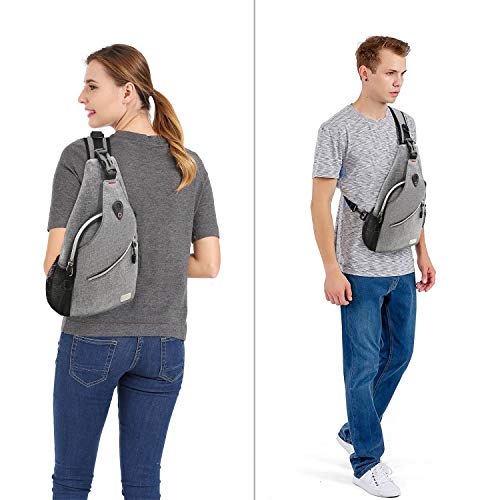 This pack from Mosiso can be worn in a variety of ways – as a backpack, messenger bag or crossbody.  It can hang from your left or right side. You can also carry it in front of you for high-risk theft areas.  It also has plenty of pockets to stash valuable and it made from water-resistant fabric.
OGIO Brooklyn Purse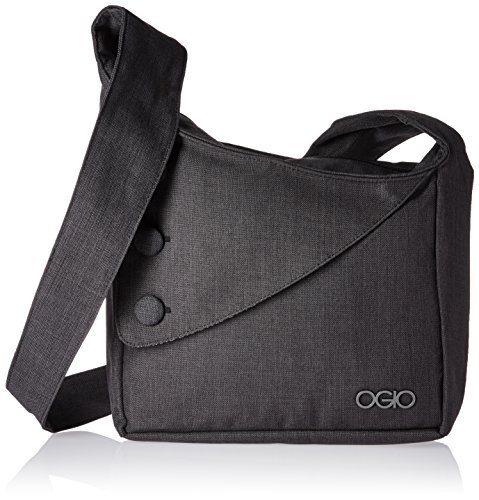 Read Amazon Reviews | See on Ogio.com
If you travel with a tablet, the Brooklyn Purse by Ogio is the perfect size bag with a special compartment for your tablet as well as two large compartments including a zippered section to keep your valuables readily accessible but safe.
Satchelli Crossbody Purse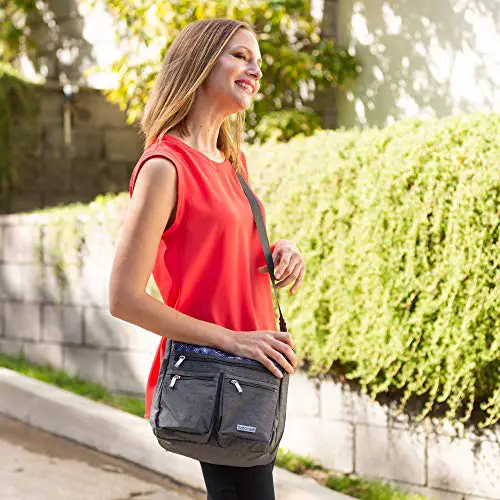 This travel purse from Satchelli has plenty of stylish features including an adjustable strap, a wallet that is removable with RFID technology so you can take your passport and credit cards with you separately.  And it also features a hidden luggage strap so you can transport it easily with your carry on luggage and keep your hands free.
Estalon Leather Crossbody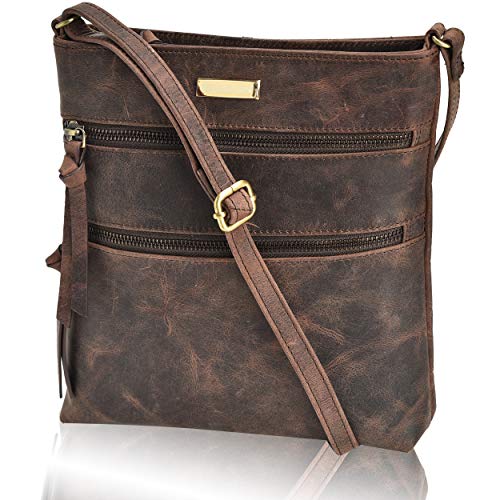 We love this leather slim crossbody bag which combines a vintage style with plenty of function. It includes three exterior pockets with zippers to keep items safe and one interior zip compartment.
Pincnel Nylon Backpack
This anti-theft backpack can also be converted into a shoulder bag with interior pockets including one for your cellphone, the main pocket and a back zipper pocket for easy access to your items.  It's large enough to hold a tablet or 13" Mac book and comes in water-resistant nylon to keep your items safe and dry.
COTOPAXI Del Dia Tote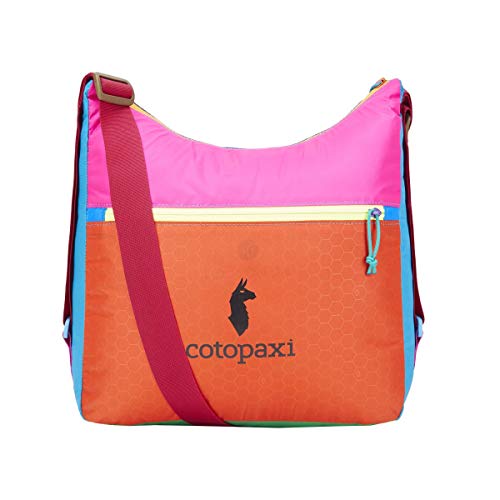 At Travel Belles, we support sustainable travel wherever possible and we love companies that use sustainable practices.  Cotopaxi focuses on repurposing materials and giving creative control to the makers –  so no two bags are alike in terms of the colors. See all Cotopaxi bags on Amazon or shop direct on cotopaxi.com.
Cotopaxi also has a give for good philosophy and gives a percentage of profit back into sustainable programs to alleviate poverty.  This is a unique bag you can feel good about and it's also fun to carry featuring bright colors, zippered pocket and cross-body style.
Buyers Guide
To pick the right purse, it's best to plan all the items you'll need to carry on a daily basis and then leave some room for the incidentals you invariably will pick up along the way.  Check out our essential items for long haul travel here. 
Size and function – Having a purse that's stuffed too full is the worst – we've all been there and it's not fun.  Your items should all have a home in your travel purse – ideally, in separate pockets that zip or lock so you can keep items safe and easy to access.  Consider if you'll be travelling with a tablet or computer as well as the size of your cell phone to ensure it fits in the purse pocket. And having an organized passport wallet is essential to accompany your bag (link to wallets)
Comfort – make sure the straps are adjustable and fit your body.  If your bag is too long, too heavy or the straps are not comfortable, it could weigh you down and stress your back.  80% of the American population will experience back pain in their lives and lugging a heavy bag around on one shoulder will probably increase your chances of ending up with a sore back – definitely not something you want on your trip.
Anti-theft – If you're going to destinations where you'll be jammed on crowded transportation or places that are known for pickpockets like Rome or Marrakech a travel wallet is a key to keeping your passport safe. You might want to consider anti-theft features on the purse you buy also. 
Bags are typically considered theft-proof when they have features to either delay or prevent theft.  Some anti-theft features include metal mesh lining to prevent a thief from slashing your bag open, cross body bags that you can easily hang on to and hidden pockets that zip or lock.  
Some bags also include RFID blocking technology that prevents scanning your credit cards and passport. This is extra protection against theft that is included in many travel bags.  Although our research shows that the likelihood of your information being scanned is very slim so RFID technology might be less important than the form and function of your bag but may be added protection for peace of mind.
Having the right travel gear will make your trip more enjoyable.  See related articles for travel wallets and carry-on luggage to help make your packing and trip organization easier and keep you stay safe and secure on the road.
Purse Brands We Love:
Anuschka: Luxury with a Conscience
For over 25 years, Anuschka has remained the only family-owned, designed, manufactured and distributed one-of-a-kind hand-painted collection at select boutiques across the world. They make a wide variety of travel bags from passport holders to shoulder bags and totes.
Cotopaxi
Cotopaxi makes sustainable clothing and luggage using recycled materials. The bran's creed, "Do Good" can be seen in the way they run their business, their products and the fact that this certified B Corporation, gives  1% of its profits toward addressing poverty and supporting community development.
The North Face
Since 1966,  The North Face has been making quality outdoor gear. The products last a long time and can take the abuse of international travel. They also provide a great lifetime warranty on many of their products. The company's mission statement it to: Provide the best gear for our athletes and the modern-day explorer, support the preservation of the outdoors, and inspire a global movement of exploration.
Tumi
Tumi is one of the top luggage brands that specialize in international business travel luggage and accessories. They put their products through 30 rigorous tests to make sure their luggage can withstand everything from sweat stains to saltwater. Founded in 1975 in New Jersey by Charlie Clifford after a stint in the Peace Corps in Peru, the brand now has 260 locations around the globe.
Pin For Later