Wherever your travel adventures take you, a comfortable yet stylish pair of travel pants are a necessity.  While denim can be a great basic for travelling light, they aren't always the most comfortable option for long haul flights or outdoor activities, especially in hot weather. And leggings or yoga pants are comfortable but generally not dressy enough for a night out on the town. 
The ideal travel pants are versatile and are both fashionable and functional. Look for something that can be comfortable if you're on a long-haul flight or hitting hiking or biking trails but can still take you to dinner or meeting up with new friends in style.
The best pants are lightweight yet durable and are comfortable for any activity.  There are lots of great options that provide quick-dry fabrics if you need to wash and dry your pants along the way and help minimize your wardrobe.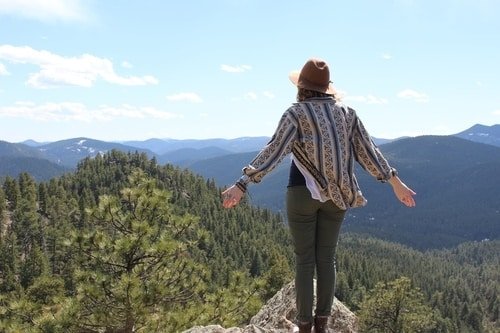 Other great features to look for are zippered pockets to stash valuables. If you choose a neutral color such as black, grey, or navy, they can easily be dressed up by swapping shoes or tops in the evening or adding an accessory like a scarf or necklace to take them into the evening.
The team at Travel Belles recommends these pants for finding your perfect travel companion.
Best Travel Pants For Women
Prana – Women's Brenna Pants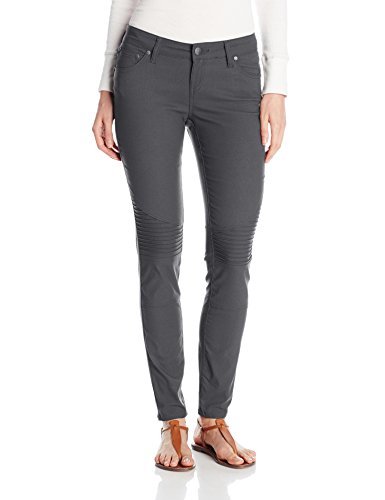 Read Amazon Reviews | See on Prana.com
These are a great go-to pant that can take you from the trails to dinner in style with an edgy flair.  These are a more fitted moto-style pant that works well for women who prefer the style of skinny jeans with a mid-rise. They're made from water-repellent nylon with stretch that provides comfort and moves with you.  The quick-dry fabric makes them easy to wash and dry along the road.
Prana – Halle Roll-up Pants
Read Amazon Reviews | See on Prana.com
Another great travel pant from Prana, with a more relaxed fit than the Brenna Pant.  The Halle pants also roll up and snap to convert into capris – perfect if you are exercising outdoors, hopping on a bike, or just relaxing in warm weather. Then roll them down to take into the evening hours – they feature a slight boot cut bottom when long.  The fabric is a quick-dry stretchy fabric that is water repellent and also offers sun protection with a UPF 50+ rating. An all-around great travel pant.
Columbia Women's Just Right Pants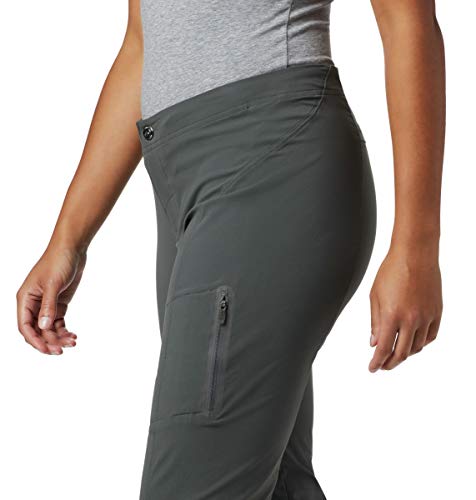 Read Amazon Reviews | See on Columbia.com
If you're looking for a lightweight pant that can take you from the hiking trail into dinner, these are perfect. Dress them up or down, they're great for travel as they are lightweight but durable and dry quickly if you need to wash them on the road.  They shield you from the sun with UPF 50 and have a bit of stretch to move with you. There is a small zippered pocket to stash your valuables as well.
NONWE Hiking pant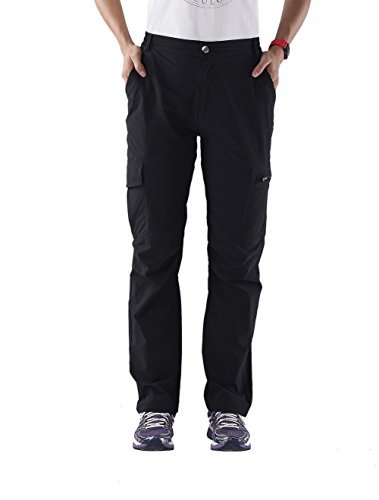 These sporty pants provide comfort and mobility with a partially adjustable waistband and a regular fit.  They have multiple pockets, including a cargo pocket with a zip that's large enough to hold your valuables like cell phone and keys while on your adventures.  They're made from a lightweight but durable fabric that's also water-resistant.
Columbia Saturday Trail Pant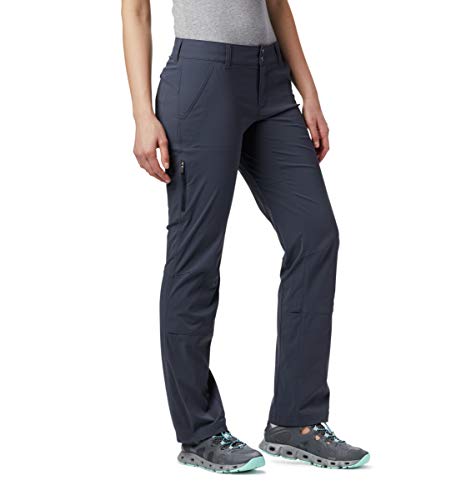 Read Amazon Reviews | See on Columbia.com
Although these are designed specifically for hiking, they have a flattering fit that allows them to work off-trail as well. The fabric is water and stain repellent, making them an excellent choice for multiple wears – and they include UPF 50 sun protection.  They feature a partially elastic waist making them super comfortable as well as a roll-up leg for converting into capris in the warmer weather. They're plenty of pockets to hide your valuables – including two side pockets and two back pockets.
MIER  convertible cargo pant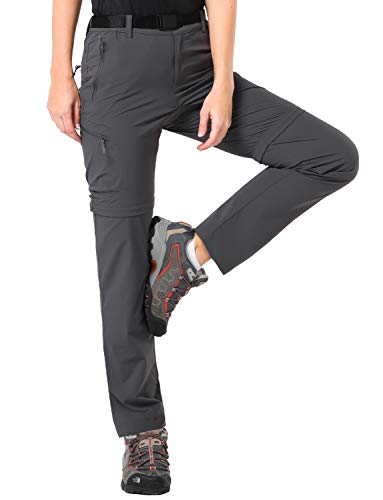 These sporty cargo pants feature zip off legs to convert into shorts with a 9-inch inseam, making them a versatile option for sporty travels.  They are made with a blended fabric that is water-resistant and quick dry. They also feature a partial elastic waist, removable belt, and functional pockets to hold your essentials.
Lole Travel Pant
These essential travel pants are lightweight with enough stretch to hold their shape and keep you comfy and stylish on your travels.  They feature two zippered hand pockets and two back pockets for storage and come in a quick-dry fabric.
OUTDOOR RESEARCH Voodoo Pant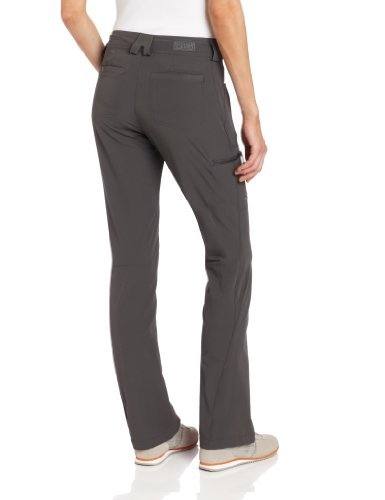 These are technical pants that have enough style to take you from the day to night. With a convenient slim cargo pocket that is big enough to hold your passport, these are perfect travel companions.  They are wind and water-resistant in a lightweight, quick-dry fabric.
North Face Aphrodite Pant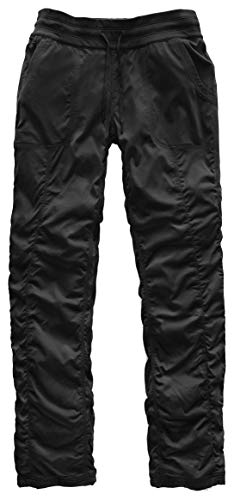 Read Amazon Reviews | See on NorthFace.com
This sporty pant features an elastic waist with drawstrings at the waist and ankles.  The ruching along the legs lends to a flattering and comfortable fit. The fabric has enough stretch to move with you and quick dry for washing on the go.  They also feature plenty of pockets, including a large zippered pocket to hold your valuable.
Shopping Tips: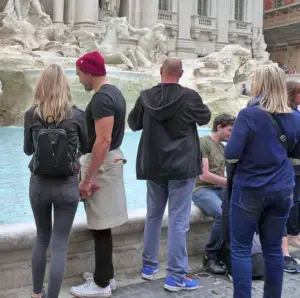 Here is a recap of what to look for in a good pair of travel pants. If you decide that one of our picks above works well for you we've got you covered since all of the options above passed the test but these are the things to consider if you continue shopping for pants elsewhere online or in stores:
Avoid 100% or Denim: While cotton is comfortable to wear, it soaks up a lot of moisture (i.e. sweat) making you feel hot in sticky, especially in hot and humid destinations. According to some studies cotton can hold over 27x its weight in water and you'll often hear hikers and backpackers say "cotton kills" because wet clothes can become a major liability in extreme cold. While this isn't a major concern unless you are going on an extreme adventure vacation, just having wet clothes that you can't dry in your hostel or hotel can be annoying.
Breathable: Feeling comfortable while you travel is key. Spending all day walking a beautiful city like Rome or Seville on a sunny day can be a wonderful experience but doing so in sticky, sweaty clothes with a backpack sticking to your back can ruin the experience to a certain degree. Wearing clothes that keep you cool and dry and comfortable are key.
Quick-Dry: Many hotels, hostels and even Airbnbs in some countries don't have clothes dryers so you want a pair of pants that can easily be dried over-night just by airing it out by a window, in front of a fan or near a radiator. Most of the pants selected above are just that, they're designed for hiking and don't hold much moisture at all.
Neutral Color: While you may love the feeling of wearing bright cheery colors in your everyday outfits when you're traveling it's just more practical to simply and use muted colors. Neutral colors are much more flexible as they go with pretty much any other piece of clothing, shoes or accessories you are wearing. Black, grey or dark blue or can look elegant and blend in more whether you are going out for dinner in the city or visiting a church or mosque and don't want to offend the locals or draw unnecessary attention to yourself.
UPF 50: In this day and age, we're all aware of the dangers of the sun. While almost everyone uses sunscreen, we don't all think to wear sun protection clothing when we travel. Fortunately, there are so many clothing options on the market now that incorporate UPF that it's no longer hard to find stylish clothes that are made with special fabric. Several of the pants we've selected above are UPF 50+.  
Speaking of the sun, why not pair your new pants with a packable sun hat?  In that article, we give our top picks and also include a UPF rating chat and explain why we always select a rating of 50 or higher. Hopefully, this list of recommendations has helped narrow down your choices for your next pair of pants or maybe even found the ones for you.
Pin For Later