The Four Corners region rules when it comes to shopping for beautifully authentic Native American Art.
If you are in New York chasing after a gorgeous brand name dress, hit a sample sale.
When you want the best deals on designer bags, scour those outlets first.
If you have your eye on top-of-the-line ski equipment, buy at the end of the season.
And if you are in love with turquoise jewelry, Hopi pottery, and hand-woven Navajo rugs, drive right past Santa Fe, Albuquerque, and Taos. Instead, head for Gallup. The best deals on Native American goods are found here, in the Four Corners Region of New Mexico.
You may also like: Best Things To Do In New York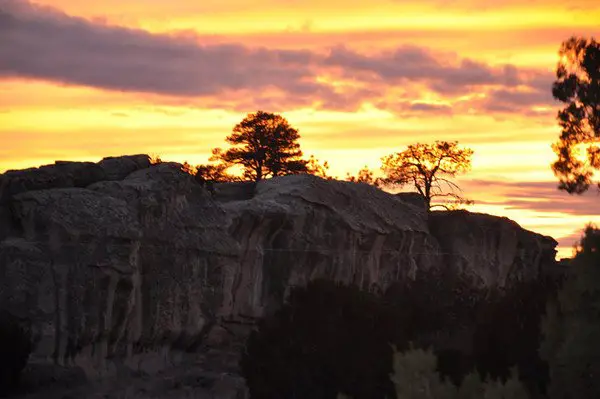 Before the United States drew up coordinates for the Colorado, Utah, New Mexico, and Arizona state lines (yes, there is a place where they intersect – you can lay across those corners with a limb in each state), prehistoric pueblo people and cliff dwellers lived and traded throughout the region.
Today the area belongs to several different Native tribes and a handful of National Parks and Monuments. In southwestern Colorado is Mesa Verde, where ancestral Puebloan people (formerly referred to as the Anasazi) lived in the crevices of high cliffs.
In Arizona, the Hopi Reservation sits across the state from the Grand Canyon. It is surrounded by the Navajo Nation, which spreads across the whole of northeastern Arizona and northwestern New Mexico. This corner of New Mexico is also home to the Zuni, Acoma, Ramah Navajo and Laguna Native tribes.
Evidence of commerce is everywhere.
Canyon walls are lined with natural footholds, created from thousands of years of footsteps crossing through the desert to trade. Once conquistadors, colonels, and Catholics came to the area, trading posts were established to facilitate exchange between the Native Americans and Spanish populations.
In the 1800s, the region changed hands from Spanish to Mexican to U.S. ownership, and people kept arriving. Wanders showed up via a covered wagon on the Santa Fe Trail. Mormons, Christians, and Catholics arrived to escape persecution and/or covert the locals. The tarnished hope of mineral wealth brought miners and heartache to the area, as Natives were driven off their land and allowed to return when gold proved to be nonexistent.
No matter who came and went, the trading continued.
Today, Santa Fe and Taos have thrived on the sale of Native goods, but items change hands many times before getting to the plazas and squares of these popular southwestern cities.
You may also like: Native American Culture
Going directly to the source ensures better prices on Navajo rugs, Hopi dolls, Zuni fetishes, and Acoma pottery. Head west on Highway 40 and check out some of these places: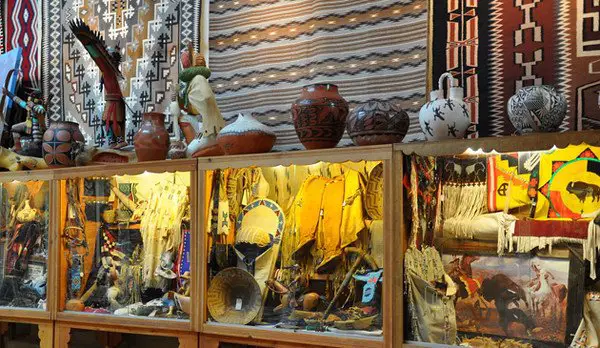 Richardson's Trading Co. and Pawn Shop, Gallup, New Mexico
In business since 1860, this is a must-visit stop for anyone serious about purchasing Native goods.
Gallup has long been known as the "Indian Jewelry Capital of the World," and Richardson's is doing its part to keep the title valid. From the moment I heard that satisfying thump of cowboy boots on wood flooring, I was inundated with the smell of leather.
In addition to old saddles, there were cases of turquoise and silver jewelry, oversized belt buckles, Hopi Kachina dolls and red coral shell necklaces.
If you visit, make sure you ask to see the Navajo rug room. These very pricey rugs are typically half off. If you have your eye on one, hold off buying until the monthly Crownpoint Rug auction is held up north; Richardson's lowers their prices so they can compete.
Richardson's Trading Co. is at 222 W. Hwy 66 in Gallup. Give them a call at 505-722-4762 or check them out online.
Crownpoint Rug Auction, Crownpoint, New Mexico
Of course, you can also head directly up to the auction.
Typically held on the second Friday of each moth, Crownpoint Elementary School hosts the monthly event. Buy the gorgeous textiles directly from the source here, often for much lower than store prices. Viewings start at 4 p.m. and the auction begins at 7 p.m.
Crownpoint is about an hour northeast of Gallup. Get there by heading east on I-40, and then north on Highway 371. The school is at Main Street H-1 in Crownpoint.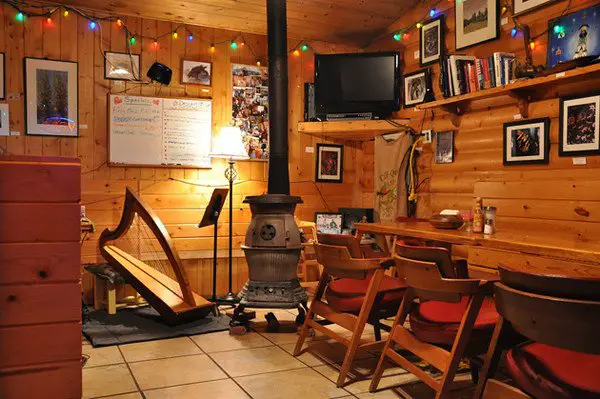 Inscription Rock Trading and Coffee Co, Ramah, New Mexico
South of Gallup, along the scenic Highway 53, you'll find the tiny town of Ramah and this charming store, which doubles as a cozy coffee shop.
Expect to find jewelry, carved Zuni fetishes, children's puppets, and Native décor. Ramah is a true artisan community, and many of Inscription Rock's suppliers are local. Make sure you head upstairs to check out the reading room.
You may also like: Falling For The Red Rocks Of Sedona
While in the area, grab a bite to eat at The Ancient Way Café next door – especially if it's a Friday or Saturday night, when Maqui and the crew plan a gourmet meal.
Inscription Rock is located 1 mile east of El Morro National Monument on Highway 53 at mile marker 46 in Ramah. Give them a call to check hours (which tend to fluctuate) at 505-783-4706.
The Ancient Way Café is right next door. They serve lunch from 9 a.m. to 5 p.m. daily (closed Wednesday). Dinner is served until 8 p.m. on Fridays and Saturdays. There are only four tables in the restaurant, so call ahead on 505-783-4612 to reserve one for dinner. Information on both businesses can be found at www.enchantedlands.org.
Gallup Flea Market, Gallup, New Mexico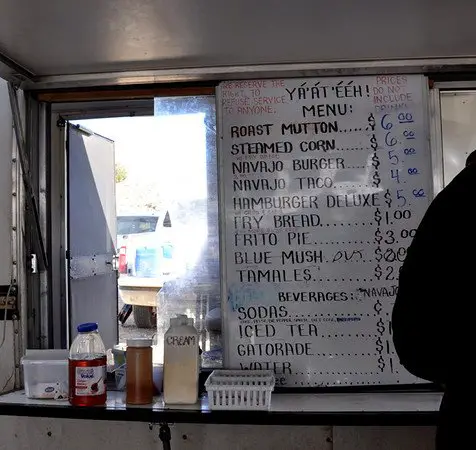 If you want to hang with locals, this is your place. Everything from T-shirts to tires can be found here.
Even Navajo Medicine Men peruse the open-air stalls, searching for the right combination of ingredients they need for a healing or blessing way.
After looking around, make sure you grab a mutton sandwich or a Navajo taco (think open-faced taco on fry bread). The Flea Market sets up just off Highway 491 on 9th street every Saturday. Things usually start closing up around 2 or 3 p.m.
You may also like: 10 Things To Do In Indianapolis
Acoma Sky City, Acoma, New Mexico
On your way back to Albuquerque, take Indian Route 38 south and check out the Acoma Pueblo. It's the site of the oldest continually inhabited pueblo and a great place to pick up some pottery.
The Acoma are famous for their deep red and white-colored patterns, and will usually give you a written copy of the story that goes along with the piece.
There are Natives selling their art outside the cultural center, but if you sign up for a guided tour (which you should, as the pueblo is closed to visitors not on a tour), you'll find more folks selling their creations outside their front doors up on the mesa.
Plus, you'll get a little southwest history with your shopping experience. Tours are held mid-February through mid-November. Check out the calendar on their website before you go, as the pueblo is sometimes closed for festivals and other cultural events.
Like most shopping trips, a southwest spending spree in search of Native American art is more enjoyable with a companion.
If you are heading to New Mexico, look up Amanda Tucker from the Blue Desert Guide Company. This crazy shopper has been known to lug Moroccan light fixtures on her backpack through the Sahara.
She custom designs shopping tours for savvy travelers and can offer advice on prices, the best flea market stalls and how to bargain. She has an eye especially for Navajo rugs and can give you the background on where a certain rug was created based on its colors and patterns. In addition to organizing shopping, she can coordinate meals, lodging, and other activities.
Plus, her love for New Mexico is infectious.
*Photos by and property of the author
**Editor's note: at the time of publication, the  Crownpoint Rug Auction had been temporarily suspended. 
Pin for Later