The mythology of mermaids predates Disney's Ariel and extends to countries throughout the world. Sure, they may be a bit slippery to track down in real life, but start your search with these mermaid-minded destinations.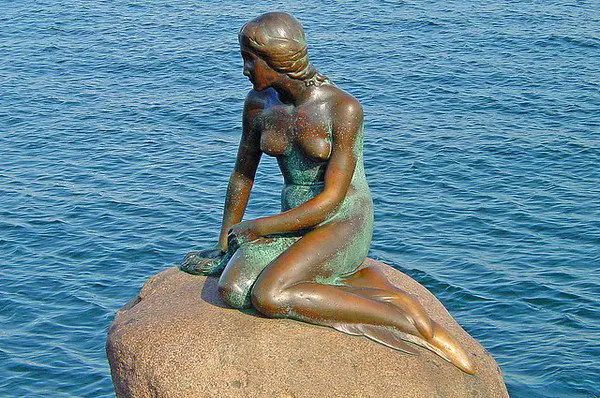 The Little Mermaid Statue in Copenhagen, Demark
A must-see for any mermaid aficionado, this small statue (only about 4 feet in height) is located just off the shore from the Langelinie Pier.
The great Danish storyteller Hans Christian Andersen inspired the major icon, though the original version of The Little Mermaid has a much bleaker conclusion than the Disney version (spoiler alert: the Little Mermaid dies!).
Luckily, she's immortalized in this statue. Now if only she could get a break from all the vandalism — the poor thing has been covered in paint, dressed up and even decapitated. Hasn't she been through enough?
You may also like: Danish Food And Drink
The Blue Grotto in Capri, Italy
There are no guarantees that you'll see an actual mermaid, but according to Homer, the spectacular island of Capri off Italy's Amalfi Coast is the dwelling place of seductive sea sirens.
It's easy to imagine mermaids dipping in the dreamlike Blue Grotto sea cave, which can be reached by motorboats for hire on the main dock, Marina Grande, or by bus from Anacapri.
As described in The Odyssey, the beautiful (but murderous) sirens sang to sailors to shipwreck them on their island. (Traditionally mermaids were cast as evil creatures.) But the ever-clever Odysseus avoided the dark fate; he had his sailor's ears plugged with wax, and he was tied to the mast.
You may also like: Awesome Things To Do In Capri, Italy
The Mermaids of Jeju Island, South Korea
This volcanic island is a fishing village where local women were traditionally responsible for a family's income by a special form of diving that's still practiced today.
Haenyeo (female divers, called 'mermaids' or 'sea women' by locals and tourists alike) go diving for shellfish, edible seaweed, and abalone without any intricate equipment.
Though the practice is gradually growing extinct, for now, these mermaids are still present, and their otherworldly whistling — a way to take in oxygen when resurfacing — can still be heard among the craggy tide.
You may also like: A Bosnian Road Trip
The Famous Mermaid Shows of Weeki Wachee Springs, Florida
Since 1947, this road-side attraction located on a natural, fresh-water spring (the bottom of which has never been found) has delighted visitors with its kitschy, retro-cool live mermaid shows in a submerged theatre.
The famous Lycra-finned mermaids of Weeki Wachee Springs, perform underwater choreography (with a few breaks for air via a hose) some 20 feet below the surface while battling the natural current. No one said being a mythical creature was easy.
You may also like: Visit The Napa Valley
*Photos by Bert Kaufmann and dno1967b via flickr
Pin for Later