If you are thinking about places to visit in Europe, you won't want to miss Belgium.
It may not be the first European country you think about visiting when planning a European vacation, but there are lots of reasons why Belgium is a great place to travel.
This small country, located in the geographical and political center of Europe, has long been a favorite place of mine to recommend to everyone from the experienced to the novice European traveler.
A visit to Belgium packs a whole lot of travel potential in a small area
As my Dutch friend, Hans, somewhat cheekily says about traveling around Flanders (the northern part of Belgium and all of The Netherlands), "It's similar to traveling around the United States except the roads between the major cities are shorter."
Cities in this region include the multicultural Brussels, stylish Antwerp, medieval Brugge, and the university town of Gent (or Ghent.) Whether looking for history, museums, shopping, or food and drink delights, you will find your just-right combination here.
You may also like: Visiting Colourful And Sassy Gent, Belgium
Mostly everyone you meet, even in the more rural areas, is likely to speak some English
Notice Hans' perfect English? Don't be too impressed  – his wife Ella, speaks five languages fluently, and can switch between them in a manner that always makes my head spin.
Out of necessity, both Belgium and Holland as smaller European countries, have long grasped the importance of conversing with the world, while at the same time preserving their native language and dialects. Belgium is actually one of the few countries to have three official languages.
In the Flanders region, the official language is Dutch and in Wallonia, the language is French. German is also spoken by a small number of Belgians who live along the German border.
You may also like: Bridges in Brugge, Belgium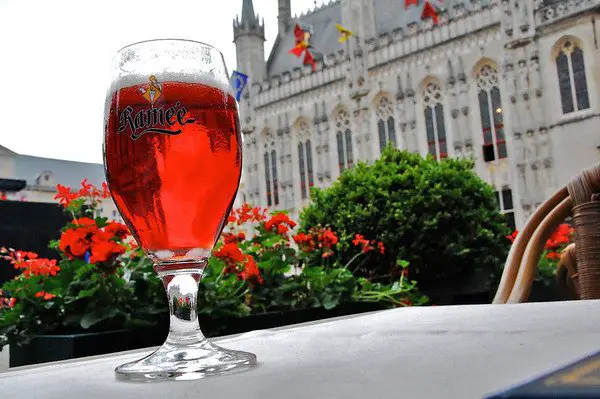 As a matter of being respectful of a host country's culture, we always recommend learning a few words of the host area's language. B
ut truthfully, even if you say "good morning" in Dutch and then start speaking French because you think it will be your common language with Belgians, it's likely hotel personnel and even people on the street will guide the conversation in English.
When compared to visiting many other European countries, it's a low-stress language scenario in any case.
The public transportation system in Belgium is great.
From the main airport in Brussels to almost the front door of most hotels, getting around Belgium is remarkably easy.
The facility with which people are moved about from place to place in Belgium belies the fact that the Flanders region is the most densely populated spot in Europe. (Cool fact: NASA astronauts even have named  the concentration of lights that can be seen from outer space the "Belgian Window".)
Despite the large numbers of people, the queues for public transport are fast-moving; the ticket prices are reasonable, and the best of all the learning curve for catching on to a country's public transport system is a relatively easy one.
Besides, you can always ask the person standing next to you if you're getting on the right tram. If he or she doesn't speak English, odds are another person standing nearby will. Although somewhat reserved, Belgians seem to enjoy getting you pointed in the right direction. And if you miss your train – no worries – it's likely another one will be along shortly.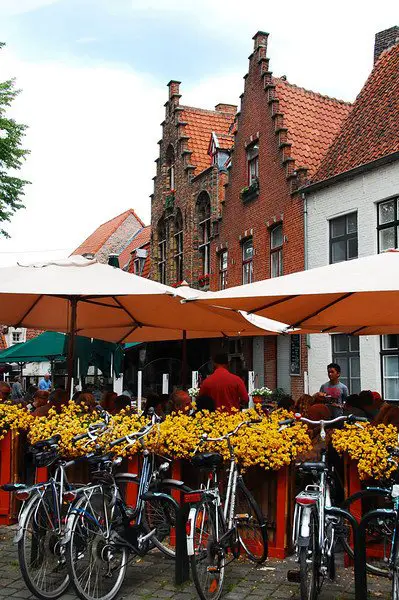 Day trips are not just possible, but the way to go.
The cities of Brussels, Antwerp, Gent, and Brugge are all well connected by frequent inter-city trains, with the maximum train ride between them being an hour or less.  Unpack just once or twice, perhaps choosing the two cities that best suit your travel personality and what you are seeking most in your travels.
You may also like: Gold and Grand Palace in Belgium
Of all the places to visit in Europe, Belgium can be easily combined with stops in other countries
Including The Netherlands, France or Great Britain. Remember what Hans said about the distance between major cities?
Well, it applies here too.
The train ride via the high-speed Thalys from Paris to Brussels is just under one and a half hours, while the ride from Brussels to Amsterdam is less than two hours. Besides being very relaxing, train travel provides the additional benefits of giving you a better sense of a country, and a look at the landscapes outside the major cities.
You may also like: Off The Beaten Track In Paris
As the extra inch or two on my waistline suggest, Belgium is indeed for foodies.
Belgian chocolate, Belgian waffles, Belgian endive, Belgian beer, Brussel sprouts: There's a reason why "Belgian" is associated with so many foods and beverage products.
With tonnes of local specialties, that's just the beginning of it. Dutch, German and French influences result in food and drink culture that runs from voracious to refined.
Whether you are looking for Michelin starred cuisine, hearty bistrot fare, cafes or simple, but impressive waffle and French fry stands (which according to many Belgians, should be called "Belgian" fries), or all of the above, it comes together deliciously.
You may also like: Friday Photo Treats (Including Belgian Chocolate)
Shopping
I mostly window shopped this time out. With any of you with me, I could have made quite a bit of trouble. With the strengthened dollar maybe that means we should go back?
Have you traveled to Belgium? What did you think?
My visit to Belgium was hosted by Tourism Flanders-Brussels as part of the Flanders is a Festival bloggers' campaign. As always, all opinions are my own. If any extra enthusiasm is detected, it may be because I have been recommending Belgium as an ideal first time European destination for years.
All photos Margo Millure © 
Tags: Belgium places to visit
Pin for Later