Editor's Note: Two regular Travel Belle contributors were lucky enough to visit Venice for Carnival this year. Here's the first report  from Inka. The second report from Kathy Ayer can be found here.
I'm still reeling! It's a few days since I came back from Venice and all I can think about is which costume  I'm going to wear next year. There is no doubt in my mind: Venice Carnival 2012…here I come. (From February 11th to 21st if after reading this you feel inspired to go too).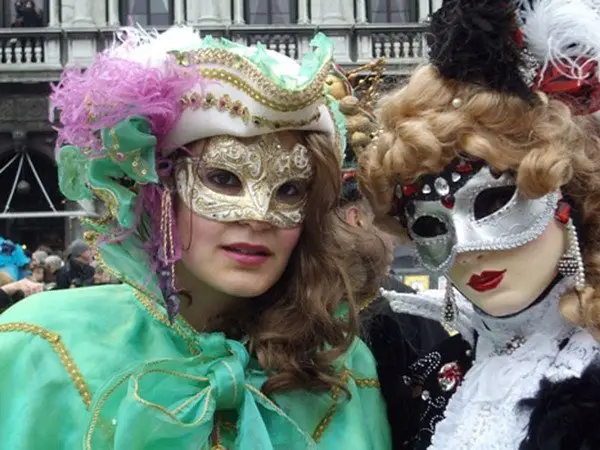 Even a writer is hard-pressed to find the right words of expressing the emotions and sentiments caused by a delicious non-stop assault of the senses when you immerse yourself in four days of Carnival in Venice. It's like no other carnival because this isn't show: This is living and breathing Venice's glorious Renaissance past complete with Venetians wearing historical costumes and masks with such nonchalance it's as if this were their everyday gear.
They don't walk, they glide; they don't look, they glance, every gesture, languid and elegant. They don't care if visitors and tourists come to witness the event; it's all theirs and if you want to participate, you are most welcome to do so, but carnival would go on just the same if no outsider would set foot in the Serenissima.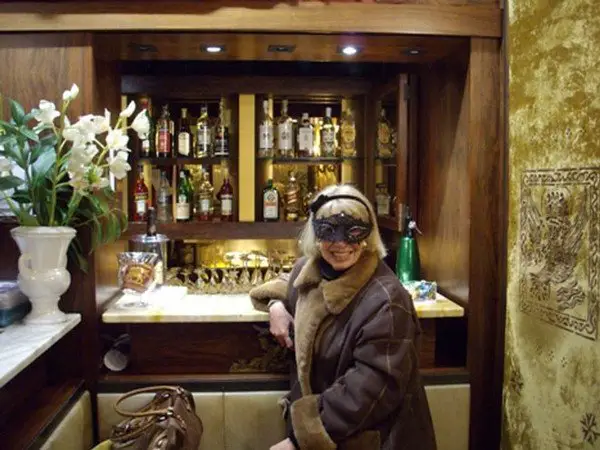 Right on cue, Serenissima was the name of the chic boutique hotel I had chosen for my stay. Conveniently located halfway between Rialto and St. Mark's Square it was the ideal starting point to explore Venice in all directions. And, as it is very easy to get lost in the alleys, Campos and crossroads of Venice, at least it wasn't difficult to find my way back.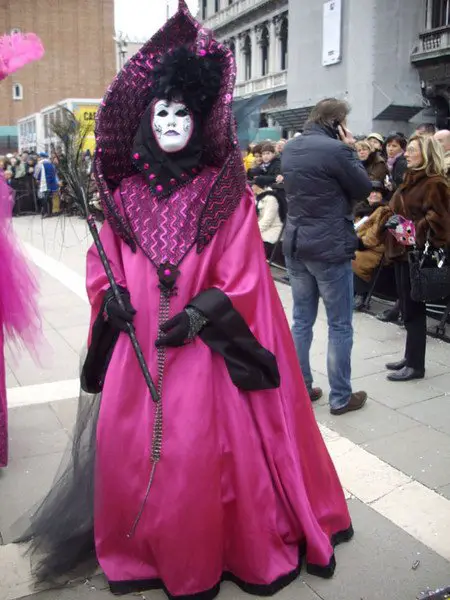 My intention was to experience the carnival to the full, and therefore the first event I had booked was the Opening Ball. It just so happened that the ball was canceled by the organizers, but no harm done as a Ball and Dinner was arranged in a palazzo facing the Canal de Misericordia instead.
First order of the day was to get myself a costume.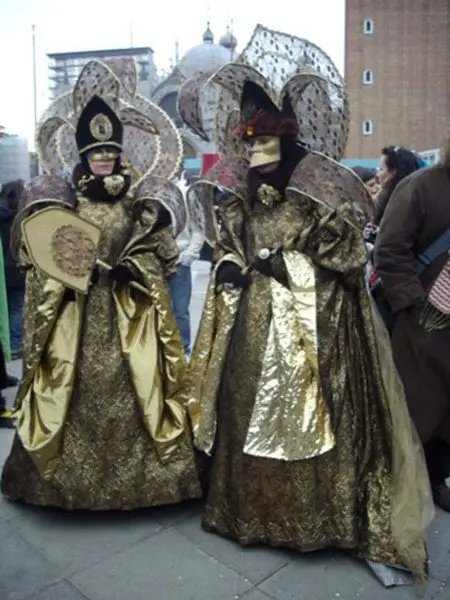 I crossed over the Rialto Bridge and found a shop called Leone d'Oro which sells masks and rents costumes. In I went and was faced with a difficult choice as one costume was more enticing than the other. I decided on a gold and blue one and then got my first experience of turning into a Renaissance lady: getting dressed. Two dressers were needed to put on the corset and 'undercarriage', then slip the underskirt and finally the dress over my head. Topped off with a fantastic matching hat and a black mask I was ready to dance the night away.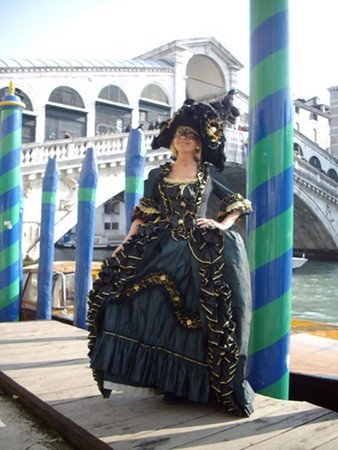 I took a gondola to the palazzo which was illuminated entirely by candles. We were entertained by classical music and professional dancers accompanying a fabulous dinner until the ball was opened to all guests.
The next day I strolled around the city admiring the promenade of the people, nearly all of them in full costume. As everyone does during the day, I wore my 'day mask,' which at first felt strange but I got used to it very quickly and would have felt out of place had I not worn it.
People in costume glided along in gondolas, lifting glasses of champagne. The entire city of  Venice served as an incomparable and unique stage where Venetians and visitors alike went back in time for several days.
I took a Vaporetto for a trip to the island of Murano because I wanted to visit the glass factories and see where the famous Murano blue objects  were made. Murano has her very own brand of carnival, the centerpiece of which involves a coq carrying a cat on its shoulder being pulled on a wire to the top of a church. I couldn't find out the significance of this ritual, but it made for a funny spectacle. Additionally, huge glass sculptures are displayed in small parks in Murano and are a sight not to be missed.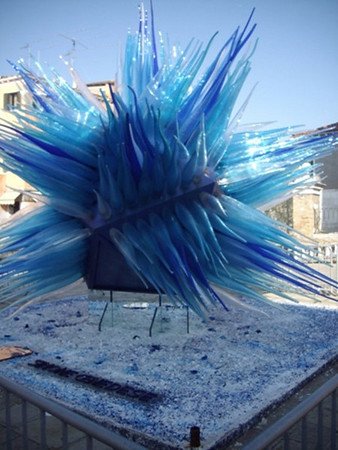 Back in Venice as night fell, people came out in force to listen to a concert taking place in St Mark's Square. I couldn't resist having a hot chocolate in Café Florian, mingling with more elaborate masks and costumes while listening to a piano player.
Noon the next day saw the official start of carnival with an event called The Flight of the Angel, which is a reenactment of a historical spectacle. In the 16th century, a  Turkish acrobat stunned the Venetians by walking on a tight rope from a boat moored in the canal to the top of the Campanile in St. Mark's Square. Since then the performance has been repeated, although the name changed from Flight of the Turk to Flight of the Dove to Flight of the Angel.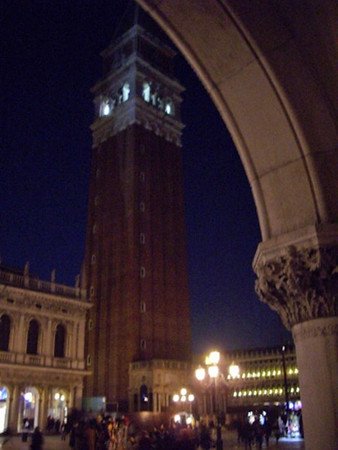 Today's angel does not walk on a tight rope but descends (in harness) from the balustrade just below the top of the tower on steel ropes down into St Mark's Square where she is greeted by the doge. Wisely, I had arrived two hours earlier because the place was absolutely packed. An enclosure was roped off in the middle of the square and for a fee of EUROS 20, you could enter and watch the performance in peace. It was also the best location to admire the arrival of the Court of the Doge as they proceeded to the stage to greet the angel, and get really close to a parade of the best and most elaborate costumes. A marble fountain in the middle spouted red wine and a drink was included in the admission fee.
Couples were dancing cotillions, greeting and chatting with each other and generally behaving as if the 21st century had never been heard of. Simply utter glamour was to be found wherever you looked.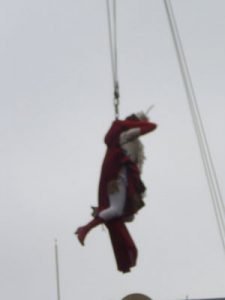 The angel launched herself into the void and to the music of Vivaldi glided down, turning and waving at the breathlessly enthralled crowd below. A very emotional moment that nearly brought tears to my eyes, hearing the touching music and watching the angel spread her wings.
When thinking of Venice things like mystery, intrigue and love affairs immediately spring to mind, so when I saw a 'Murder and Mystery guided tour through Venice's most secret alleys' advertised, naturally  I had to go. The guide, an actor in costume assembled his 10 or so 'sheep' in St Mark's square and set off with us into a truly Venetian labyrinth of tiny bridges, dead-end canals and crumbling palazzi.
He told us the weirdest and most outrageous stories, featuring characters such as Casanova, the last bell ringer and the devil. To top off the intrigue, he stopped in front of a church, declared that this was the end of the tour and vanished in the blink of an eye, leaving us stranded with absolutely no idea where we were. To make matters worse, it had started to rain and darkness was falling and I had left my map at home.
The others dispersed and I was left trying to find my way back to St Mark's Square all on my own. Luckily, the Venetian dialect resembles Spanish and after asking several pedestrians and quite a few wrong turns, I was much relieved the see the Campanile in the distance.
Maybe a bit annoying at first, but after all I have had the best carnival experience of my life, getting lost in Venice included. And definitely to be repeated next year.
* All photos, Inka Piegsa-Quischotte ©
Pin for Later