I'm sure that everyone who loves to travel the world has at least once experienced a moment of disappointment.
You have chosen a destination because of the beautiful or interesting things you have heard or seen in pictures; you get there and all you think is: oh my God, what's all the hype about?
And if you could, you would like nothing better than turn on your heel and return from where you came.
But as the following story of my trip to Bulgaria will reveal, don't!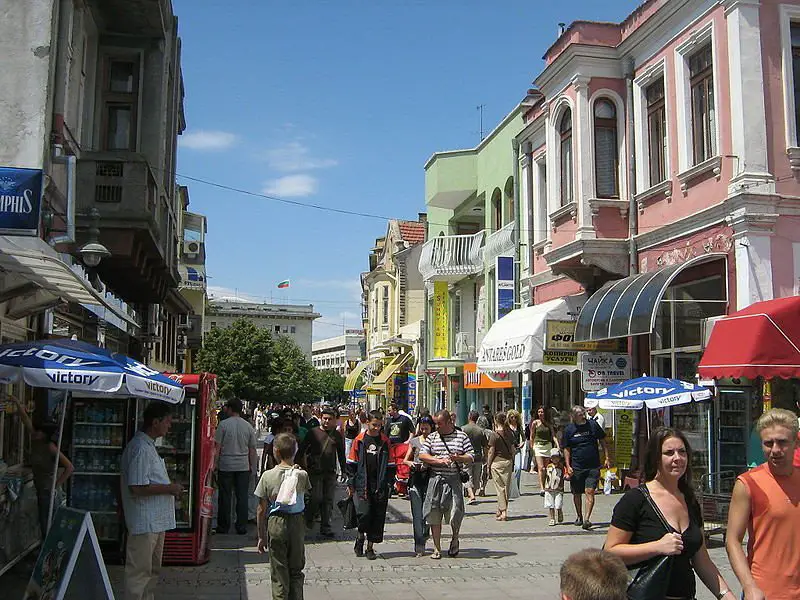 Look closer and you will find that there is almost always a silver lining, something to look at and admire which, more often than not, is completely unexpected. Often the key is to just give the place a chance.
I am living in Turkey part of the year and of course, Bulgaria is within easy reach.
I had visions of white beaches, steep, lush mountains, roses (Bulgaria is one of the world's largest exporters of roses), cows (don't laugh), the typical white houses with black supporting beams, friendly people and colorful embroideries, not to mention the wineries producing some excellent red wine – a pretty picture and well worth a side trip from Istanbul.
You may also like: Visiting An Ancient Turkish Site Before It's Too Late
The easiest way for me to travel to Bulgaria from Istanbul was by long-distance coach to the city of Burgas, which I planned to use as a starting point.
There is only one bus daily and I knew I would be arriving at around 2 am, but so what? I had made a hotel reservation and, as Burgas is a major town, thought I would find a taxi at the bus station which in Turkey is always a lively place, open all night with cafes, people and plenty of transport.
Had I ever made a wrong assumption!
Once we crossed the border into Bulgaria, the smooth Turkish highway gave way to a narrow, winding road full of potholes that made my teeth rattle.
No streetlights either, darkness all around except for the headlights of the bus. Fog, mist, and rain didn't help matters either.
Finally, in the distance, I saw a cluster of yellowish lights and assumed that this must be Burgas. It was indeed, but no bus station whatsoever.
You may also like: Where To Stay In Istanbul
The bus dumped me curbside under a single yellow streetlight.
The fog was so thick that I couldn't make out any buildings either, so, with much relief I saw a lonely taxi and made straight for it. I told the driver where I wanted to go and the first thing he did, was lock the doors with a click.
I hate that.
Then he drove round in circles and after nearly 10 minutes he finally deposited me at the entrance of a dimly lit hotel which indeed, turned out to be the one I had booked. $20 poorer…at least I had arrived.
The grumpy lady at reception told me that I had a reservation, but for 'tomorrow.'  It was already tomorrow! Not in her opinion, but I could have a suite for one night and then move into my room later in the day; it would however cost me an additional $50, but what was I supposed to do?
On top of it, when I finally made it to my room, it was ice cold. They had to go and find a heater and then it took another half hour until I dared to take off my coat.
The next morning daylight revealed that the bus had stopped right across from the hotel entrance. Had any lights been on it would have taken me a few seconds to there.
My room was already available; in other words, I had been ripped off twice within about half an hour of my arrival.
Not a good start to my visit, and I was seriously tempted to board the next coach back to Turkey. I probably would have if it didn't leave until the evening.
So I thought, I might as well try and make the best of it. I mean, a country famous for wine and roses can't be all bad. And Sunny Beach was nearby which I had intended to visit anyway.
Then I saw a local bus which was headed for Nesebar and it clicked. I had totally forgotten about this World Heritage Site which was along the way.
Nesebar is located on a tiny island, connected to the mainland by a causeway. Often referred to as the 'Pearl of the Black Sea Coast', Nesebar's history goes back 3000 years.
Originally a Thracian settlement, Nesebar came under Greek and Roman rule in antiquity, followed by the Byzantines, the crusaders, the Ottomans and Bulgarian kings, all who have left their traces.
Today it is a unique city- museum famous for its angora and many, many churches from the Middle Ages.
Walking across the causeway, you enter a different world.
Churches and ancient sites are everywhere that can be reached by cobbled streets, winding up and down the hills, lined with the typical wooden houses I had expected. Beautiful and cozy restaurants serving fantastic food and the freshest fish as Nesebar is also a fishing town are everywhere.
After a long walk around, I enjoyed a meal followed by strong, black Bulgarian coffee. The owners of the restaurant couldn't have been friendlier and a fire burned in the fireplace. I realized my day out had become very enjoyable.
I proceeded to Sunny Beach. The beach is several miles long, bordered by many modern apartment houses and holiday developments, albeit quite deserted because it was winter. I could imagine that the place would be hopping during the summer season.
On the way back I finally saw a few cows and the rolling foothills of the mountains covered in the distance with glittering snow. Wineries announced tastings and there were enticing shops selling quite nice ceramics.
Back in Burgas though, I was confronted with the remains of long communist neglect. Even some of the art deco buildings were in ruins. The once magnificent railway station had a caved-in roof, missing windows, and peeling paint.
I stayed for one more day, and I might even give Bulgaria a second chance in summer. Unless you want to go skiing, take it from me: don't go in the winter.
You may also like: Visit Bodrum, Turkey: International Flair and Glamour
*Photo Credits: Wikimedia,  Jeroen Kransen via Flickr, US Army Africa via Flickr and Inka Piegsa-Quischotte
Pin for Later