A Quick Springtime Visit to Chicago
This past week I was in Chicago for the incredibly amazing SOBcon, or Successful Online Business Conference.
Both life and business can feel quite virtual these days. I was very drawn to SOBcon's concept of being a place where "virtual meets the concrete."
I left the conference room on midday Sunday with a brain that felt as if it were a loaded freight train, but without enough fuel to go where it wanted to go.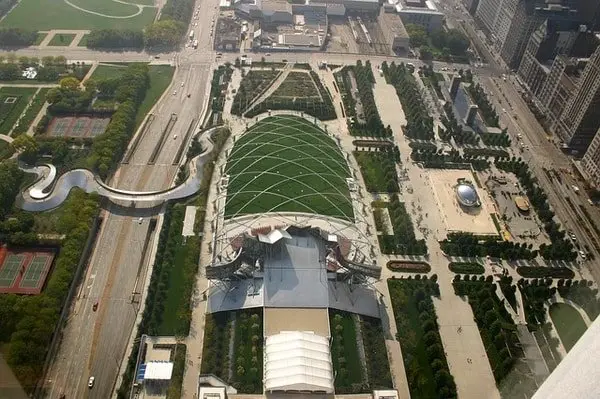 Not the ideal situation as I was faced with the decision of what to do on a sunny Sunday afternoon in Chicago. (Next time I go to Chicago when I have a little more time, I definitely will be checking out Chicago's neighborhoods beyond the area around Michigan Avenue.)
I determined my options:
1. Find an outdoor cafe and download the information and mini-epiphanies that had made their way inside my then tired and swirling brain, and eat a solid meal. This sounded good in concept, and practical me was very proud.
2. Nap. As I sat crossed legged on my hotel room bed to make my decision, comfy hotel room sheets just a duvet away, tired me diligently worked this angle. The possibility of watching replays of the Royal wedding and ordering room service was sounding pretty good.
3. Even though I hadn't researched what to do, to grab my camera and go.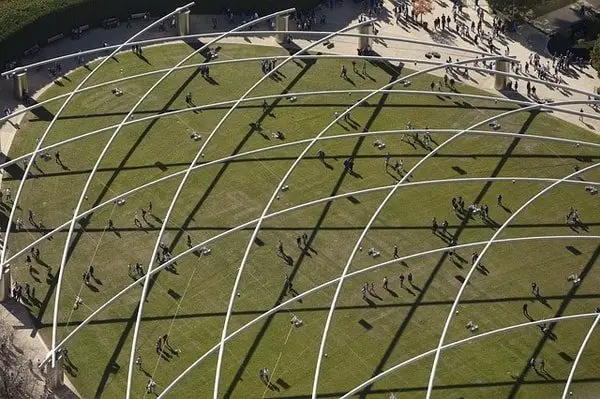 Guess which I did.
Conceived in 1997 and finished in 2004, the 24.5-acre Millennium Park Chicago features world-class art, music, architecture and landscape design.
Almost half of Millenium Park is comprised of the Great Lawn/Jay Pritzker Pavillion. Besides looking really cool, the steel trellis over the lawn distributes sound over the popular outdoor concert venue.
As I was walking across the BP Bridge, I overheard a young couple having a lively discussion. She was pointing at the building on the right in the above photograph and said that she was sure it was the tallest building in the world designed by a female architect.
He said she was wrong; not only was the building not designed by a female architect, he claimed, but that the tallest building with such a distinguished honor wasn't even in Chicago.
When I got back to my room I looked up this business about Chicago, tallest buildings and female architects. Turns out they were both right and wrong. The tallest building in the world to have been designed by a female-led architectural firm is indeed in Chicago, but it isn't the typical sharp angled skyscraper to which she was pointing.
Located just beyond it, she was thinking of  Aqua.  Aqua, a water-themed residential building, was designed by the female-led Studio Gang Architects and completed in 2007.  With its undulating curves don't you think it looks somewhat feminine?
A few moments before I took the above shot, several tourists were sprawled out on top of the tulips to take pictures. I managed to get a stealth photo of this but decided not to share it.  (Because I'd be pretty horrified if I were them, and therefore, didn't ask them to sign a release form!)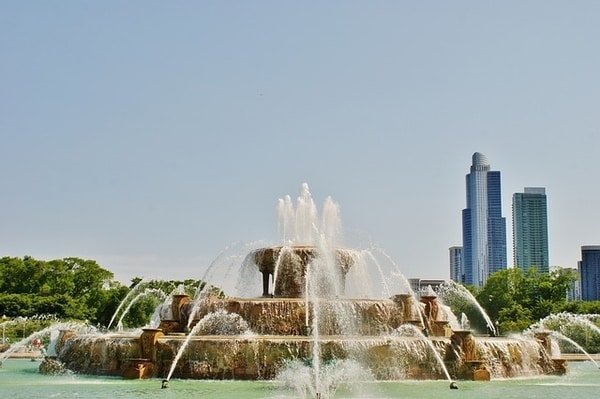 Given my empty stomach, I opted not to go to The Art Institute of Chicago. Perhaps I would go back after I had lunch at Berghoff, the oldest restaurant in Chicago; but it turned out Berghoff is closed on Sundays.
That's when I made the fateful decision to keep walking – straight towards State Street.
Shopping at places like Filene's Basement and Nordstrom Rack is challenging even when fed, watered and well rested. I avoided the long lines of the dressing rooms, opting instead to try on what seemed to be a hundred pairs of shoes. I eventually left both places empty-handed, which trust me – is a good thing.
That room service idea from earlier suddenly sounded like an idea that's time had come. The Art Institute of Chicago will just have to wait until next year!
Chicago, Illinois Travel Guide – Must-See Attractions

Header Photo by Pixabay
Pin For Later