The Christmas season isn't complete without the traditional trip for some shopping in San Francisco with my best girlfriends. It is shopping, but it's also so much more.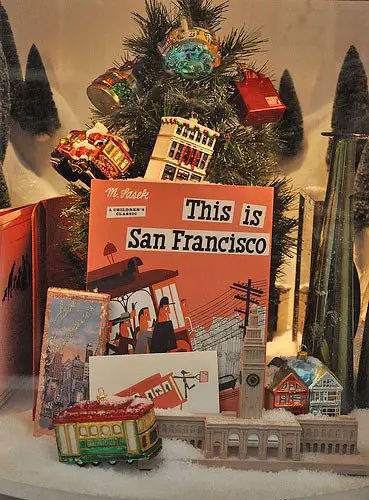 Remember when you were little, and that Christmas catalogue or the toy store's Christmas ad came out (you know the one, with more than 20 pages of toys)?
Did you circle everything you wanted and dog-eared your favorite pages for Santa, like I did? Imagine doing that now, in person.
That's what our Christmas outing in the city is like. Like children on a new playground, we wonder in amazement at everything around us.
You may also like: Christmas in Seattle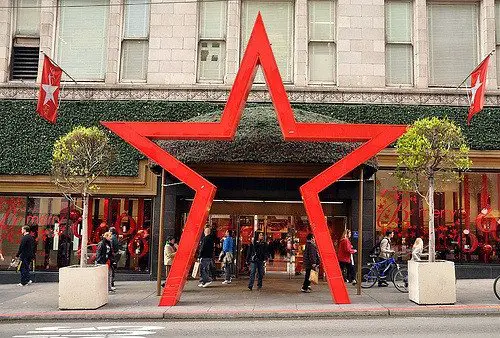 This shopping getaway was no different. We gazed in windows, swooned over sales racks, tried on all kinds of clothes, and mentally circled our favorites – even the ones that weren't practical, like designer luggage. Dragging that designer set of luggage around the cobblestone streets of Europe is appealing in theory. Reality is a whole other story.
I can dream.
In one window, I spied five-inch red stilettos with thick suede straps that rise above the ankles. Yes, they would be a jaw-dropping addition to the little black dress I picked up for Christmas Eve – that is if I could actually walk in them. These and more I mentally dog-eared as favorites, knowing they would never make it into Santa's bag.
However, the black leather gloves with the furry trim were perfect, warm and on sale! I picked those up, a few gifts, several Christmas ornaments, and my friends did the same.
That's the recipe four our Christmas shopping getaway: a dab of looking, a pinch of wishing, a drop of dreaming, and a little bit of buying.
You may also like: New York: Best Things to Do and Places to See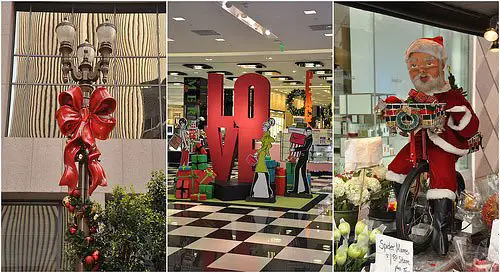 San Francisco's Union Square is a Christmas shopping central for us. The square and surrounding area, all the way down to Market Street, are decked out in red, green, gold, and glimmering lights.
A Christmas tree about ten stories high dominates Union Square. Along with the tree, the square houses an ice-skating rink and an outdoor café. Christmas carols play, and the music mingles with the laughs and shrieks of those on the ice.
Instead of skating, we watched and snacked at the outdoor café. San Francisco has all the major department stores a shopper could want and smaller boutique stores, too. After snacks, we strolled around and picked out some of our favorite windows and decorations.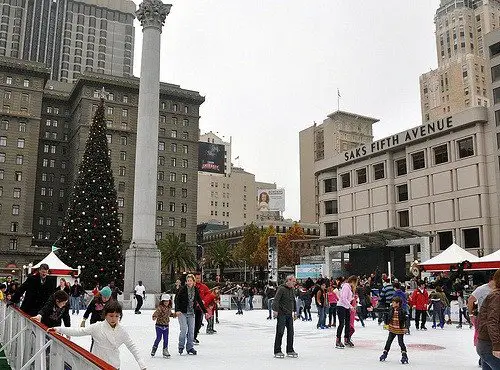 Last year our shopping trip ended at the theater watching Wicked. This year we opted to go more casual and went out for small bites and wine at the Press Club Wine Bar followed up with a movie nearby.
Our evening walk back included a night stop at Union Square, all aglow. The lights twinkled against the night's backdrop. Whoever thought up the words "merry and bright" got it right.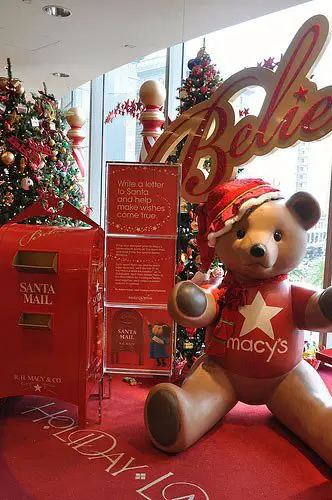 Macy's theme is "Believe." Some of their windows tell the story, "Yes, Virginia, there is a Santa Claus. You can visit Santa at Holiday Lane. For every letter written to Santa and put in their mailbox, Macy's will give $1 to the Make a Wish foundation.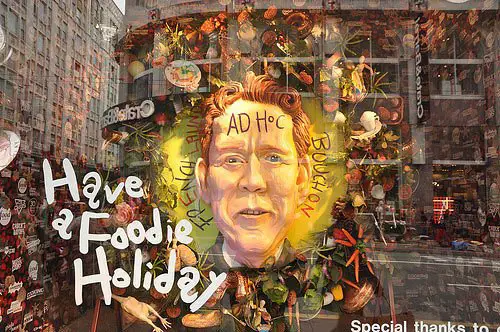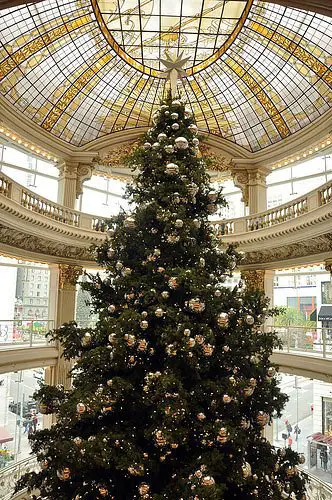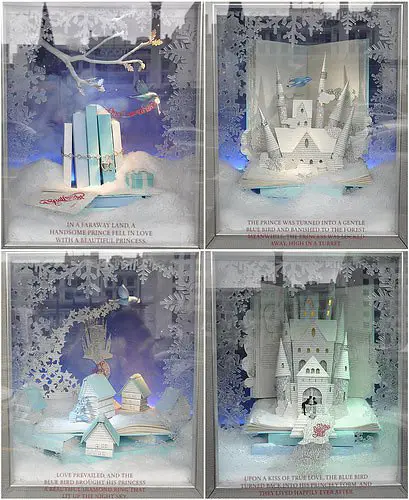 Tiffany's window theme was a fairy tale in Tiffany blue, white and diamonds. The story went as fairy tales do. In the end, the princess kissed the frog (in this story it's a blue dove).
He turned into a prince, her one true love. They lived happily ever after. The girl gets the guy and the diamond ring from Tiffany's.
Like the story in the window, our getaway left us with the same feelings of hope and joy; believing everything is possible.
You may also like: History of Krampus and the Shady Christmas Characters of Europe
Getting there and other information:
San Francisco's Union Square is an easy train ride from the San Francisco or Oakland airports. BART (Bay Area Rapid Transit) is the area's train service.  From the Oakland airport, you will take a BART shuttle bus to the Oakland Coliseum train station.  Exit at the Powell Street station.
Where we stayed:
Where we ate:
Perbacco – Northern Italian cuisine.  It is a short walk away but very much worth it for an authentic Italian fix.
Oriental Pearl – In Chinatown, also a short walk from Union Square, we had a delicious Dim Sum.
Press Club Wine Bar – For wine and a small plates dinner before a movie.  It's just south of Market Street.
Scala Bistro at Sir Francis Drake was an easy lunch stop.  Top Chef fans will recognize the executive chef Jen Biesty as one of the contestants, and pastry chef Tim Nugent was a contestant on the recent Top Chef Just Desserts.
Pin for Later