Turin is more than just a shroud. Its fancy chocolates rival that of any of Europe's other chocolate capitals.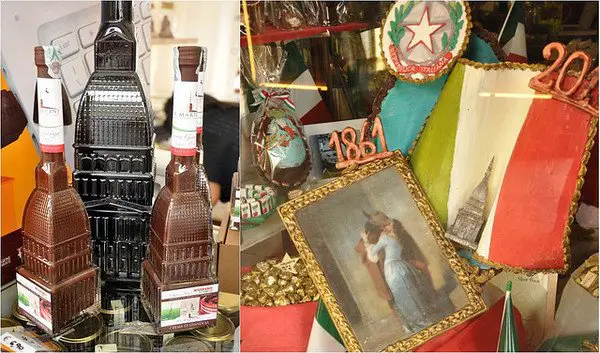 Lovers of art search out cities that have the best museums. Fashionistas voyage to the fashion capitals of the world.  Adrenaline junkies seek out the places in which they can put their lives most at risk.
And so it goes for us chocoholics (known as ciocco-dipendenti in Italian). We travel to cities solely to eat really good chocolate.
Most recently I found myself in Turin, Italy.  Chocolatiers of Turin were first licensed to sell chocolate in 1678. They continue to make quality chocolates that rival those of any of Europe's other chocolate capitals.
Giddier than a teenager going to a Justin Bieber concert, with chocolate guidebooks in hand, I set out to visit the hundreds of chocolate shops in the city.
The little pyramid-like chocolate and hazelnut bars, is as much a symbol of the city as the Mole-Antonelliana that rises up and dominates the Turin skyline.
You may also like: Piedmont, Italy: A Food Lover's Tour
In the early 1800s, prices for cacao were high and their supply in Europe was limited.  In order to stretch the amount of cacao they had, Turin chocolate makers experimented by adding ground hazelnuts from the local Langhe area.
From there, gianduia and gianduiotto were born. Originally made with a combination of cacao, sugar and hazelnuts, now most use milk chocolate when making gianduia.
During my five-day stay in Turin, I walked through the city's arched porticoes and grand boulevards in search of chocolate.  My mission was to simple, sample chocolate!
Giddier than a teenager going to a Justin Bieber concert, with chocolate guidebooks in hand, I set out to visit the hundreds of chocolate shops in the city.
Although I didn't get anywhere close to all of them, I'm sure I made a serious dent in Turin's chocolate supply.  Death by chocolate was a strong possibility.  Via visits to six chocolatiers, I give you a glimpse of my chocolate binge in Turin.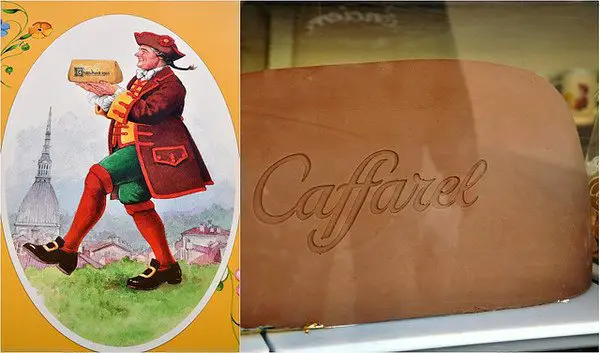 You may also like: Spanish Hot Chocolate
Caffarel, one of the oldest chocolatiers, introduced the first gianduiotto bar to the world in 1852.  It was first called givu, the local dialect for stub.
In 1865, Gianduia, Turin's masked Carnival character, handed out Caffarel's gianduiotti during Carnival celebrations.  From then on, Caffarel's gianduiotto was known as "Gianduia 1865."
As of 1997, Caffarel is part of the Lindt conglomerate.  Caffarel chocolate production now takes place in Lucerne, but they maintain that management of the Caffarel division is Italian.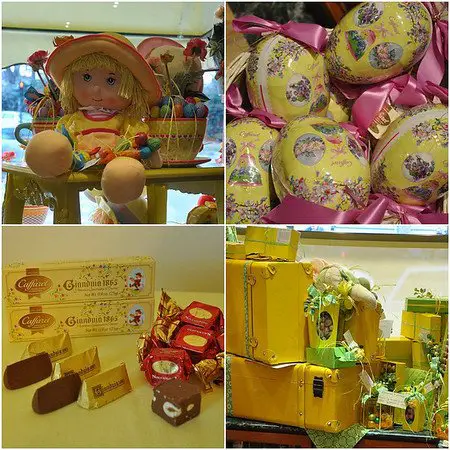 Re Gianduia, sells mainly Caffarel chocolates.  Wanting to try the brand that made the first gianduiotto, I made my way across the Po River to the shop. I had definitely stepped through the looking glass in this wonderland of chocolate.
The first room had a bar where there was a choice of two decadent drinks: thick Italian hot chocolate or il Gianduiottino (coffee with gianduia cream and milk).
You may also like: Why Italian Hot Chocolate Is Delightful
In the second room, the chocolate room, huge barrels were filled to the brim with colorfully wrapped chocolates and gianduoitti.  An arrangement of pastel wrapped and artistically-decorated Easter eggs climbed up to the ceiling. Along the wood-paneled walls, dolls held bags of chocolate. Wooden puppets, miniature hot air balloons and airplanes hung from the ceiling.
I purchased the famous Gianduia 1865 and some Nocciolittini.  Nocciolittini is another typical chocolate you will find in Turin, although each chocolatier may call it by a different name.  Gianduia chocolate, either in bars or small squares, with whole hazelnuts inside.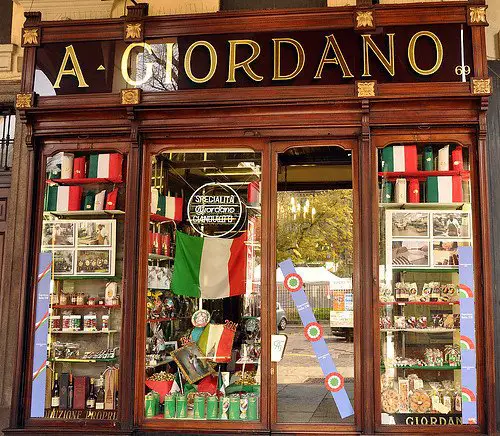 A. Giordano is in the piazza right across from Turin's Porta Nuova train station.  Even if you're not looking for it, this shop will bring even the most hurried person to a halt, with its three elaborately decorated windows framed in wood.
As Italy is currently celebrating its 150th year of being united, every window was decked out in the tricolore of the Italian flag.  Inside, the store looked a bit like an apothecary, with mirrored walls, wood panes, and glass bottles and vases filling every space available.  Instead of medicine, different types of chocolates were in those glass bottles and vases.
I sampled three of the many house specialties, their gianduiotto, gianduia hand molded into a stocky stub, the giacometta, and the tris nocciole.
The giacometta is gianduia chocolate with finely chopped hazelnuts inside, hand-molded into chocolate "kiss" shape.  Because they were so cute, I also had the tiny triangular tris nocciole, three hazelnuts covered in chocolate.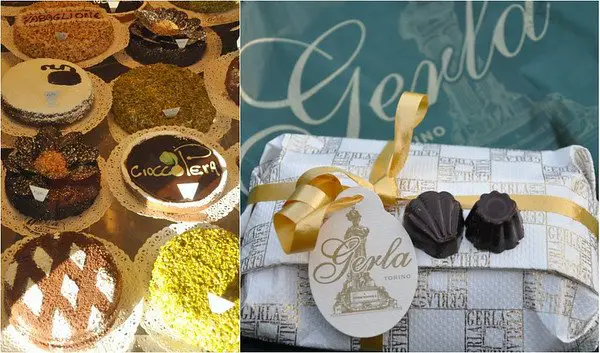 Gerla felt like the corner store from times long gone. The wood and marble façade led me into a store that had a 1950s feel.  The clerks and other clients all seemed to know one another and were chatting away.  Also popular for its pastries, the storefront windows and the front pastry case were filled with cakes.
Gianduia is also a specialty here, but their case of molded chocolates had me pressing my nose so close to the chocolate case, I fogged up the glass.
I bought a small (200 grams) tray of dark chocolates.  Each had a different type of chocolate filling: ganache, praline, or liqueur cream.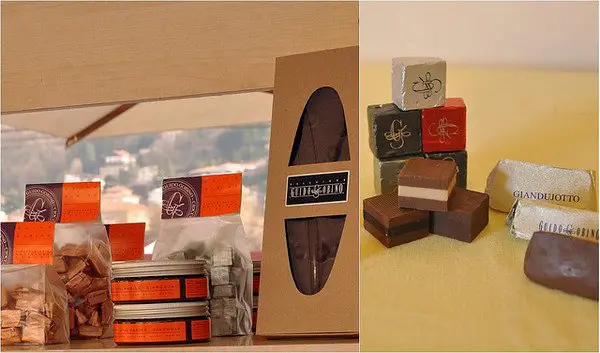 Guido Gobino, one of the big names in chic chocolate in Turin, has two locations.
The swanky boutique in the city center has a chocolate tasting bar and lounge in the back of the store.  There you can have a proper degustation of chocolate paired with wines, liqueurs and coffee.
The second store, above the Dora River north of the center, houses the chocolate factory.  (You can visit the factory but must make your request ahead of time by calling or sending an email.)
Cremini, a traditional Turin chocolate, are squares of three layers. One layer of cream or ganache is sandwiched between two of gianduia.
You may also like: Falling In Love With San Francisco's Chocolate
I bought three flavors, one with specks of sea salt throughout a cube of gianduia, another with a dark chocolate layer in the middle, and another with a coffee cream center.
I had a few bars of the giandujotto and the smaller versions, called the Tourinot.  I also sampled the spamalbile al gianduja.  Spamalbile is the artisan, or some might say generic, term for spreadable gianduja cream. The brand name most recognized is Nutella.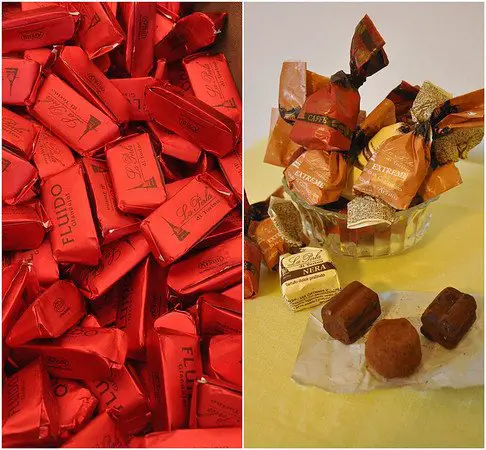 La Perla is one of the newer chocolatiers in the city, beginning production in the 1950s.  Of all of the chocolate shops, this had the most sterile feel, more like a grocery store.  If you want to select from many brands of chocolate, La Perla is a great spot.  Besides their own chocolates and sweets, they also sell other big names in Turin chocolate.
I purchased three of their truffle varieties.  The Extreme is dark chocolate with bits of chocolate nibs, the Nera is a dark chocolate truffle, and then there is coffee.  All were good, but I especially liked the intense flavor of the coffee truffle.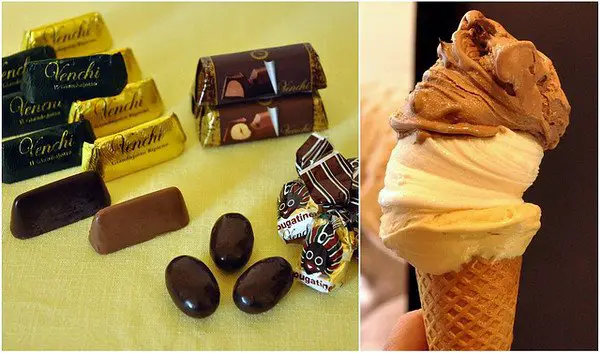 Venchi is another old name in Turin chocolate, one that has gone international.  The first Venchi shop opened in 1878 in Turin.
When I read that the shop on via Garibaldi was a cioccogelateria, I was sold.  I could get chocolate and my daily dose of gelato all in one spot.
Venchi has every type of chocolate imaginable, but I focused on three types: their famous nougatine, hard caramel with finely chopped hazelnuts all enrobed in dark chocolate. Their bars, a pyramid-shaped bar longer than a giandiotto.  The nocciolotto was filled with whole hazelnuts, and the cremino was filled with gianduja cream.  They had two types of gianduoitto, a traditional and one dipped in dark chocolate. I loved the chocolate-dipped version. Yes, I also had some gelato.
With my pants feeling a lot tighter and with a little chocolate smeared on my face, I left Turin in an endorphin-induced bliss, or might that have been a slight chocolate coma?
Turin Chocolate information and addresses:
Each year Turin hosts a chocolate festival: CioccolaTo ( also be sure to check out Scenes from Cioccola from Kathy's blog)
Pin for Later