The next time you are driving up or down  Interstate 95 through the Mid-Atlantic you really should stop and visit Richmond, Virginia, for the night. I know there's that I-295 that bypasses the Virginia capital city completely, but still, I really think you should do it, and frankly, staying two nights would be even better. Not that I'm bitter or anything.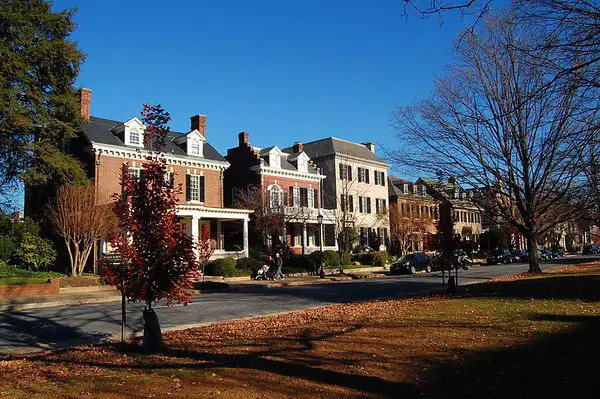 Yes, I know, I know, as a native Richmonder; I've heard all the stories over the years. You've already been there, you say; you drove through it that one time on your way to Florida, twenty plus years ago. You want to tell me about the uncounted toll booths – as if I didn't know about them, and they are gone by the way – and how as far as cities go, Richmond didn't really look all that impressive to you as you sped by in the back seat of your parent's station wagon on your way to Orlando.
It's okay, you were something like 12, and probably just wanted to get to wherever you were going; and if you did happen to stop it was to spend the night in a roadside hotel, which I don't think I need to tell you now that we're all grownups, doesn't really show a place in its best light. But assuming I have your attention now for a minute or two, I've got a few very good reasons for you to take an exit and visit Richmond, Virginia, next time you're cruising up or down I-95.
Monument Avenue
Monument Avenue in Richmond, Virginia, is considered a premier example of American city planning. The wide boulevard's most distinguishing feature is that many of the intersections are home to large statuary of everything from Civil War figures to Arthur Ashe, the professional tennis player. One of these days when I get back for a visit, I'd love to go on a walking tour. (You know that phenomenon where we don't know as much about where we live, or are from, as we do say, one state over?)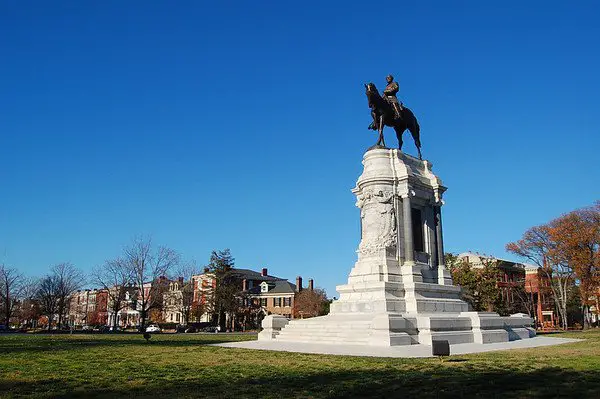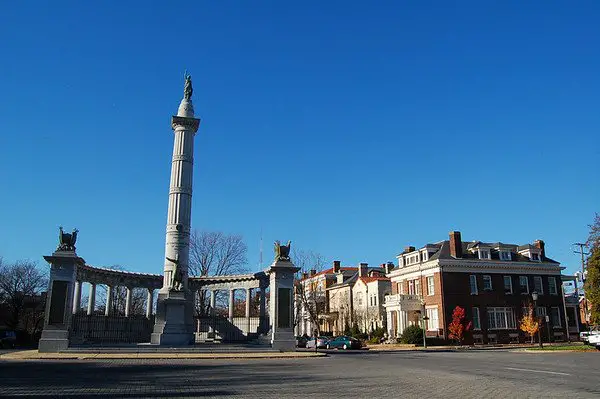 The Jefferson Hotel, 101 West Franklin St.
In operation since 1895, The Jefferson Hotel has long been the lodging of choice for the Richmond visitor. I've never stayed there, but whenever I'm in town I try to stop in for a drink at TJs, or if it's during the holidays, to peek in and admire the beautiful Christmas tree. Dave's and my rehearsal dinner was also held here in  The Flemish Room. I don't remember anything about it.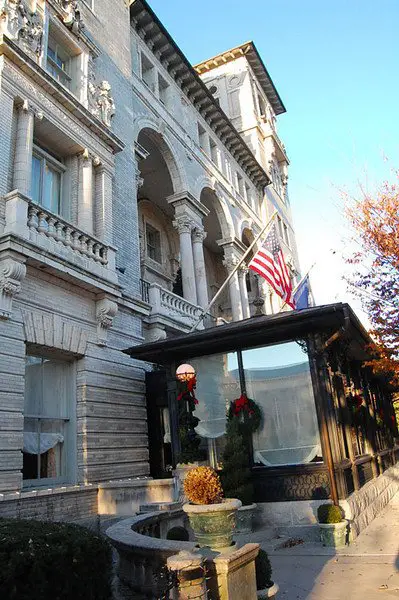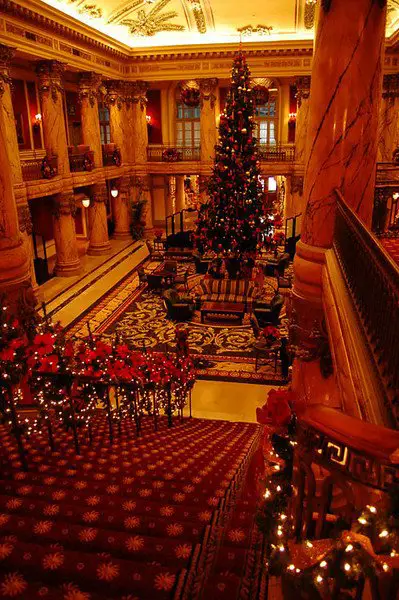 According to local lore, the staircase in Gone with the Wind was modeled on the grand staircase at the Jefferson Hotel. Whenever I hear this story I'm never sure if it refers to the book or the movie version. If asked most Richmonders will tell you whatever story they grew up hearing as swear-on-your-mother's-grave fact. Personally I cling to the idea of Margaret Mitchell's eyes falling on the staircase as she swished by, and saying, "Scarlett simply MUST have this!"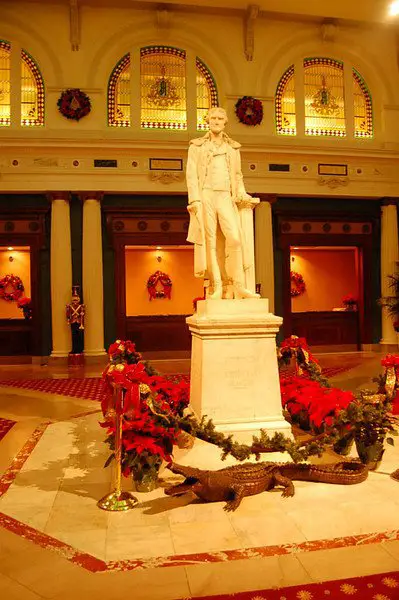 The Jefferson's magnificent lobby, known as Palm Court, features a statue of the hotel's namesake, Thomas Jefferson. See the statue of an alligator next to him on the floor? Back in the day real alligators were kept in the fountain that was once located in this spot. The last alligator, named "Old Pompey," died in 1948. (I'm seriously noting for the first time, how statue-centric my hometown is.)
The Virginia Museum of Fine Arts, 200 N. Boulevard
The Virginia Museum has undergone a massive renovation and expansion in recent decades. The museum is currently playing host as the only stop on the East Coast to the Picasso: Masterpieces from the Musée National Picasso, Paris exhibit which runs until May 15. Among the museum's most well-known permanent exhibits is the largest collection of Fabergé eggs outside of Russia.
The museum's recent expansion struck me as a flawless integration of indoor and outdoor spaces.
My final pieces of evidence as to why you should visit Richmond are, appropriately, food-related. One is a restaurant and the other isn't a restaurant as much as it is a bakery and a Richmond institution. Come to think of it, both establishments are Richmond institutions.
Millie's Dinner, 2603 E. Main St.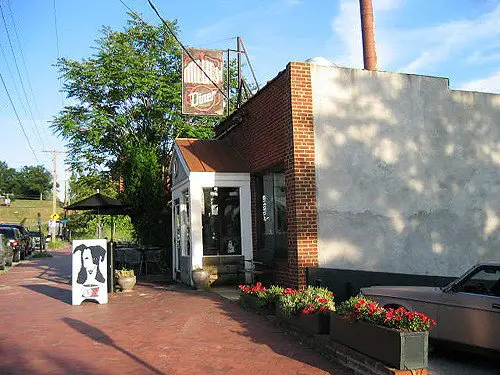 Millie's is located in a 1940s diner and is so close to Interstate 95 you can practically throw a rock at it (wouldn't suggest it though.) The highly praised restaurant has been serving up their own kind of fusion cuisine since arriving on the Richmond dining scene in 1989. Known best for their changing menu and weekend brunch, it's always worth the wait. Do you hear that? Something awesome like a crab and egg enchilada is calling you. Generally, Millie's doesn't take reservations. In other words, not having a reservation is no excuse not to pull yourself off the highway and go.
Sally Bell's Kitchen, 708 West Grace St.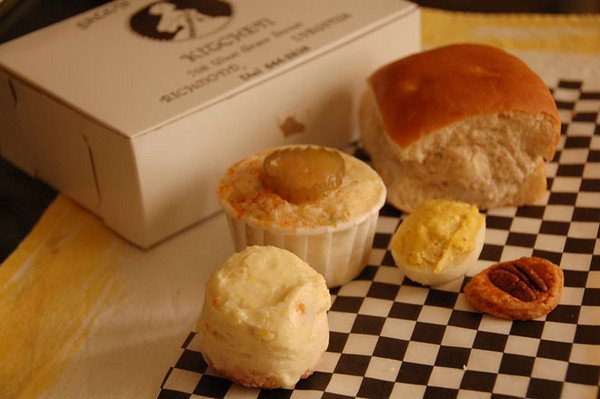 The original Sally Bell's Kitchen near the Virginia Commonwealth University campus, serves Richmond's quintessential Southern boxed lunch. I always like to choose their chicken salad or ham sandwich which is always served on Sally Bell's special roll. Other kinds of sandwiches, including pimento cheese, are available, but I think the roll is one of the best parts. Other essential items are potato salad with a pickle on top, one of their famous deviled eggs, a cheese wafer, and last but not least an iced upside-down cupcake.
Sally Bell's has been doing cupcakes forever, long before they were high cool — and that the ingenious ladies who founded this bakery turned them upside down means there is more surface area upon which to ice them, people. Swoon. I haven't had a chance to visit, but recently Sally Bell's Kitchen has opened a second location at Byrd Park where they also manage the paddle boat rentals for the lake. (and is also close to another favorite park in Richmond, Maymont.)
There are plenty of other good reasons to visit Richmond that are all within easy reach of Interstate 95. Have you ever been there? If you have, what are some of your favorite things about it?
But what I really want to know is, what are some of the things you would recommend people stop and do in your own hometown?
Pin for Later