Flanders, Belgium, and Summer Music Festivals
Name your favorite kind of music and there is probably a festival for it somewhere in the Flanders region of Belgium this summer. Flanders is a Festival is organized by Visit Flanders to showcase and celebrate the hundreds of music festivals held during the summer months in this area.  Travel Belles is thrilled to announce that we will be part of this unique program!
I'm headed to Belgium at the end of this week to attend the Ghent Jazz Festival. In addition to Ghent, I will be visiting several other of the best places to visit in Belgium, including Brussels, Antwerp and Brugge during my week-long stay. I just got my itinerary and besides festivals, it is full of all the things I love about Belgium: easy-going sightseeing with lots of food and drink.
Flanders 101
Belgium, for those of you who don't know, is made up of several regions, the two largest being Dutch-speaking Flanders and French-speaking Wallonia. Geographically, Flanders also encompasses The Netherlands (or perhaps more accurately, The Netherlands geographically and historically speaking, encompasses Flanders.)
The first time I traveled to Belgium was in the early 1990s when Dave and I were living in The Netherlands. My notion that Belgium was somehow less interesting than several neighboring European countries was immediately dispelled. How so?
I was blown away by the beauty of the Belgian towns, landscapes, and people. Brussels, as the capital of the European Union, was far from the staid, governmental kind of place I had imagined. As a centrally located crossroads of sorts in Europe, Belgium's capital city is not just incredibly diverse, but culturally rich and fun (with lots of great shopping.)
I'll abstain from the temptation to spew cliches about Brugge (also known as Bruges) and its remarkable charms ahead of my visit. But I'm looking forward to going back on my own – older, wiser and with a better camera – for a closer look at what is truly one of the most beautiful and well preserved medieval towns in Europe.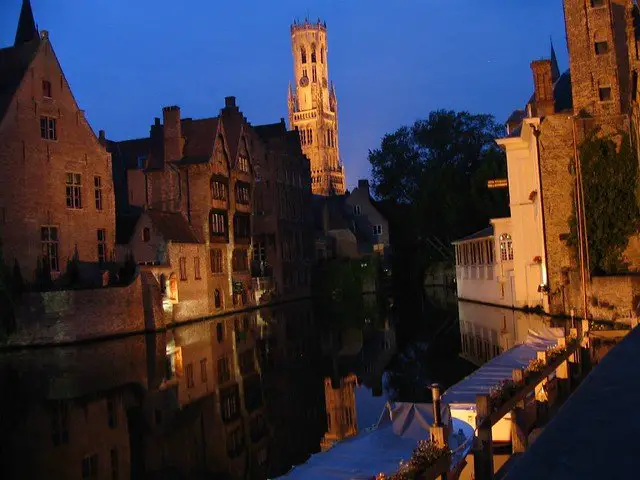 I experienced my first Michelin starred dining experience in Brugge oh so long ago. Even if I don't do that this time out, I hope to have the chance to enjoy one of my favorite regional specialties of the area, Moules Frites. This combination of steamed mussels and french fries is the burger and fries of Belgium. As you can imagine they are available everywhere and vary in quality, but I'm sure someone will point me in the right direction.
And there will be beer! Belgian beer and beer culture are famous throughout the world for good reason. I never really even liked the stuff until I tried it. Contrary to what I thought,  all Belgian beers are not dark and "hoppy." ( Confession:  The combination of Belgian beer and laughing gives me killer hiccups. As much as I'd like to avoid that, this is the kind of lesson I really don't mind learning again and again!)
I wouldn't be a very good Travel Belle if I failed to mention another one of Belgium's specialties – chocolate! When I lived in Holland and was pregnant with my first daughter, I would mosey down to the local Neuhaus shop a couple of times a week for a bonbon or two. Oh, the ironies of finding oneself pregnant and eating bonbons!
Even 20 years ago Neuhaus was becoming more of an international brand than a producer, but all I knew was that Neuhaus chocolates satisfied my pregnancy sweet tooth. My two favorites were the Nehaus Astrid, a creamy hazelnut praline, with a sublimely crunchy sugar coating and the Cornet Doré, a divine melt in your mouth swirl wrapped in gold paper. This style of sweet, creamy chocolate is typical of Belgian chocolates. I'm looking forward to visiting Choco-Story, the chocolate museum in Brugge that is operated by Belcolade. Belcolade is the only producer of authentic Belgian chocolate that is still Belgian-owned.
Flanders is a Festival that will be hosting music and travel bloggers between now and the end of September. You can follow the events all summer long on Twitter with the hashtag #fiaf12. If all goes well, technically speaking, I will be posting updates during my stay from July 7-14 via  Twitter, Facebook, and Instagram. I also look forward to sharing some great stories here on the site when I return!
Tot ziens!
Photos: public domain, Ken
Pin for Later