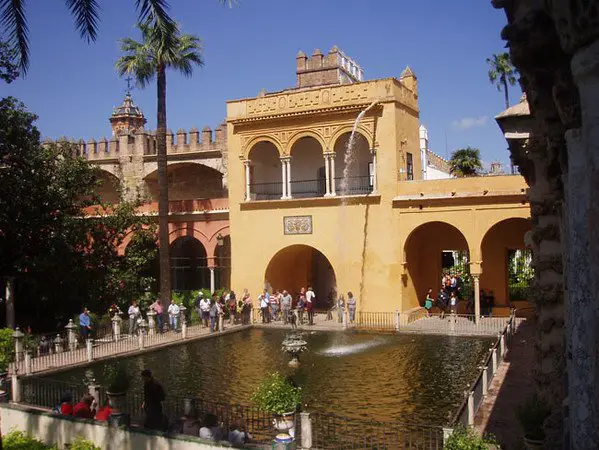 My first visit to the city of Seville was not as a tourist, but as a resident of a nearby town. As a twenty-year-old Spanish student at a UK university, I was required to spend a year in Spain or South America, fine-tuning my language skills. I applied to work as an English Language Assistant in a Spanish secondary school, ticking 'Andalucía' as my ideal destination, hoping that I'd be placed in a quaint coastal town offering plenty of tanning opportunities (my cultural sensibilities were highly developed back then, as you can tell).
Instead, the British Council sent me to Alcalá de Guadaíra in Sevilla province; a medium-sized suburban town of little charm several hours from the beach. It may not have met my narrow requirements, but until I gradually grew to love it, Alcalá had one main draw: its proximity to Seville. A half-hour bus ride took me straight into the centre of this grand southern city, and one evening in September 2004, I found myself standing beside its vast cathedral for the first time, watching the bustle of the evening paseo and thinking that life in Alcalá may have its upsides after all.
As the capital of Andalucía, the autonomous region occupying the southernmost portion of Spain, Seville (or Sevilla) is a major regional hub, and has been for many years: it was an important city in both Roman and Moorish times. However, despite its size, Seville has none of the fast-paced business whirl of Madrid or Barcelona. Like the rest of Andalucía, Seville is relatively laid-back; moving at its own leisurely pace, making it an ideal city to visit. The majority of the centre is easily walkable, with many pedestrianized streets, including its main thoroughfare, the Avenida de la Constitución.
My first and many subsequent visits focused on the centre of Seville: the barrios (districts) of Santa Cruz, the former Jewish quarter, stretching out east of Seville cathedral; El Arenal, the prime tapas zone running from the cathedral to the Guadalquivir river, and the area known as El Centro, north of the cathedral. This much-mentioned cathedral is probably the city's best-known monument; its tower standing proudly above all other buildings on Seville's skyline: Until recently, the city council forbade the construction of edifices which topped the height of La Giralda. And it's not just the tower that boasts enormous proportions: the men behind the sixteenth-century cathedral's construction aimed to build a church so large that everyone would think they were mad.
As the third-largest Gothic church in the world, it certainly doesn't disappoint. It's also the final resting place of explorer Christopher Columbus, but for me the real attraction of a visit is the view from La Giralda. This former minaret is the only remaining element of the mosque which once stood on this site, and one of the most perfect examples of an Almoravid minaret that remains (the other two are in Morocco). Visitors can reach the vantage point at the top by climbing a series of 35 ramps, designed so that guards could ride their horses to the top. There's no hoof traffic nowadays, but it's distinctly easier on the human hamstrings than the usual spiral staircases of other European cathedrals.
Close to the cathedral lies another reminder of Seville's Moorish heritage, the Alcazar palace/fortress. Now used occasionally by the Royal family for state occasions, the Alcazar castle is one of the finest remaining examples of Mudéjar architecture: a beautiful complex of courtyards and stucco-walled rooms with domed ceilings which (with a little imagination) transport the visitor back to the days when sultans stomped the palace's corridors. The Alcazar site also houses extensive and beautifully-tended gardens, filled with fish ponds and fountains, as well as plenty of benches on which to recline in the shade of an orange tree and feel as though you're miles away from the city centre.
For those keen to see as many monuments as possible while on holiday, Seville has plenty of museums and galleries to keep visitors entertained in addition to these two main sights. Notable examples include the Museo de Bellas Artes de Sevilla (Seville Fine Arts Museum), which features the work of major Spanish painters such as Goya and Zurbarán as well as local artists, and the privately-owned mansion La Casa de Pilatos, a 'palace' built in a mixture of the Mudejar and Italian Renaissance styles which houses an impressive sculpture collection. As one of the country's oldest La Maestranza bullring is another popular attraction – the squeamish can take a tour rather than sitting through the spectacle of a fight.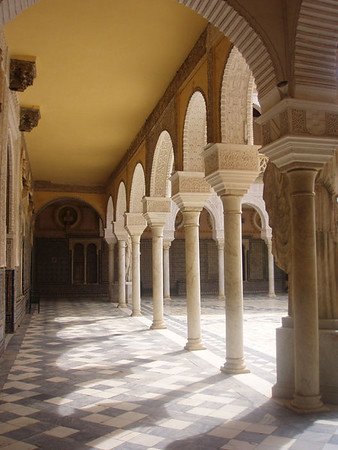 A ten-minute walk away from the Santa Cruz area is the Plaza de España, an elaborate tile-covered square designed and built for the 1928 expo. Flanked by a pair of towers, the square features depictions of famous Spanish battles, as well as two enormous fountains and a boating lake that's more of a basin than a lake, but fun all the same.
Like the Plaza de España, much of what I love about Seville has no entry fee or rigid opening hours and allows visitors to make the most of the good weather the city enjoys much of the year. So much of Seville's beauty can be experienced just by walking through its streets; through the districts which sit side-by-side like a series of small towns, each with its own distinct identity.
The warren-like cobbled streets of Santa Cruz open out into squares studded with tapas bars and restaurants; the narrow alleyways of the centre are lined with traditional shops selling lace bridal and christening gowns; flamboyant flamenco dresses in matching polka-dot shoes; religious paraphernalia and hand-made sugary treats such as flaky pastry palmeras and local delicacy tortas de aceite.
El Centro is also home to Seville's main shopping streets, Sierpes and Tetuán, where international chain stores such as H&M sit alongside Spanish favourites Stradivarius and Zara, as well as independent boutiques. In the summer months, when the reason behind Seville's nickname 'El sartén' (the frying pan) becomes sweatily clear, these streets are covered with white drapes to provide some shady respite, and bars fix up sprinkler systems to mist their customers with a refreshing spray.
There are more outdoor delights to be found across the river in the district of Triana, once a distinctly working-class neighbourhood with little appeal to tourists. Nowadays, there is little in the way of sights to entice travellers across the bridge, but those with an appetite will certainly appreciate the tapas on offer at bars such as Las Golondrinas on Calle Pagés del Corro, or the deep-fried fish with the bonus of a river view at El Faro de Triana.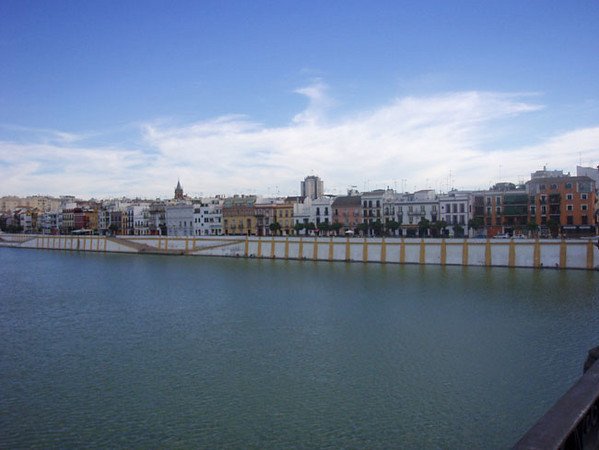 Riverside Calle Betis, the street I called home for a few happy months in 2008, is one of the city's main party zones: around midnight, the action moves from its low-key cafés and classy restaurants to its bars and continues into the early hours of the morning. Even if all-night drinking isn't on the agenda, it's worth pausing for an early evening glass of wine and dish of olives on Calle Betis and watching the sunset over the Giralda, visible across the rooftops of the city.
Seville's manageable scale, relaxed pace and climate make it an excellent city break destination: There's plenty to see, but the list of sights is far from impossibly overwhelming; the laid-back local lifestyle means that you'll never feel stressed, and its many hours of sunshine make an alfresco breakfast a possibility even in January. In fact, it's far more than an ideal weekend escape, as I'm reminded every time I return: It's also a fabulous place to live.
*Photo credits: All by Kate Turner © except the photograph of Seville Cathedral from Flickr by Wolfiewolf
**You may also enjoy reading Kate's piece from her own blog, My Perfect Vista, the city of Seville
Pin for Later