The town of Sorrento is located in the Campania region of Southern Italy.
It's often referred to as the gateway to the Amalfi Coast. Because of its proximity and good transport links, it makes a great base for day trips to nearby towns such as Capri, Positano, Amalfi and Ischia.
Here are the tops things to do while you're there!
Things to do in Sorrento
#1 – Wander the streets in the old town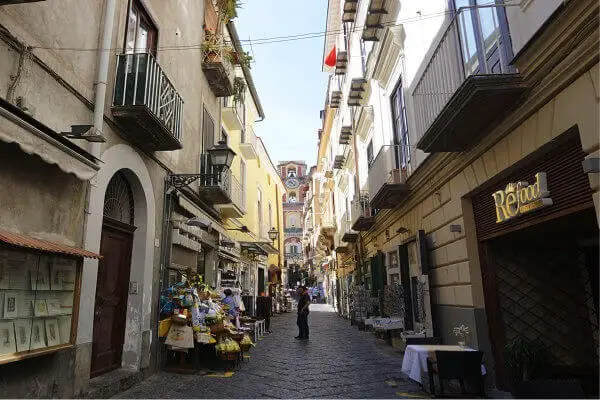 Via San Cesareo is a charming and bustling narrow street in the old town of Sorrento. It's full of shoppers searching for local crafts, souvenirs and of course sampling the local limoncello. It's also home to many of Sorrento's restaurants and coffee bars and my favourite Gelato place called Raki. I love getting lost and wandering through the many laneways leading off this historic street.
Top tips:
Limoncello is a lemon liqueur which is intended to be served chilled and to be sipped slowly as a digestive after meals.
Check out Sedile Dominova which is a 14th century building where the local men meet to play cards.
Keep an eye out for the numerous churches in the old town which are worth a visit.
# 2 – People watch in Piazza Tasso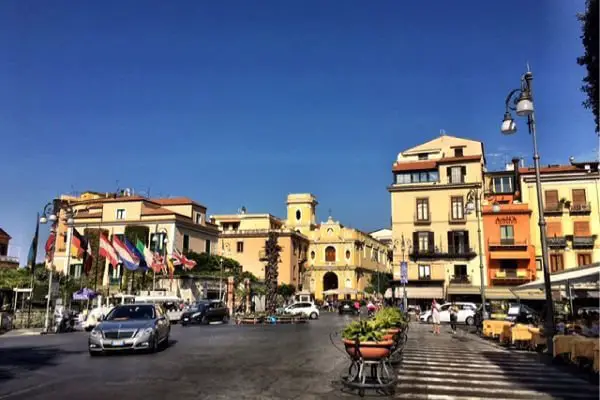 Piazza Tasso is the place to watch the world go by. I can sit for hours in a restaurant watching locals go about their day, eager tourists ready to discover the town and lovers taking a ride in a horse drawn carriage. It's just as lively in the evening as it is during the daytime.
Top Tips:
Dining in a restaurant in Piazza Tasso can be costlier than dining in other restaurants that aren't in the centre of town.
Enjoying a coffee while you are seated at a table will cost you more than drinking it at the bar (like the locals do).
If you want to drink coffee like a local, one thing to remember is that Italians stop drinking cappuccinos after 10:30am in the morning.
You may also like: 10 Places To Explore The Slow Food Lifestyle In Italy
# 3 – Shop on Corso Italia
Corso Italia is the main shopping street in Sorrento. It's lined with shops ranging from local boutiques to high end designers so it certainly suits everyone's budgetary needs. During the evenings of the summer months, the street is blocked off limiting traffic. This is when you'll find both locals and tourists hanging about, taking a stroll, enjoying a gelato and being entertained by buskers.
Top Tips:
Most stores will close at approximately 1:30pm for a few hours but will re-open in the afternoon and remain open until later in the evening.
Pop into the Duomo of Filippo e Giacomo which was built in the 11th Century and marvel at the stunning interior. It is located on Corso Italia and is the main cathedral of Sorrento.
# 4 – Take a hike
The hiking trail of the 'Path of the gods' also known as 'Il Sentiero degli Dei' has one of the most stunning panoramic views of the Amalfi Coast. Not only did I experience breathtaking views and amazing scenery, I was lucky enough to be met by a herd of goats along the way. We started at Nocelle and hiked all the way to Agerola and back which took approximately 4 hours with stops for photos and a snack break in between.
Top tips:
Do it with a local hiking guide such as "Sorrento Hiking" – you'll learn so much more about the flora, fauna and history than doing it alone. You'll also be provided with a trekking pole which will certainly come in handy!
Start early so you can beat the heat, the traffic and other hikers along the track (who may slow you down).
Be sure to put on sunscreen and take a hat.
Don't forget to take water and some energising snacks such as fruit and nuts.
# 5 – Swim at Bagni Regina Giovanna
Bagni Regina Giovanna is a beautiful natural rock pool that translates to Baths of Queen Giovanna. Legend has it that the queen used to come here accompanied by her young lovers, getting rid of them afterwards by throwing them into the beach to avoid blackmail and shame. Further ahead, you'll discover ancient roman ruins and a boardwalk that leads to a restaurant called La Solara. I always stop here for a meal and aperitive and you can also hire deck chairs here to sunbake and swim.
Top tips:
You can walk here from the town centre which will take you approximately 40 minutes.
If you choose to take a bus, it will only take you as far as Capo di Sorrento, and from there you will have to walk approximately 12-15 minutes to reach the rock pool.
Apart from the restaurant that has a sunbaking deck, there are no flat surfaces where you can lay down by the water, only rocky ones.
# 6 – Go to Marina Grande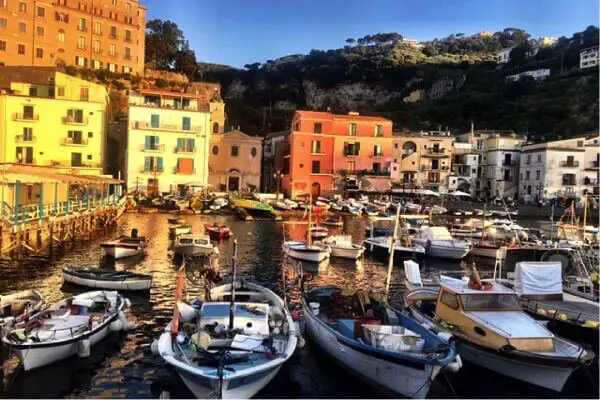 Marina Grande is a small fisherman's village that's full of pastel coloured buildings and a great deal of character and charm. It's worth paying a visit to this rustic quarter of Sorrento where you can:
Dine at one of the many restaurants that serve fresh local seafood
Spend the day at the small sandy beach which is free of charge or at one of the private beaches run by some of the restaurants
Watch the fisherman clean and repair their nets
Top Tips:
Getting here is approximately a 15-minute walk from Piazza Tasso
The private beaches will charge you between 10-15 euros. That does however come with a sunbed, umbrella and waiter service which means you don't have to move from your lounge chair.
You may also like: Finding the Yum in Umbrian Wine
#7 – Visit the Cloister of Saint Francesco
The Cloister of Saint Francesco which was built in the 14th century, is situated near the church that bears the same name. I'm always fascinated by structures that date back centuries, because back home in Sydney (where I come from), we don't have buildings that old! It's quite a peaceful place away from the hustle and bustle of the town centre and a popular venue for civil weddings, so don't be surprised if you happen to stumble across a bride and groom during your visit. Upstairs in the adjacent building you will also find an exhibition of Sophia Loren photos.