"Single mothers or those traveling alone with small children: please come to the front of the line for immediate boarding."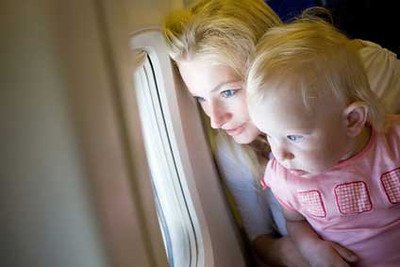 What was that? Did the voice coming through the speakers just say "single mothers?" The two of us, toddler and I hobble along, boarding passes clenched between teeth and stuffed, life-size Labrador Retriever tucked underarm.
The laptop in my backpack weighs like bricks, the handbag strap either burrows a gash or relentlessly slides off my shoulder as I walk doubled up, rolling along my son's Spiderman trolley.
We make it to the gate just in time, flight attendants nervously tapping their foot.
No priority assistance, no mercy, no smiles.
I contain a minor meltdown for not receiving any sort of help in intercontinental transit, and we proceed through the tunnel to the aircraft. We take our seats and shoved Fido and the rest of our carry-on in the overhead compartment.
The steward hovering by casts a glacial and disapproving look, but I don't care. I'm a single mother traveling with a small child and I dare occupy overhead space liberally if I want to.
You may also like: Bad Flying Experiences – A Chat
Flying with children is never easy…
Managing longer flights with little ones means possessing the stamina, nerve, and vitality required of a cyborg.
Check-in lines, passport control queues, security checks: endeavoring this on your own, with no company or additional manly muscles is difficult, period.
My son's first international journey in post 9/11 air travel was an endless succession of long waits in line, at best. Ask any three-year-old to walk through a metal detector without his blanket (or clutching mom's hand), you're bound to meet some kind of resistance.
Fear on the smaller end, impatience or attitude from the ones in uniform.
Despite clever planning and time management, taking off shoes, placing items in bins and running through X-ray conveyor belts is always a rushed, sweaty panic, not a fun new game.
Despite my explanations, a shy child of 4 reacts oddly to getting frisked by a stranger.
Hurriedly redressing and re-assembling pieces, walking through busy terminals to reach the designated gate exhausts frazzled mom and potential time bomb tantrum child before even nearing the boarding lounge. And the voyage hasn't even begun yet.
Over the years, I have accumulated a number of travel-with-baby horror stories.
That time a fierce snowstorm locked the whole of Europe in airport limbo for two straight days.
While families divided tasks and managed to retrieve checked luggage while securing a good spot in line for ticket reassignment, little man and I camped out in Fiumicino without the certainty of a seat for many many hours, going through all possible connection scenarios, and finally made an overbooked flight 26 hours later.
But the delayed departure made us miss our cruise ship connection and ultimately ruined our family reunion/Christmas holiday.
There was also that incident on our way back home from San Francisco, when my preschooler and I raced through what felt like 12 miles of Heathrow airport terminals, met with zealous security checks that suspected ill intent with the boy's milk bottle, took two (not one, two!) trains across terminals, only to find that our transit flight to Rome departed from exactly the same gate we had come in from.
The Layover From Hell, we like to call it.
Lost luggage nightmares in Charles De Gaulle? Check. Intercontinental child-diarrhea? Done. Swindling cab drivers in Miami? Been there.
You may also like: Lack Of Airplane Etiquette
Is there a secret for making flying with children easier, or at least bearable?
Perhaps not, but I have accumulated enough mileage and experience to pass on a few helpful hints to all those courageous, hard-working mothers who are about to embark alone on a flight with tiny humans in their care.
The best thing to do when approaching extended air travel with kids is wise planning, keeping clutter to a minimum, and staying calm.
Book smart air travel times. Consider making reservations for a flight that doesn't leave too early in the morning or during your child's nap or meal times. Night flights suit kids best because darkness favors sleep.
Plan connecting flights with ample layover, three hours at least. Unplanned delays can overthrow your itinerary, forcing you to rush through unfamiliar terminals to make the connecting flight. Only to see the gate doors shut before you—or worse, catching the flight just in time, and upon arrival finding out that your checked-through luggage has not.
It's possible to pre-reserve seats with most airlines but there's more to simply requesting an aisle or window. Ask your travel agent what aircraft you'll be on, and for a floor plan; or visit http://www.seatguru.com — it shows you where the legroom is—and isn't. Remember that since cots can be secured to the wall, front rows in the economy are usually occupied by families traveling with infants. Sit too close to the toilet and you'll have a queue invading your space. Tail rows are quieter, but that means disembarking last. Ask at the check-in counter if the flight is full. If it's not, request an empty seat next to you. It works nine out of ten, and you and the kids can stretch out mid-flight for some precious shut-eye.
Have someone in your family or a trusted friend or neighbor, drive you to the airport. It takes the edge off the long journey ahead. An extra set of strong arms to unload the luggage can be precious, as finding a pushcart while you wait curbside with a baby. It's good to chat with someone instead of stressing alone as you inch forward in the check-in line, and a friend will chaperone the kids scuttling around the terminal while you plastic-wrap the collapsible stroller.
Keep the checked-in luggage to a minimum, if you can. On international flights passengers (even the non-potty trained) are generally allowed 2 pieces of luggage, each weighing 40lbs. Check your airline for luggage weight restrictions and fees before packing the ironing board and the Encyclopedia Britannica.
Never lock your luggage, and have each piece tagged and identified with a special color pompon, bow, cowbell, etc. I take a digital photo of my luggage in case I have to describe it in my lost luggage report.
As far as carry-on, each international passenger is allowed 2 small pieces plus a ladies' handbag. Backpacks can carry essentials such as diapers, wipes, baby food, bottles, snacks and activities for the child, and still leave your hands free—a necessity when traveling with little ones. Cute models can be found at www.modcloth.com/shop/bigbags
The stroller is another issue. Standard buggies frequently don't fit in cabin overhead compartments (depending on the specific aircraft and stroller model), when they do they take up lots of room. Most strollers aren't allowed in the cabin, they are rather "gate checked." Airline jargon for checking something directly at the departure gate (usually right at the aircraft door), rather than at the ticket counter. However, most items that are gate-checked are sent to the baggage claim upon arrival, where they will be retrieved on the conveyor belt along with the rest of the checked luggage. So make sure you get a claim tag, and clear the pockets and mesh netting before folding your stroller. Finally, many airlines do not cover damage done to strollers; so if you're worried about yours, place it in a sturdy protective bag.
Avoid consuming on-board alcoholic beverages and coffee (can one call that grey, coach class beverage coffee? Where I live in Italy the espresso is on diametrical latitudes from cabin-served dirty water). I down gallons of water instead, and take frequent strolls to the nearest lavatory. This also gives me a chance to stretch and check whether the flight attendants are making cookies for Business Class passengers.
To help cope with changes in cabin pressure (which sometimes can cause ear pain), I always make it a game with my son to drink juice and chew gum during take-off and landing. Fortunately, tisane, juice, formula, etc. in large baby bottles are allowed. When I was still nursing, I'd express my breast milk at home, refrigerate it and store it in a small cooler bag. Then I would ask the kindest-looking flight crew person to keep it in their galley fridge to use on occasion.
Walks around the aircraft help fight cabin stiffness and boredom. But also bringing some crayons or mini-markers and a coloring book, stickers, deck of cards and a few small toys can occupy the long hours on board. A favorite teddy bear is a good relaxant for post-playtime.
Once your child has nodded off, you finally can too. Eye masks and earplugs help broach nurturing sleep, and your own headphones will spare you an on-board rental expense, in case you want to watch a movie.
If you need to use the toilet, and you don't want to leave your sleeping children alone, ask a flight attendant to watch over them while you use the bathroom. Should they wake while you're away, instruct the person to be very clear in telling them you'll be right back; nothing scares a child more than abandonment. Especially at 30 thousand feet in the air.
Food
Often a bite to eat can sedate a tantrum, break a boredom spell and give kids activity during long flights.
On domestic US flights—where food is for sale—I always pack some hunger-busters. Fruit bruises dangerously, so I avoid fresh bananas, peaches, and grapes: too perishable. Apples are OK, but sometimes the waxy skins are too coarse, and we end up chewing forever. Dried fruits are always a hit with my gourmand mini traveler. Banana chips, dried apricots, raisins, dried mango, etc. Plus we nibble on a special trail-mix I make with dried cranberries, pistachios and shelled sunflower seeds. Pretzels and salted nuts are good snacks, but make you thirsty. Cookies proverbially crumble, and sandwiches are messy, coming apart in your bag. So I prefer packing a stack of digestive biscuits and a wedge of Swiss cheese for hunger bouts; carrot sticks and protein bars, which are always a success: they substitute a meal and the little tike's getting his nutrients, believing it's forbidden junk food.
When airplane food is served, I always go with the simplest choice. Between chicken and fish, I choose the bird. Beware, the food is usually piping hot.
Un-clutter the tray table and serve babe the food dish only. Thanks to an unplanned karate kick during turbulence, my son once inadvertently spilled 2 glasses of apple juice in my lap. Fortunately, I had spare clothes.
You may also like: Reclining Your Airplane Seat
Carry-on 101
It's always wise to bring double everything in your carry-on. I pack two sets of lingerie and an extra outfit in my hand luggage, just in case I get stranded or involved in the above-mentioned accidents.
Wear comfortable clothes for the flight. Loose-fitting yoga pants, a long-sleeved top, and either a gossamer bamboo cardigan or a wrap. A pashmina does double duty as a blanket against cabin chill. Easy slip-on, lace-free sneakers or Crocs are the best shoes to wear for flying. Cowboy boots, heels or snug trainers are never a good idea, especially if you plan to take them off. During long flights, feet tend to swell disproportionately, and getting fancy footwear back on can be painful.
Pack spare clothes and extra diapers for the kids in their carry-on. A sweatshirt with a hood helps to protect from nasty air conditioning and provides shade in case Mr. Sandman arrives.
I make it a point to do ankle twists and massage rich moisturizing lotion on as much skin as possible during the flight to avoid flaking and deep vein thrombosis. Economy Class Syndrome is something all passengers should be aware of when negotiating a long-distance flight.
Hauling a massive make-up bag of remedies, oils and balms is history. TSA regulations have drastically slashed the number of liquids allowed in hand luggage, so I build my own homemade toiletries travel kit using the allowed quart-sized Ziploc bag. I stock up on tester samples, a small deodorant, and a mini toothpaste tube. A 3-oz refill bottle of eye-cream, a nice moisturizer, a very rich hand lotion, a travel mist. That's all you really need. If you care for skin during the flight, all you need before landing is a tinted moisturizer (or a mineral foundation that you apply with a brush) and some blush. During my last intercontinental flight with my son from Rome to Los Angeles, I also packed a mini tester tube of mascara and whipped some on right before landing. Only to see it trickle down in tears of joy upon embracing our loved ones.
Safe and happy travels, belles!
Pin for Later