You know the routine: You schlep your way through the first class cabin in search of your seat in something like 38D. Is there even going to be room for your carry on in the overhead bin, you wonder?
Beverages already in hand, the passengers in the front cabin work and read, or at least pretend to, as if they have been comfortably settled for hours. A few are wrapped in blankets and appear to be sleeping. Around 30 percent of them already have a set of those noise canceling headphones that cost something like $300 already wrapped around their rarified heads.  It's okay to be a little jealous.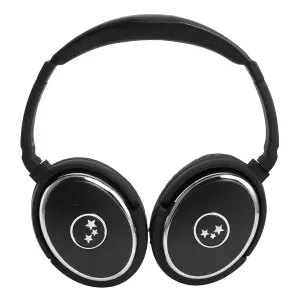 Having scored an upgrade thanks to Dave's Chairman status, today he and I are among those at the front of the plane. For me, anyway, this is a rare occurrence.
The guy across from us has already pulled out his fancy noise canceling headphones and I remember that I am now the owner of some too  – a pair of Able Planet True Fidelity.  They are packed in my carry on that is now stowed in the overhead bin.  I have forgotten to pull them out ahead of take off, but given that we're on a five hour flight there is plenty of time.
Whenever I see someone wearing noise canceling headphones on an airplane, I assume they are the better known brand that rhymes with "Nose."  But the past several years, Able Planet has produced noise canceling headphones in a wide price range, giving that better known manufacturer some competition. In other words, noise canceling headphones aren't only for passengers seated in the front of the plane.
Noise canceling headphones for the rest of us
 There are several considerations for noise canceling headphones, the obvious being their ability to cancel out the loud noise made by airplane engines and the not insignificant cabin noise, while making for a clearer, more realistic sound experience.  The second consideration is the quality of  the device for listening to music and other audible recordings for people with various levels of hearing. Interestingly, Able Planet's mission is to create solutions for consumers of All Levels of Hearing™, through the use of technology. Comfort is not technical, but no less  important of a criteria for evaluating any kind of headphones.
Noise canceling headphones require a battery, but the Able Planet model I was testing, doesn't necessarily require one to work, but for an environment as noisy as an airplane, the battery operated mode is needed.  An on/off toggle switch is located on the back of the right ear cover. Before even putting on any audio, just flipping the switch made for a much quieter environment and more pleasant to read on the flight. The padded around-the-ear covers were comfortable. I wore them for most of the flight except when I gave them to Dave to try. I did notice a bit of sound leakage from coming from them as he listened to music, but if you ask me he always listens to music turned up too high anyway!
When I listened  to some music later in the flight, I finally understood why music aficionados are so particular about their headphones. Listening to music was infinitely better than using the inexpensive earbuds I generally use. I especially appreciated the inline volume control for adjustment right within easy reach.
The set of noise canceling headphones I reviewed, the True Fidelity NC369BCM, retails for $139.99. I have never had the opportunity to try out any other brands  – so my advice, especially if you are interested in purchasing a higher priced model would be to compare them side by side at the store.  Next time you are passing through an airport, remember that Brookstone and other airport stores offer various brands and styles.
Are these noise canceling headphones one of my new favorite travel accessories? Definitely! Dave plans on putting them to the test over the next several months on his overseas jaunts and we will be sure to report back as to how they hold up.
Able Planet headphones come with a hard zip up case that protects them and houses the various cords and attachments needed for different connections. They offer a variety of models, some being more suited for musicians, others better for travelers, and several Bluetooth enabled styles as well.
Able Planet provided us with True Fidelity® noise canceling headphones for purposes of review.
Pin For Later