Last Updated on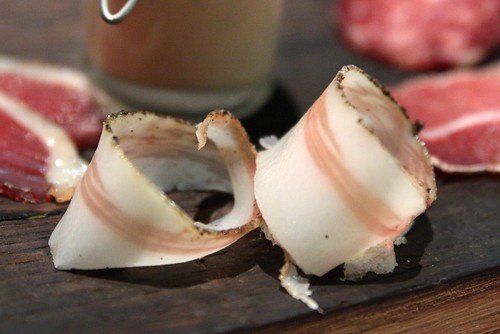 Guanciale {gwanCHAleh} (aka porky goodness)
Pig's cured jowl/neck meat is a considerable Italian delicacy, as it imparts unique flavor and smooth sumptuousness to any dish or sauce. The word guanciale means two things: a) a headrest pillow, on which you repose your cheek when you retire to bed; and b) cured pig's fleshy and droopy cheek, neck and upper neck. Both terms derive from the root guancia, which means? Cheek. Yes! Very good, you're learning Italian at warp speed.
Guanciale is native to central Italy, especially Umbria, Abruzzo and Lazio, where it adds particular oomph to a number of Rome's signature preparations including several pasta dishes such as Carbonara, Gricia, and Amatriciana. It is similar to the bacon-like, flat or rolled pancetta, but not as lean or tender, and therefore boasts a richer, more voluptuous taste.
The noble fat that constitutes guanciale is marbled with muscle tissue; the pork cut is rubbed with salt, ground black pepper or red peperoncino chili pepper; and cured for three weeks to obtain guanciale's signature rich, sweetly porky flavor and buttery texture. Guanciale's unique feature is the collagen in the meat. In combination with the creamy fat, the collagen gives anything cooked with guanciale a silky, succulent covering.
Until quite recently, guanciale was very hard to find outside of Italy. Most American cookbooks hardly ever mention it. Almost all Italian recipes that ordinarily use guanciale in foreign cookbooks call for ordinary bacon. But bacon is not as good a substitute, because it is smoked and contains sugar, neither of which are part of guanciale's preparation.
Should overseas cookbook mention guanciale, where would the American cook find it? Salumeria Biellese at 376/378 Eighth Avenue at 29th Street was until very recently the only shop in New York City that sold the precious delicacy.
Now, however, there are new American guanciale sources. La Quercia, a producer of cured pork in Iowa, makes it and sells it online at http://www.laquercia.us. The Specialty Department in Fairway markets in the Tri-State area also keeps it in stock. Armandino Batali, father of renowned chef Mario Batali, has a Seattle company, Salumi Artisan Cured Meats, which sells guanciale and other Italian cured meats at its Seattle Salumi storefront Restaurant on 309 Third Ave South.
For more delectable food posts, head over to Wanderlust and Lipstick's Wanderfood Wednesday
*photo courtesy of  sifu_renka via flickr
Pin for Later