The pace of Siem Reap is gentle, the vibe is warm and her charms are many. From the moment we arrived we felt welcome. Greeted with the broad smiles of happy locals, the weather was tropical and there's a feel to Siem Reap that invites you in.
The sun was setting as we drove to our hotel and as silhouettes of Thai inspired rooflines emerged and the streetlights flickered on, Siem Reap came to life.
At the heart of Indochina, it offers a beautiful mix of temple serenity, village simplicity and thriving street life.
Here's our top 5 things to do in Siem Reap.
Traveling to Siem Reap and Cambodia? For awesome travel tips and guidance make sure to pick up [easyazon_link keywords="Lonely Planet Cambodia" locale="US" tag="tbelles-20″]Lonely Planet's guidebook to Siem Reap and Cambodia[/easyazon_link]!
1. Banyan Tree Temple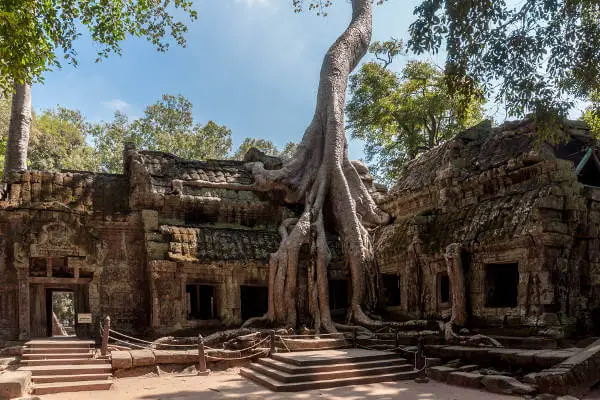 The Buddhist temple at Ta Prohm is easily recognisable in postcards with the age old roots of the Banyan trees literally hugging the temple walls. Everywhere you look the merging of the trees and stone is evident, forever entwined. There are root systems pulsating through the ground and you hardly know where the stone walls begin and end. As a tourist, the temple complex is small enough to see in a couple of hours. The tall leafy trees provide a beautiful patchwork of shade and with the historic stone carvings peering through the jungle, it's a photographer's paradise!
2. Fishing Village at Kampong Phluk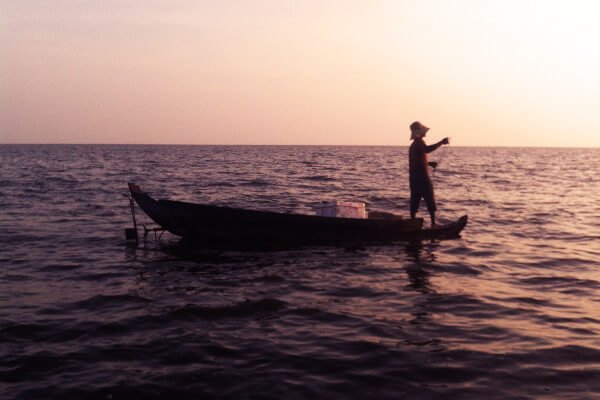 What a surprise! Just when we had all but given up hope of a boat ride for sheer lack of flowing water, we arrived at the banks of a muddy, brown river. It turned out to be our best afternoon in Cambodia! We climbed on board one of the many plank-built boats lined up, their turquoise and orange hulls edging into the riverbank and started our ride through the fishing village.
On either side, tall stilted houses precariously line the river. At the waters edge small children splashed around, hanging off the boats and jumping into the water while helping their families trawl in the fishing nets. The real surprise came when we stopped at a stilted cafe and swapped our motorised boat for a low, broad hulled flat boat to take us through the flooded forest. For the next 45 minutes we peacefully floated through the quiet backwaters, hearing only the soft whistle of our boatsman and gently lapping water. To see the river brimming with life and the humble ways of the fishing village was truly fascinating.
You will also love: Buying Dresses in Hanoi
3. Angkor Wat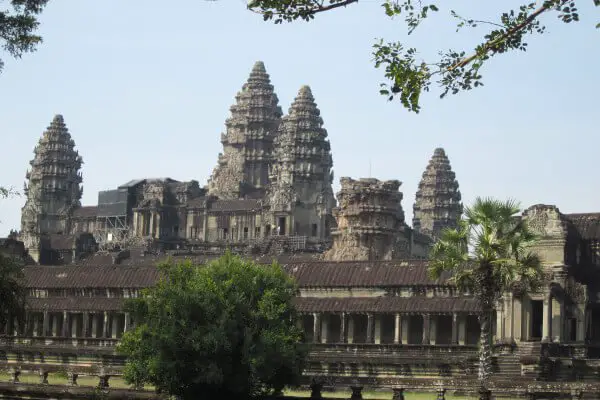 This is the reason most people visit Cambodia and in no way could the "temple city" disappoint. Angkor Wat is a sprawling temple complex weaving through Hindu and Buddhist incarnations and you'll need a full day to take in all the history, grandeur and beauty. It's a long walk to the main temple entrance, the approach crosses a lake and against the backdrop of a pale blue sky you see the carved spires of the temple soaring upwards. It makes for a grand entrance. Through the stone archways you peer across lawns where remnants of stairwells and columns remain, you see alcoves where adorned statues of Buddha stand tall, draped in saffron robes and reliefs of the Gods carved into the timeworn stone.
There are throngs of tourists and it's a good wait to climb the steep stairs to the highest point of the temple. Even on ground level the heat and crowds will test your patience but there are so many captivating treasures throughout that it keeps you absorbed every step. As the resident Monks sit chanting, bestowing blessings or quietly reciting their prayers, they fill the temple air with energy and life.
One of the great surprises of Angkor Wat are the smaller surrounding but no less intriguing temples that transport you back to the once thriving Khmer empire. It is said they were built to represent the Hindu universe and when you visit, you can see why.
4. Pub Street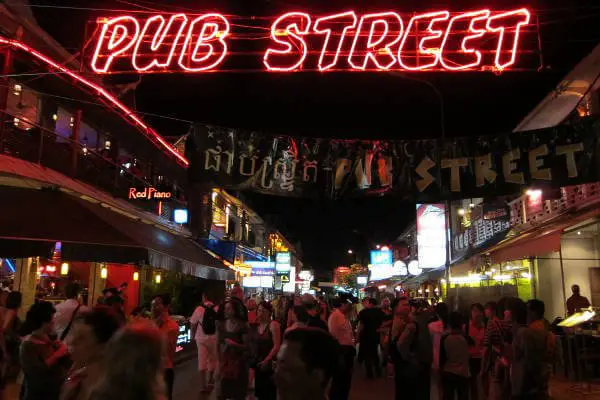 At the centre of Siem Reap is the thriving food and retail quarter known as Pub Street. It's where tourists migrate after every sightseeing tour for some outdoor street food and a tall cold glass of Angkor beer. Local food is a fusion of Thai and Malaysian, lot's of noodles and Cambodia's signature amok coconut fish curry. The streets are lined with all sorts of eateries both local and continental, rooftop cafes with live bands and rows of tuk-tuk drivers waiting eagerly. There's a sort of coastal feel to the city, flying in on the warm tropical winds and it makes the days pass in a mix of discovery, adventure with plenty of time left to chill and soak it all in.
You will also love: Belle Views from Vietnam
5. Night Markets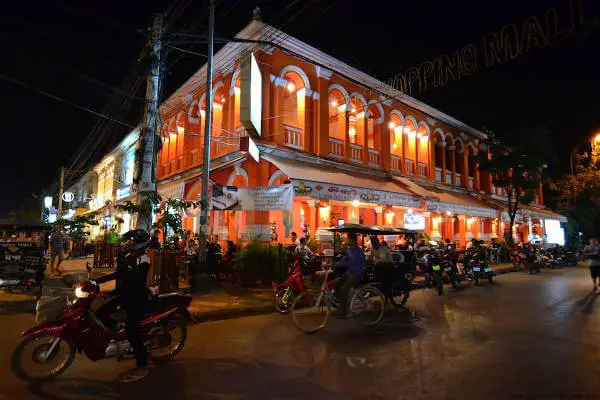 At the local night markets in Siem Reap you can find anything; tourist trinkets, much needed foot massages and piled high plates of charred crickets and scorpions on skewers. We passed. While many night markets in Asia look the same, they each have their own character; this one has all the interesting stalls, corners packed with local craft and open air food options that you'd hope for in an easy central layout. We happily and casually kept going back, each time experiencing something slightly different while still managing to find a new t-shirt design every time. One of the real treats are the utterly blissful street side massages, we sat down one evening for a 30 minute foot massage and only came up for air about 2 hours later!
And there's still more to see! You'll need about a week in Siem Reap to truly appreciate it's historical and cultural diversity but even in less time, with this list of top tips, you'll find Siem Reap a truly wonderful getaway.