Petite Bretagne. Little Britain. The region of many beaches and meandering coastlines is home to some of the most varied and delectable cuisine that France has to offer. From crepes for breakfast to the dinners of "fruits de mer" (shellfish, or as the French call them – fruits of the sea), Brittany is a region full of fine gourmet traditions that are only a ferry ride away from it's big brother Great Britain.
Heavily influenced by Celtic culture, Brittany combines many of the traditions of both Britain and France in all aspects of life. There are exceptions though – unlike most places in France, Brittany doesn't have a great love of cheese, but instead is famous for it's butter!
Here are some of our favourite dishes, drinks and restaurants in Brittany!
Visiting Brittany soon? For awesome travel tips and guidance make sure to pick up [easyazon_link keywords="Lonely Planet France" locale="US" tag="tbelles-20″]Lonely Planet's guidebook to France[/easyazon_link]!
Breton Butter Cakes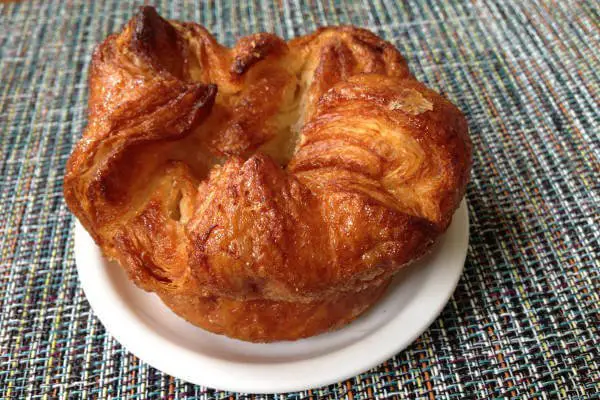 A visit to the shores wouldn't be complete without a bite of the Breton butter cake, the Kouign Amann which is made with dough and high quantities of butter and sugar – making it 100% part of the vacation-indulging-confectionary-family.
Recommended reading: Villages to visit in Brittany, France
Cider and Other Fun Drinks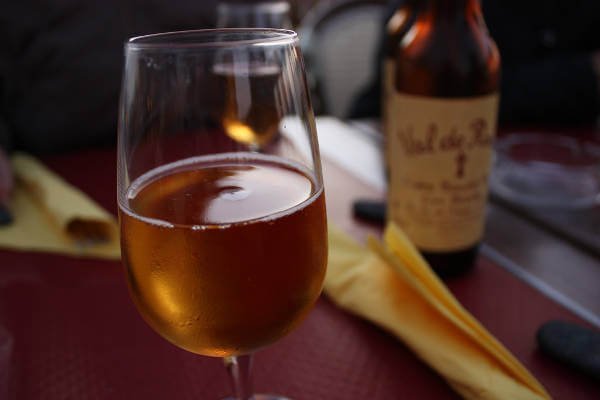 Funnily enough the traditional drink of Brittany is cider, as the region is the second largest cider-producing region in France and instead of glasses, is served in a bowl or a cup. So if anything, that alcoholic breakfast you always wanted is sorted! And if that isn't strong enough, there are many other types of drinks to satisfy your thirst. The choucen, a mead made with wild honey and an apple eau de vie (fruit brandy) called lambig are just some of the alternatives to try as you explore this amazing region.
Seafood!
As most of Brittany is surrounded by the sea, the range of fresh seafood on offer is vast, especially mussels and oysters. The beurre blanc sauce invented in Saint-Julie-de-Concelles is often served with fish and there many wonderful seafood specialties dotted along the coast and the interior.
Recommended Reading: Best Cocktail Bars in Paris!
Restaurants Galore!!
There are a whole host of gourmet restaurants that Brittany has to offer – mostly specializing in fish – but if you want that fish cooked to absolute perfection, look no further than La Criee right by the port of Quiberon which is attached to a fish shop and smokehouse. Prices range from £14 to £19 for typical main courses.
If you're looking for something a bit more fancy, Michelin star restaurants are dotted throughout the region. Highlights include Patrick Jeffory's Gastronomic restaurant that specializes in cuisine and reveals all the flavours of Morlaix Bay and Leon, an area known as Brittany's vegetable garden. Entering this building sends you right back to the 1930's whilst you enjoy the view of river and sea.
If it's not premier fish dishes you are after, then Olivier Bellin's Two Michelin Star family inn near Plomodiern enhances the other famous Breton product – buckwheat. Bellin, the chef of the "blue" country works with his "caviar of Brittany" with a variety of dishes – bread, macaroons, linguine with gravy and even ice cream!
These are just a few of the many delights that Brittany has to offer. It's the kind of place where walking down a side alley after hearing the gulls bark at the sun could have you bumping into a chalkboard of specials of the day and a friendly face inviting you in to try something that is fresh and delectable.
Recommended Reading: Going Gluten Free in Paris
Getting There and When to Go
Brittany is just a hop and jump away from the UK mainland and one of the most convenient ways to get there is via Brittany Ferries.
The ferry ports of St Malo and Roscoff are the common entry points onto the spectacular north coast and resorts like Binic Ploumanac'h abd Erquy make for quintessential family holidays in France). St Malo also plays host to a large aquarium that you could drop the kids off at whilst exploring the ancient pirate city and if you're close to Normandy you could always make your fairytale dreams come true by visiting Mont St.Michel , the mediaeval abbey perched right on the border between the Normandy and Brittany. North leads to dramatic coastlines and south has its vast sandy beaches.
The question is – when to go and visit and sample these delicacies? Since the industry is heavily focused on being able to break out that swim suit on the beach, you might expect the season to be short. Its quite the opposite. Only in the depths of winter do many hotels and even entire towns close their doors. Optimum time is between March and October and you might not have to don on that wetsuit to put your toe in the water.
Pin For Later