Vancouver, British Columbia, Canada. Voted one of the best places in the world to live by several publications, it has a plethora of things to do and see. There's not many other places where you can be at the top of a mountain and walking on the beach within an hour of each other.
When traveling with kids it can be difficult to keep them entertained. Vancouver offers many kid-friendly activities and adventures.
Here are my recommended things to do in Vancouver with kids!
Traveling to Vancouver and British Columbia? For awesome travel tips and guidance make sure to pick up [easyazon_link keywords="lonely planet british columbia" locale="US" tag="tbelles-20″]Lonely Planet's guidebook to Vancouver and British Columbia[/easyazon_link]!
Grouse Mountain Gondola and Skyride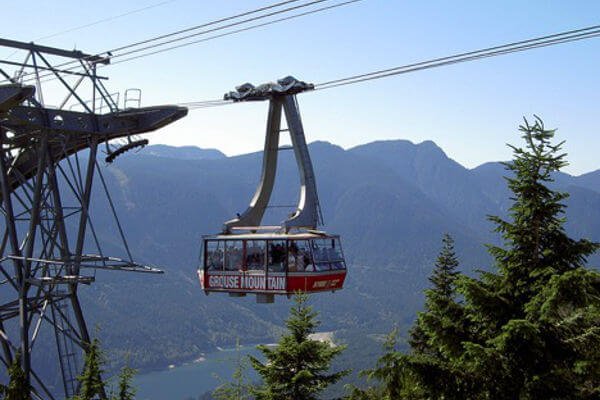 The Grouse Mountain Gondola and Skyride is an amazing journey up (or down) the side of one of North Vancouver's finest ski mountains. Adults and kids alike will enjoy the stunning scenery and panoramic views of Vancouver. A lucky few (kids must be at least 12) are able to ride on the top of the gondola the 2,800 feet (1,610m) up (or down) the mountain and skysurf!
At the top of the mountain there's many things to do as well. Guided or self-guided walking tours, ziplining, at least six dining options, ride the chairlifts (must be 3 feet (1m) tall) in the summer months and ski in the winter.
Grouse also offers "The Eye of the Wind" which allows you to stand in a clear glass pod at the top of a wind turbine. The base of the mountain is only a fifteen minute drive from downtown Vancouver and also easily accessible by public transit.
Recommended reading: Never drink alone in Montreal!
Capilano Suspension Bridge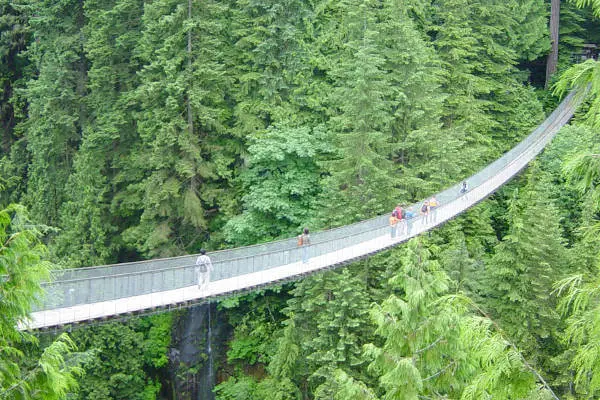 A five minute drive from the base of Grouse Mountain is the Capilano Suspension Bridge and Park. Originally built in 1889 the bridge stretches 450 feet (137m) long and 230 feet (70m) above the Capilano River. The bridge moves and sways (safely!) and small children must be held by the hand.
On the other side of the suspension bridge is the Capilano Cliffwalk, 700 feet (213m) of cantilevered walkway that clings to a granite cliff high above the Capilano Canyon. Don't be concerned though, the Cliffwalk can support the weight of up to 35 killer whales!
The Treetops Adventure is seven suspension bridges winding through the trees taking you up to 100 feet (30m) above the forest floor. The Treetops Adventure was designed to accommodate the continuous growth of the trees it's attached to.
There are nature tours and special kids' programs galore. There is a also gift shop and a First Nations cultural centre.
Vancouver Beaches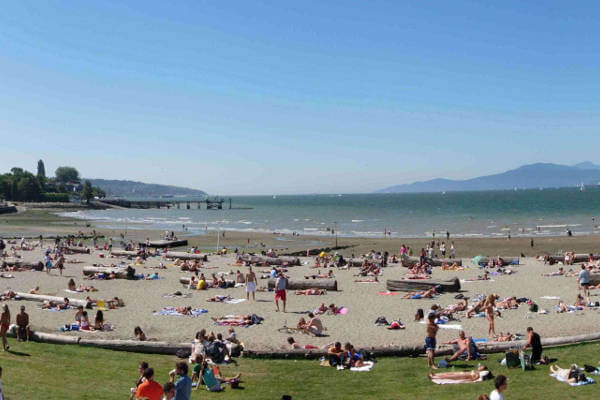 Vancouver is not world-renowned for its beaches as they are really only fun for the kids in the warmer months, but there are many great ones.
Stanley Park is home to Second and Third Beaches. Third Beach is a sandy beach bordered by trees, is great for swimming and has concession stands. Second Beach is similar and also has a large heated pool with a sloped entry.
English Bay Beach is next to the heart of the city. It boasts volleyball courts, concessions, great swimming, logs to lean against and is literally across the street from one of the busiest people watching areas of the city.
Kitsilano Beach and Park has a huge outdoor heated saltwater swimming pool, is also great for people watching, tennis courts, a playground, concessions and is in the heart of the Kitsilano Area.
Jericho Beach and Park is a long stretch of sandy beach in the Point Grey area. There are grassy picnic fields, concessions, sport courts and a nearby sailing centre.
Recommended reading: Best Toronto Restaurants for Delicious Dining on a Budget
Stanley Park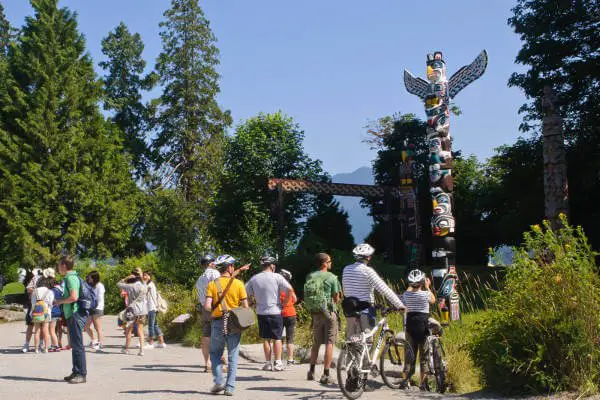 Stanley Park is the jewel in Vancouver's crown. It's a 400 hectare (almost 1,000 acres!) of natural West Coast rainforest next to the heart of the city.
You can rent a bike just outside and ride the seawall 5.5 miles (9K) around the park. Well marked cycling and pedestrian walkways keep things safe. The seawall actually stretches much further than just the park, it's actually the world's longest uninterrupted waterfront path. It extends 17 miles (28K) from the Vancouver Convention Centre to Spanish Banks Park.
In the park you can take a horse-drawn carriage ride or a miniature train ride. There are the aforementioned beaches and several restaurants and concessions. There is a children's farmyard and the largest aquarium in Canada.
The Vancouver Aquarium houses over 50,000 animals and is very active in animal conservation, rescue and recovery. There are many shows daily which include dolphins, beluga whales, otters, penguins, sea lions and sharks!
There are tours, touch pools and many galleries. There's something new to see on every visit.
Science World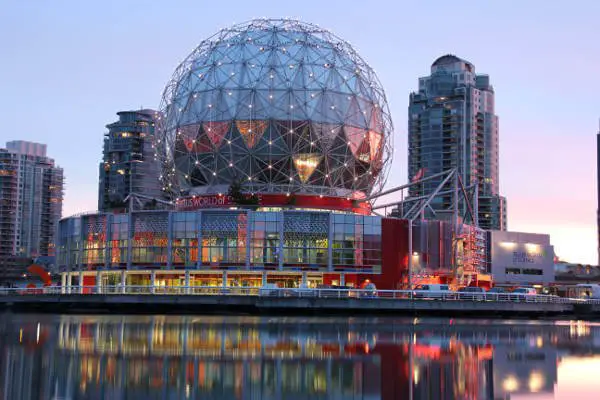 Science World is a giant playground for kids. Located in False Creek, it's a giant silver ball from the outside.
There's a rotating feature exhibition, many hands on galleries, an Omnimax theatre, science stage shows, a science theatre, and a gift shop.
The galleries feature science-based hands on experiments and games. There's a water table, ball launchers, a walk on piano, you can see your face at age 70, experiment with sound and motion, and capture your shadow!
Granville Island and the Kids Market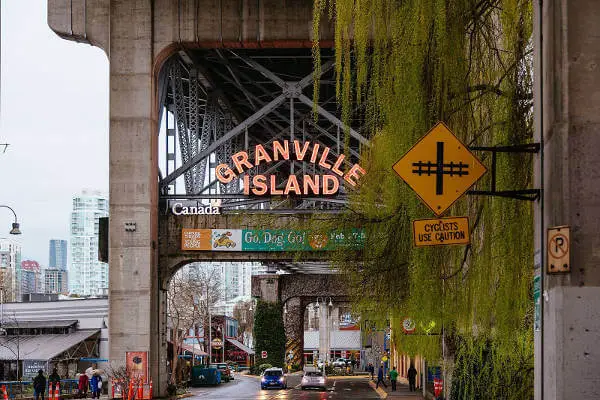 Granville Island used to be an industrial wasteland and is now one of the most popular spots in the city. Located in False Creek, it is 37 acres of shopping, dining, and fun for the kids.
The Public Market is the heart of Granville Island and features something for everyone. Produce, fresh fish, meat, candy shops, bakeries, unique gifts, and a food fair just scratch the surface.
The Kid's Market is a renovated old factory near the entrance to the island and has 25 shops and an indoor Adventure Zone. There's a multi-level playground enclosed in a see-through net with a slide and a ballpit. There's an arcade where the kids can earn tickets for prizes, and the new iFloor. Picture the iFloor as an iPad the size of a small room where up to 15 kids can play hockey or soccer. Outdoors there is Canada's (seasonal) largest free outdoor water park.
Also on the island you can watch artisans at work. Glass blowers and totem pole carvers are popular.
A fun way to reach Granville Island and avoid parking hassles is to take a water taxi. They leave and return to the island from Science World, the Maritime Museum or the Aquatic Centre.
Vancouver is an amazing city to visit and live. The climate is temperate year-round and although it is known for being a somewhat rainy city, there's always something to do.