Memories of Christmas traditions in Italy from an American living in Rome
When I'm shopping in Seattle in mid-October and the red poinsettias in their foil-covered pots are already on display for shoppers who want to skip Halloween and Thanksgiving, I think back to Christmas celebrations in Rome which didn't begin until mid-December. No endless loops of Rudolph the Red-Nosed Reindeer or White Christmas. No Christmas carols and hardly any Christmas trees or cards with a snowy Santa or perky birds on berried branches. And so different from our family traditions with a big tree, loads of presents, Christmas crackers and plum pudding doused with brandy to be set alight and served while blue flames flickered.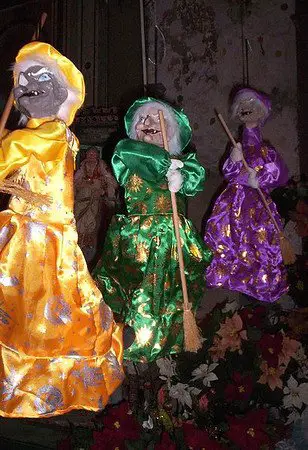 Instead, I remember a delightful Christmas market filling the Piazza Navona, with toys, candy, and little dolls called Befana. La befana is the witch who brings Christmas treats for children if they are good and coal if they're not. She arrives on the night of January 5 so that the gifts are ready on Epiphany in remembrance of the Gifts of the Magi. Glenn and I noted that the "coal" on display was really black candy, so bambini was never very worried. When we strolled in the Piazza we could hear shepherds from the Abruzzi Mountains just east of Rome who come to play their bagpipes, zampogna. The Zampogneri are traditionally dressed in knickers, cross-wrapped leggings and wool capes, although we suspected the outfits were only brought out for the holidays and that the musicians tooled off in their Fiats to cozy homes and television after their day collecting coins.
The life-sized Nativity scene by the obelisk in front of St. Peters was always beautiful but the exhibition of about 200 presepi in Santa Maria del Popolo, famed for two Caravaggio paintings, was more intimate and even sometimes amusing with figures dressed in native costumes from the world over.  Nativity scenes have been a tradition in Italy since at least the time of St. Francis in the 1200s. The best and most elaborate come from Via San Gregorio Armeno, a narrow street in the old section of Naples, Spaccanapoli, where artisans devote themselves to creating an amazing variety of figures – people in 18th Century dress with their carts and wheelbarrows, animals, cheeses, sausages, and baskets of fishes. The figures and their bounty surround the Holy Family who are guarded by angels in swirling Baroque robes and sheltered by a lean-to made of cork bark.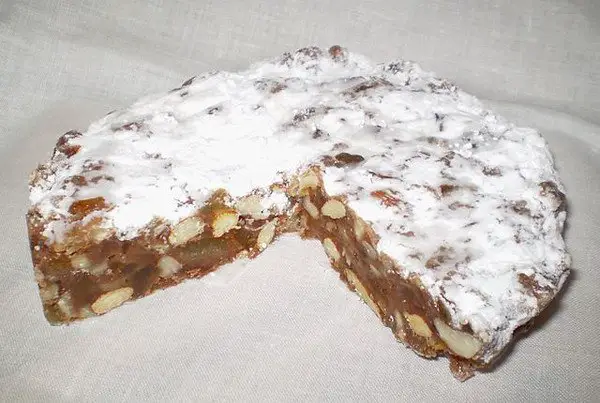 Since we were in Italy no holiday would be without food traditions. In the historic city center piazzas men roasted chestnuts to be sold in small paper cones. Piles of boxed panettone, the fruit-studded Christmas bread, filled supermarket isles and were stacked in the windows of bars. So many kinds it was hard to choose. We liked the Tre Marie brand, going strong since 1896, but really weren't all that fussy; the Bauli or Motta brand would do. We joined others holding on to the ribbon handles of their boxed treats, toting them on the Metro – gifts to the hostess or just for nonna or themselves. Other seasonal foods were also abundant: pandoro, a sweet bread enjoyed by both ancient and modern Romans; tooth-breaking torrone, the flat sticks of nougat and nuts; panforte, a dense, dark and chewy fruitcake from Siena; and zampone, a sausage-stuffed pig's trotter often served with lentils.
We set up a small and scraggly tree, the only kind available. It was decorated with crystal drops from old chandeliers we had found piled on the ground in the Sunday flea market at Porta Portese. Our shelves held figurines we were collecting to set up our own presepe: the knife grinder, the fish monger, shepherds and of course the Holy Family. Some of the figures came from the Christmas market (unpainted terra cotta) and some from Standa, the local equivalent of a tiny Wal-Mart (cheap stuff but hand-painted in Italy). Usually, Butterball turkey showed up in the United Nations commissary, along with canned cranberry sauce – an item not to be found on Italian grocery shelves. More important than sauce was Champagne – the commissary never missed on this item. We stocked up … just in case (of what didn't matter).
Christmas day was often spent with friends sharing a potluck followed by a walk, maybe to the Vatican or the quiet streets in the center. If it was sunny, maybe out to the Appia Antica with its ruins and towering umbrella pines.
When our ten-year stay in Rome came to its inevitable end we wanted to add some of the Italian traditions to those we had left behind in the Pacific Northwest. We couldn't bring home the bagpipers or the cold stones of a piazza where the aroma of roasting chestnuts lured us, nor could we bring home one of the hundred-piece sets of Neapolitan Nativity figures or walk along the Appia after dinner on a mild Christmas day.
No problem. Panettone and even pandoro is now available in the US, the old crystal drops grace our tall tree, reflecting tiny lights strung on its ample branches, and a beautiful eight-piece Nativity set from an artisan in Cortona graces a table. These little items blend with the pudding, the carols and the piles of cards to give meaning to the season and bring to mind our long sojourn in a place where other traditions brought happiness in a different way.
Pin for Later