The Glamour Granny goes against the advice of a neighbor and leaps at the chance to visit Tenerife, Spain, in the Canary Islands. Will she like it?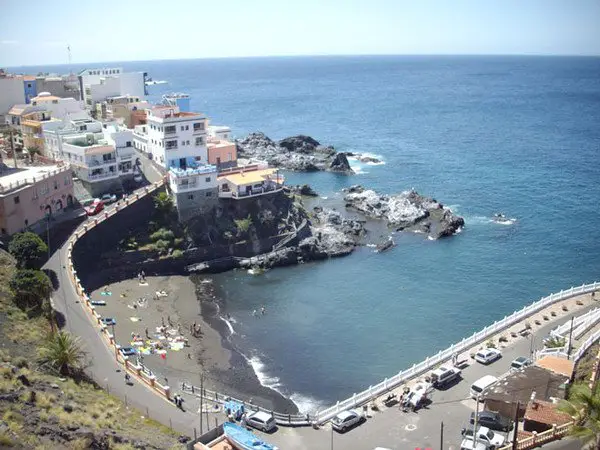 Sometimes it's the weirdest things that trigger a spontaneous decision to travel for me. Admittedly, there are drawbacks to living on your own, having no family to consider and no day job to juggle, but an unbeatable advantage is, that I can indulge in my every travel whim at the drop of a hat. I fancy going to Hong Kong tomorrow? No problem, all I have to do is check my passport, my bank balance, throw a few things into my bag and I can be off. Being a nomad at heart it's the ideal life for me. But, back to the beginning and the weird thing.
What made me decide to visit Tenerife, Spain, absolutely unplanned, was an extremely bad opinion. It just so happened, that a neighbor of mine was bad-mouthing the island no end. 'Tourist trap, very expensive, dirty, disgusting black beaches, nothing to see', on and on it went. Being a great fan of scientist and traveler Alexander von Humboldt and having read, many years ago, his description of the Orotava valley in Tenerife, and fancying a short trip in Europe but with warm weather and the ocean nearby, I decided to have a spring Canary Islands vacation and see for myself.
Am I ever happy, I did. Shame on you, neighbor, because you didn't know how to look properly!
I happened to be in London in late April and went on the net in search of flights to Tenerife. I found a return flight from London/Stansted to Tenerife South, 10 days in a not bad looking hotel in Puerto Santiago close to the famous rock formation of Los Gigantes incl. breakfast and airport transfer in Tenerife for less than GBP 300 seemed pretty good to me.
The airport of Tenerife South is about a 2-hour drive from my final destination in Puerto Santiago. A bus was waiting and I got a fabulous sightseeing tour of the area included in my bargain. Spring is a good time to visit any place, but the southern coast of Tenerife was absolutely awash with wild flowers, green trees, and sweet-smelling pine woods. We passed the well-known tourist resorts of Las Americas and Playa la Arena, but I found them rather pleasing on the eye, well kept, spacious with lots of plants, fountains, and flowers in between.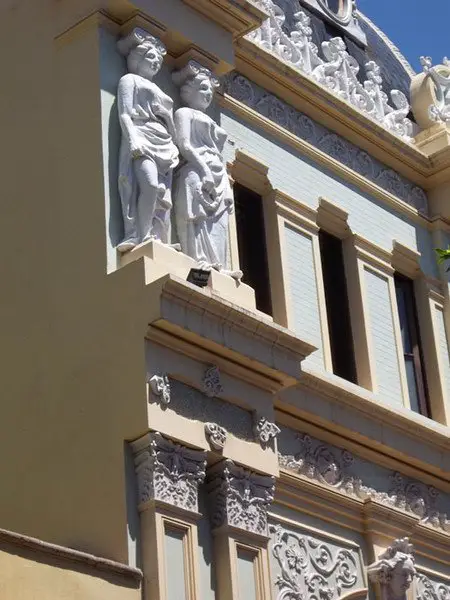 Arriving in Puerto de Santiago, my eyes fell on the sheer rock cliffs of Los Gigantes with the waves of the Atlantic Ocean crashing into the bottom. A majestic sight, especially when the sun was behind them. My chosen destination is the smallest of the resorts where you can walk up and down steep streets, enjoy a tiny market and a bay with – yes – a black beach. The island is of volcanic origin and the 'sand' is finely grated lava. It's of course, black, but black doesn't equal dirty at all.
I wanted to see as much of the island as possible but didn't fancy driving myself, so I went in search of a tour. And found  Viajes Teide who offered a day tour to the Teide national park, then across the Orotava valley to Icod, famous for the 1000-year-old dragon tree,  Garachio and the old pirate village of  Masca. As it was still off season, there were only 10 people in the group and the entire day excursion cost me all of EUROS 37. Hiring a car and paying for gas would have been more expensive and the drive would have been nerve-racking because it's that kind of road.
Teide and Orotava Valley
Tenerife's most famous landmark is the 3700m high Teide, an active volcano. The closer you come the more you can smell the sulfur in the air. The Teide range also is a startling climate divide between the north and the south of the island. Whereas the south has near-desert conditions, the north is humid and much colder with plenty of rain which in turn makes for fertility and lush vegetation.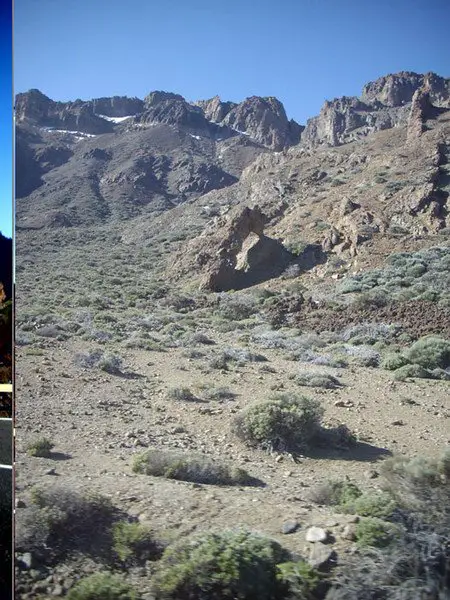 As you enter the Teide National Park, you can be forgiven of thinking that you are stepping onto the moon. Not a leaf or plant in sight, black rocks, 'frozen lava' and rubble make for an eerie experience. You can actually climb the Teide, it's often done by starting in the late afternoon, then spending the night in a sheltered hut with beds and reaching the peak just as the sun rises.
The picture changes dramatically as soon as you descend into the Orotava valley of Humboldt fame. Thick clouds hang over the horizon and hover along the edges of the Teide range. And green wherever you look. Banana plantations, potatoes, orchards, and wine, the fertile valley cultivates it all. The Canary bananas are small but have a wonderful flavor. Another specialty are potatoes with black flesh. They are a delicacy and very expensive. Cooked in sea water they are eaten unpeeled and taste amazing.
Next stop was the village of Icod with the legendary dragon tree, which, in fact, is not a tree at all, but a species of bush dating from pre-historic times. The tree is fenced in, so you can't touch it, but it's fascinating to look at anyway. A nearby church with a massive and elaborate Mexcian silver altar is another highlight.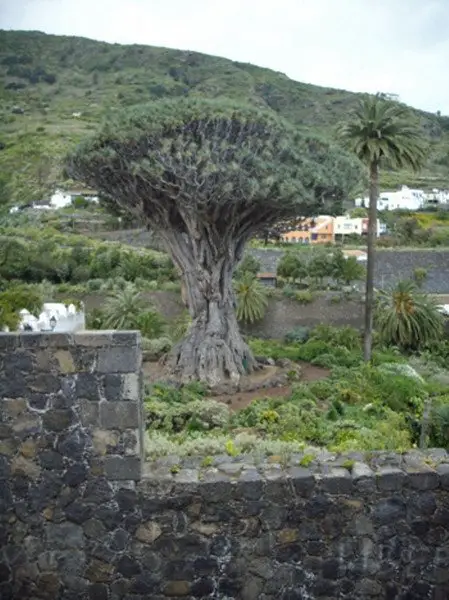 Further down towards the northern coast of Tenerife the journey goes to the town of Garachico which in 1706 fell victim to a massive volcano eruption that left more than half the town, including the port, buried under lava. Looking at the remains is a vivid reminder that you are standing in a place with an active volcano nearby and that nature is a force to be reckoned with.
Masca, the final stop of the trip, must feature the tiniest defense castle I have ever seen and affords an excellent view of the harsh and isolated island of Gomera across the water. All in all an excellent trip which gave me an overview of an island with many faces. I loved it already.
Santa Cruz and Playa de las Teresitas
There are several other tours you can go on including a boat trip to Gomera, but I had my sights set on the capital Santa Cruz. Although I had booked 10 days, I cut my stay short and moved to Santa Cruz. I took the bus there and it provided me with another sightseeing tour in the opposite direction. Bus travel is easy and cheap and even cheaper when you buy a  bus pass which cuts each fare in half. I found a lovely small hotel right in the pedestrian part of the old town and went to explore.
Santa Cruz is an important port town with a big commercial part and a beautiful private marina where you can go and look at millionaire yachts. I love that town with monuments, churches, bridges,  parks, and a tree-shaded miles long promenade with one inviting café after another. Many streets in the old part are pedestrian areas,  so it's easy to amble along. There is also a tramway that runs from one end to the other and a fabulous food market. A travel belle is, of course, interested in fashion and I have to admit that I left a bundle in several of the outstanding Spanish designer boutiques. But that was the only place where 'expensive' applied. Being a free port, many items are a lot cheaper than in mainland Spain.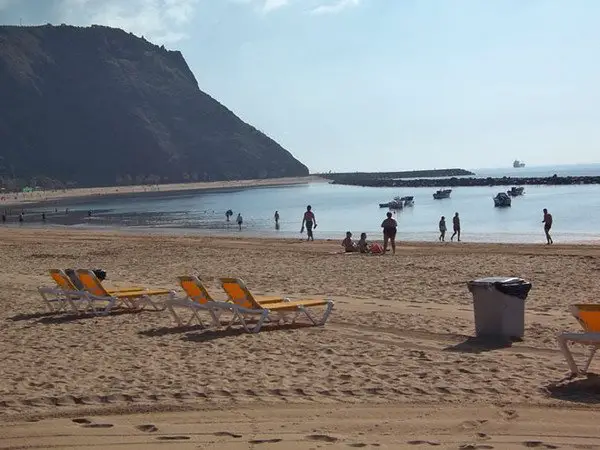 The next afternoon, again by local bus, I made my way half an hour north of Santa Cruz to Playa de las Teresitas, Tenerife's only beach with white sand. The water was warm enough to swim and I spent a lazy day sunbathing and swimming before returning to Santa Cruz joining the locals in the traditional evening walk along the promenade. I couldn't have wished for a nicer spring break than a few days on the island of Tenerife.
Pin for Later