If you want the perfect holiday season celebration this year, and are considering going to New York City for it, these are the "can't miss" activities. And the best part is, most of them are free!
I am a big believer in seeing new places and traveling often, so I keep my trips frugal. My favorite city, at my favorite time of year- you just can't get any better than that!
1. The tree at Rockefeller Center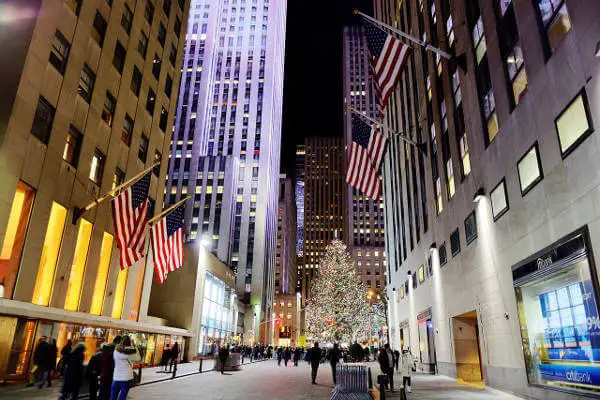 Yes this is famous and world renowned and you have probably seen 1.2 million pictures of what it looks like, but you HAVE to see it in person. It's breathtaking with the surrounding crowd. It's picturesque because of the ice skating rink in the middle of Manhattan. The feeling of Christmas lit up my happy soul when we saw this beauty even though Christmas had just passed a few days ago. I felt like Kevin in Home Alone, I saw the tree and everything felt warm and just right, like I was home- because Christmas is home.
2. Times Square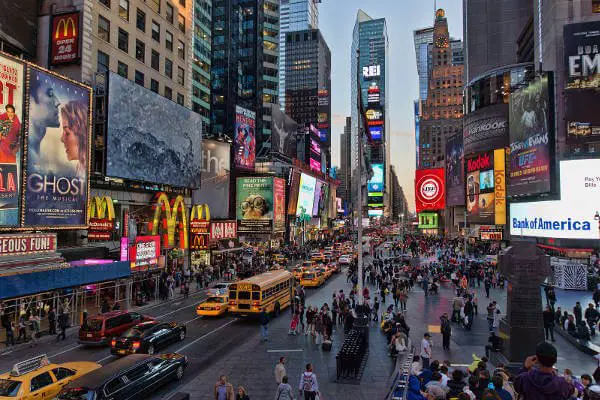 It's famous for a reason. With the infamous stores and restaurants, the billboards and front door displays are all holiday themed this time of year. It's a vibrant atmosphere to be among the crowds and see all the shops. With the snowy views, it's the perfect combination of a winter wonderland in the center hub of a huge city.
You may also like: Best Chocolate in New York City
3. Financial District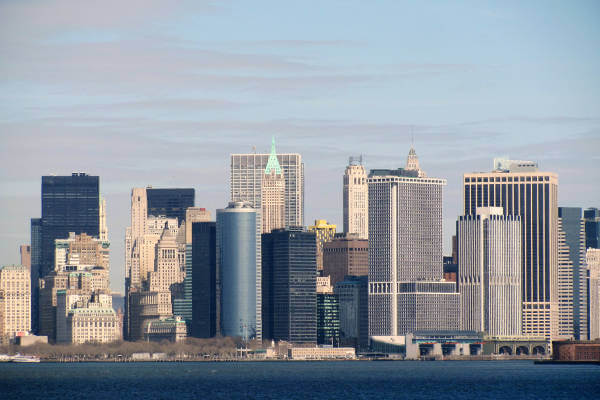 While business is probably (hopefully) the last thing on your mind when you are out for the holiday break, bank headquarters are surprisingly a sight to see. There are many cathedrals among the financial institutions which put you in a holiday mood if you're religious. With giant wreaths everywhere and street corners decorated with more trees and lights, it definitely feels like the holidays on Wall St.
4. Saks 5th Avenue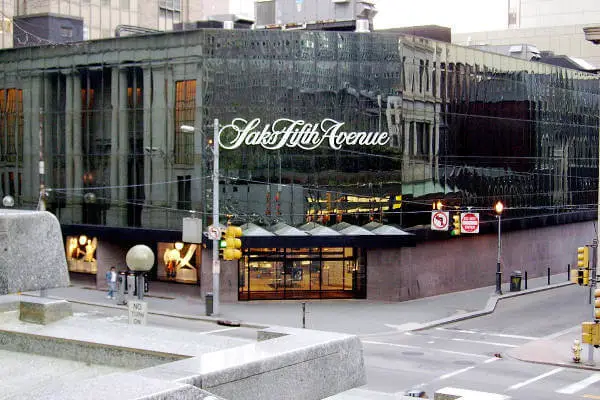 I personally feel like this area is worth skipping if it's NOT holiday season. It's a shopper's paradise- which I am not. But around Christmas, it transforms to this glamorous showcase of holiday cheer. They have a light display on the side of their shops with reindeer dancing to classic Christmas songs, which can be heard from blocks away. It's simple but I haven't seen anything like it before. You'll feel all warm and cozy when it's over, which you'll need to defeat the encompassing cold as you go back to the hotel.
You may also like: Observations From The Suburbs to New York City
5. Lady Liberty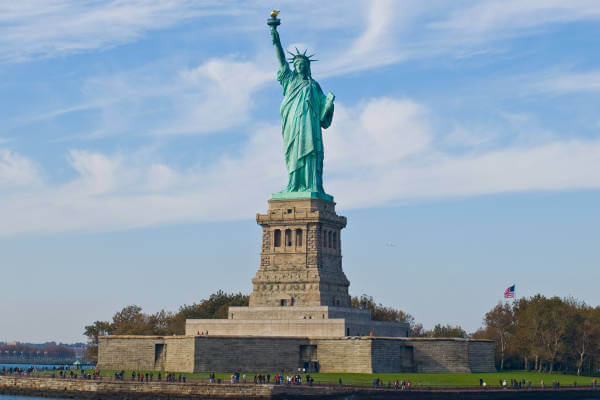 This has more of a patriotic theme than Christmas, but you can't miss the Statue of Liberty when you visit N.Y.C. The ferry ride was freezing, and the lines are long, but there is something so reverent and majestic about seeing your country's landmark of freedom. It's appropriate any time of year.
6. The Empire State Building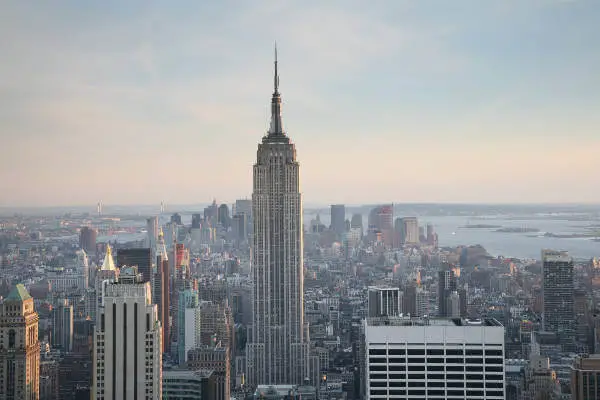 They decorate with a huge Christmas tree in the lobby, and wreaths and bells throughout. You'll get great views from the top if the fog isn't overwhelming, and see Christmas trees scattered among the streets. It's a perfect tourist spot any time you visit, but still impels a wintery spirit in December.
7. Dyker Heights Lights
This is my biggest regret, we didn't actually get to see these and I am still devastated! On our last night we took the subway south of the city into Brooklynn and got lost, so long that the lights would've been off by the time we found it. It's a simple neighborhood in Brooklynn famous for its impeccable light show. In all the research I found before our trip, this seemed like one of the best spots for the holidays. You may need a tour because it is hard to find, but don't skip this if you have time.
8. The Brooklyn Bridge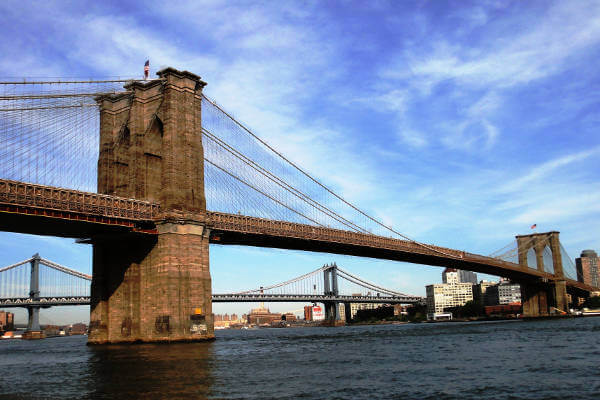 This is where we watched the fireworks show on New Years Eve. Yes, it was freezing cold so double up on coats, beanies, and mittens before you go. It makes for a great evening picture and you get to ring in the New Year with a boisterous, excited crowd. Plus, how can you not go to one of the most iconic famous bridges in the world when you are already visiting New York City?
You may also like: New York: Best Things To Do And Places To See
9. Eat late night pizza
This is very general, and that's on purpose. There are delicious late night pizza joints by the slice on most street corners, you really can't go wrong. It will be so cold running around all day on your feet in the whipping wind, rain or snow, and super cold temperatures, pizza will warm your belly and soul. Few things are as comforting as hot, fresh, gooey New York thin sliced pizza, so indulge. You deserve it after the walking workout of a day in the city.
10. Visit the Plaza Hotel

Maybe it's just me, but nothing feels more like Christmas than Home Alone 2. It's on my bucket list to stay here someday during the holidays when I have a different income. They didn't actually let us inside the lobby, because it would disturb guests, but behind the hotel, kind of underneath, is a mini mall of gift shops, restaurants and coffee shops. It's the perfect place to stop for a hot cup of cocoa. Once again, I felt like Kevin in Home Alone, happily lost in the magic of New York.
I travel as often as I can with my husband. In our newlywed phase we don't have all the money in the world, but we like to explore and get out as much as possible. Of all the 15 or so trips we've taken in the last year and a half, this one was probably my favorite. It's hard to describe the tangible magic that floods the city, you have to experience it to really understand it. If I could spend every Christmas and New Year's here I would, maybe someday it'll become a tradition for us.