Sometimes lessons learned from traveling hit you right away, and sometimes they don't dawn on you until years later. Here's a start with 7 things about solo travel for women that I've been thinking about since I returned from my recent trip to the Loire Valley:
Don't treat any one source of information as testament. Maybe not even two sources – Unless you want to.
The Loire Valley offers much more than a high density of Renaissance-era chateaus to the visitor. Even though I knew this, I had forgotten it. I came bearing guidebooks, Google maps and Garmin, confident in my ability to figure out the best use of my time. But by the end of the trip, even that wording, "figuring out the best use of my time," sounded to my culturally immersed self – ridiculous.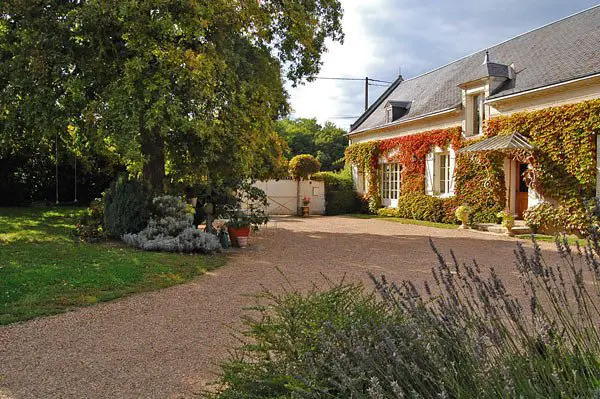 Over breakfast I had been talking with some of the other guests, parlez-vous-ing up a mistral about our plans for the day. They told me of the absolute necessity of being at the gate of Château de Chenonceau as soon as it opened. I had just read the exact same thing in my guidebook. The same information from two sources wins, right?
Fodors and a table full of people who hadn't had to show a passport or cross an ocean to be here couldn't be wrong. They almost convinced me to squeeze in Chambord that afternoon…
…Even though I know full well I'm a one-chateau-a-day kind of belle.
Which leads to my next lesson:
If you aren't a crowd follower, don't start now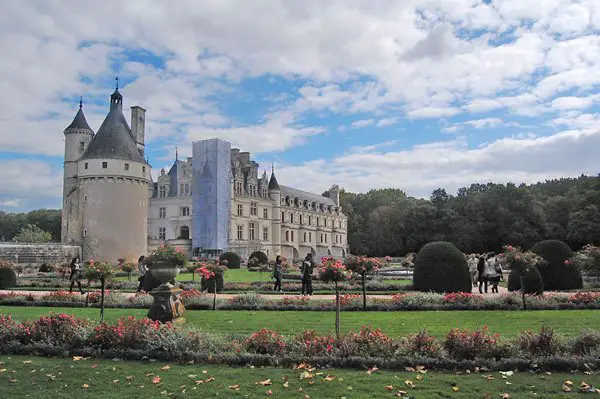 Having known each other for an entire twenty hours, in my mind Béatrice, the innkeeper of Le Clos de la Chesneraiei, and I were practically sorority sisters in travel friend time. In post-petit dejeuner bravado I told her that my plan was to go to Chenonceau early to beat the crowds, and then high tail it over to Chambord. Beatrice matter-of- factually said something like this (or at least I think she did):
"Go to the Amboise market first, enjoy yourself, buy local products, go to Chenonceau when everyone else goes to lunch, people will be coming out and enjoying the garden while you go in the chateau, you come out and enjoy the garden."
On the way back to the inn, Garmin took me on a bike path, cutting through some vineyards, the grapes almost ready for harvesting. It was lovely and I'm glad I didn't turn around. A farmer waved to me when I went by.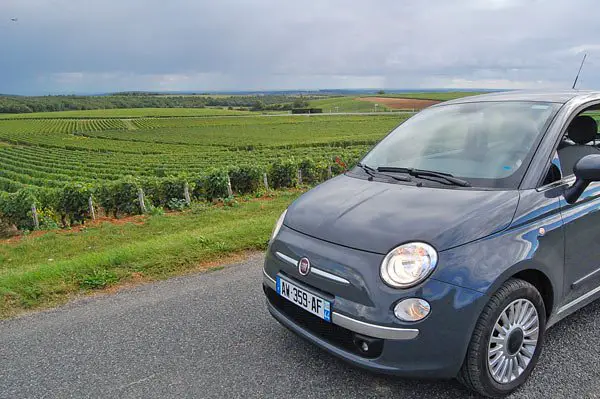 In other words, always leave room for a change of plans. They are going to happen anyway.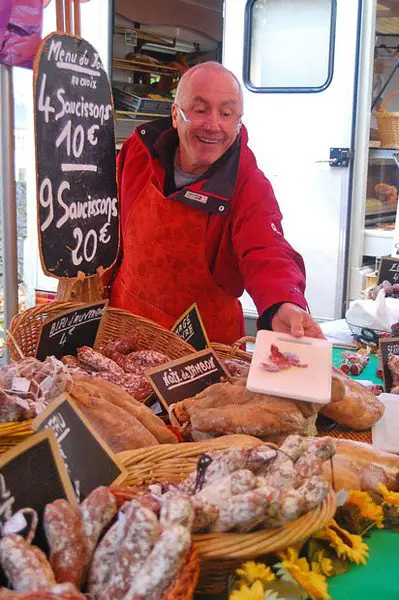 Brave it.  It's worth risking a language-induced headache and Vouvray hangover.
At the table d'hote the previous evening, Béatrice and her husband both tolerated and charmed me, with my still far from great French. We were joined by another couple that had stayed at the inn before. Best I could discern from our conversation they were visiting from somewhere near Paris for the sole purpose of tasting mushrooms.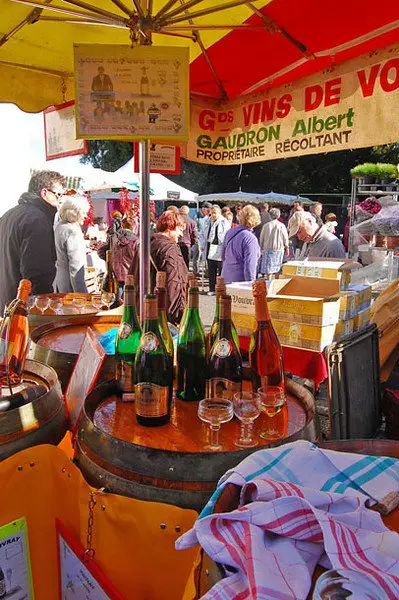 If need be, the gentleman guest told each joke and story three different ways, to be sure I understood. In the breathing space between eating and full steam ahead French, someone always asked me an easy question. We talked Sarkozy, the European Union, and cultural differences. (Don't take that "we" business too seriously.) They wanted to know exactly where South Carolina was, and I knew exactly how to tell them. I faded in and out linguistically thanks to the wine and it is the end of the day. I wouldn't trade that night for anything.
I only wish I had been able to speak French just a little bit better so I could have asked the couple to take me with them on their mushroom tastings the next day.  I mean who knew there were mushroom tastings?
Just because certain cultural differences are subtle, doesn't mean they aren't there. Being sure to see them makes things more interesting.
So I wasn't backpacking through Bangkok's Khao San Road, trekking across the Andes or even shopping in Hong Kong. This was France, with its chateaus and gas stations named Elan.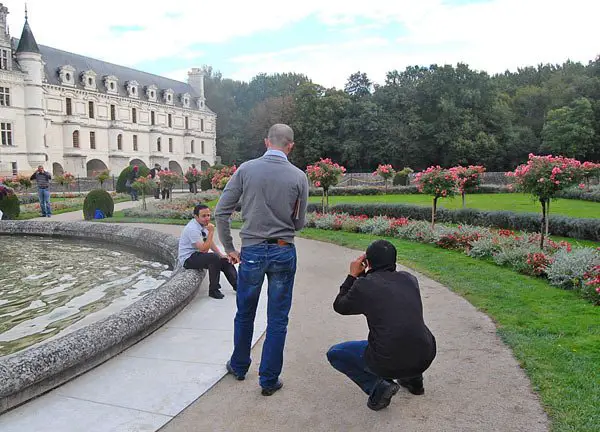 Sometimes the closer things are related, the harder differences are to discern. And even with a comfort level with the language coming out of a week-long immersion program, and even if you have Rick Steves crammed in your purse telling you how wonderful it is, sometimes being in a new culture will be exhausting. Don't let yourself get so tired you miss the things that are important to you.
Remember, there is culture shock between North Dakota and North Carolina.
(This next to last one is kind of like a summation of all of the above)
Travel can be a far more personal experience than I ever imagined.
Two or three times I had a moment: I would be thinking about what exactly it was I wanted to do at that particular time- where I wanted to walk, where I wanted to stand and stare at something for a while – and I'd have a look around. There was no one there. This felt new, but it didn't feel bad – at all.
Last but not least, Listen to the innkeeper (if they're nice and didn't just take over last week)
Pin for Later