Rome's warm spring weekends beg for a picnic. As the warmer months begin to bless the city, during weekends, Romans tend to migrate to nearby pastoral locations laden with copious amounts of picnic food. Bucolic folly and loud outdoor snoring become mandatory.
This coming weekend, families and romantic couples will be spending the morning playing football and chasing butterflies, or just lounging on a blanket, chewing on a blade of grass, blissfully doing nothing in the great outdoors. Parks and countryside settings will be noisy with kids' cackles, and jaws crunching on fava beans and Pecorino. All over town, a universal mid-afternoon lazy snooze will pool folks tipsy on Roman sun and strawberry Prosecco citywide.
Here's a list of the five best places to enjoy a packed al fresco meal in Rome, with nearby picnic food shopping suggestions.
Villa Borghese/Borghese Gardens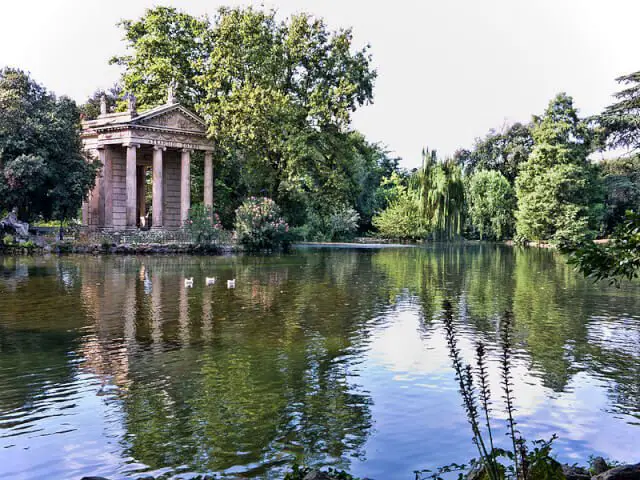 Rome's heart-shaped country club-style public park offers many activities and places to relax.
A favorite is the Giardino del Lago, where you can calmly stroll the pond's perimeter, feeding bread to the ducks, or rent a small rowboat and navigate under the sweeping willows and magnolias. Pick a grassy spot above Piazza di Siena, or by the lake, spread your blanket and nosh.
Several gateway entrances: see map
Where to buy picnic food nearby:FRANCHI-Dreamy Italian gastronomia, a gourmand-type deli, for just about anything you could ever want to fill your picnic hamper: cheeses from everywhere, cured meats and ready-to-eat pasta, meat and seafood dishes prepared fresh for take out. The fried rice dumplings called supplì are the best in town.
Via Cola di Rienzo, 200 | Tel. +39 06 687 4651
Transport: bus #23, 32, 49, 81, 492, 590, 982 – tram #19.
You may also like: 6 Must See Literary Spots in Rome!
Villa Celimontana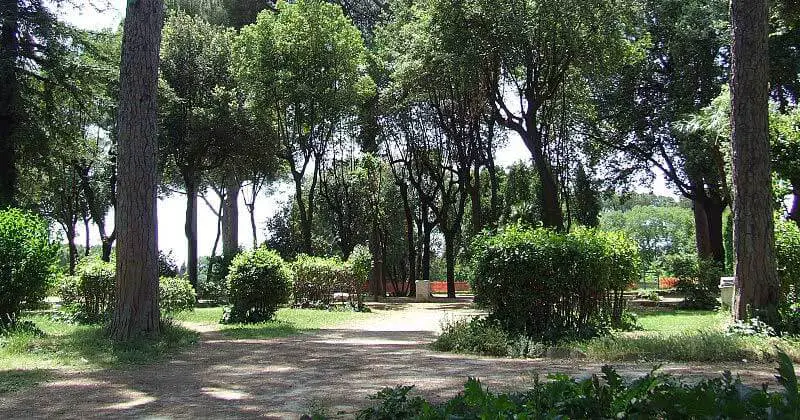 Wonderful park located on one of the seven hills overlooking the Colosseum and the Forum, Villa Celimontana is one of Rome's loveliest, and most hidden, public gardens, perfect for a picnic.
During summer, the garden is the choice setting for theater productions, a favorite resting spot for visitors touring Rome, and the haunt of lovers.
You may also like: Top 10 Gardens to Visit for Spring Flowers
Villa Celimontana has two entrances; the main gateway is on Piazza della Navicella; the second is on Clivo Scauro. Open daily from 7 a.m. until sunset.
Transport: Bus #81, or a short walk from The Colosseum
Where to buy picnic food nearby: DELIZIE DI CALABRIA a lovely little specialty store in the heart of the hip Monti neighborhood nearby. Buy warm bread and focaccia, and delectable fillings and make your own panino.Don't forego the 'nduja sandwiches–filled with a spicy, spreadable sausage. A few shops down the road, you can buy a bottle of wine at Al Vino Al Vino enoteca (wine merchant) on the same street at number 19. Via dei Serpenti, 9 | Tel. +39 06484980
Transport: Metro B "Cavour" stop
You may also like: The Best Pizza in Rome
Giardino degli Aranci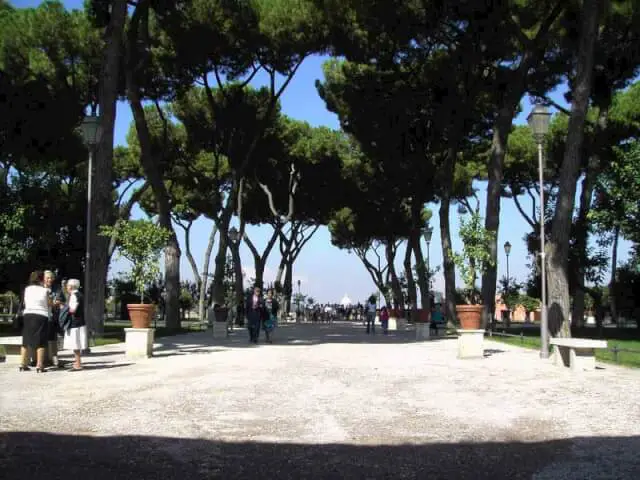 The orange garden's central walkway leads to a terrace that offers a fantastic view of the Tiber river, the ancient temples of the Foro Boario, Santa Maria in Cosmedin  (where the Bocca della Verità monument is located) and the imposing dome of St. Peter's in the distance.
Via di Santa Sabina | Open Mon to Sat 9 a.m. to 6 p.m. (sunset)
Transport: Metro B "Circo Massimo" stop; Bus #23, 30 express, 716, 175 on Via Marmorata (5 min. on foot)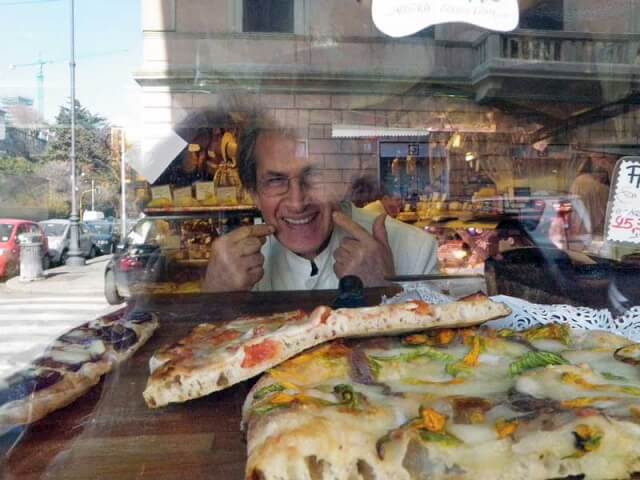 Where to buy picnic food nearby: Volpetti, a Roman temple of gastronomy, where an infinite variety of cheese and salumi can inspire you. But also where you can also find a large selection of high quality breads and desserts (all homemade), pizza, cooked dishes to go, marmalades, honeys, dried mushrooms, fresh truffles, a good selection of fine wines and a variety of hand made pastas.
If needed, Claudio and Emilio behind the counter will vacuum pack the items you are purchasing.
You may also like: Volpetti Food In Rome
Via Marmorata, 47 | Tel. +39 06 574 2352 | Closed Sunday
Transport: Bus #23, 30 express, 75, 280, 716, tram 3
Villa Torlonia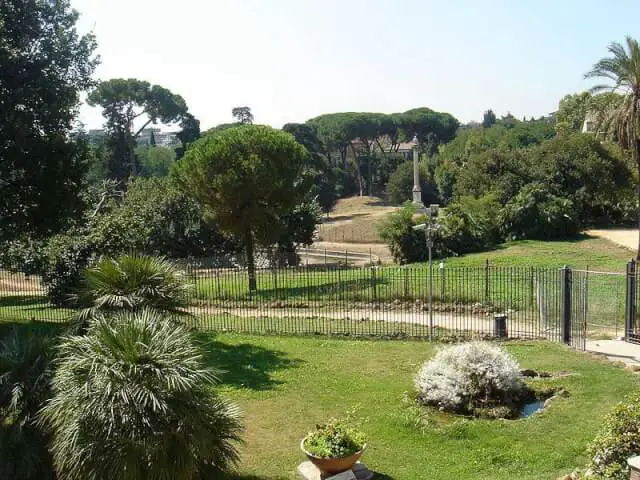 The landscaping of the gardens makes this one of the earliest examples of the naturalistic, forest-like man made gardens in Rome. Villa Torlonia is now a public park still in the process of restoration but major part of the 34-acre grounds have been brought back to life.
Entrances located on Via Nomentana 70 | Via Siracusa | Via L. Spallanzani
Transport:  Bus #90 #84 on Via Nomentana
Where to buy picnic food nearby: MIZZICA – This cafe serves typical Sicilian snacks and desserts. The arancine (pear-shaped fried rice balls) and the authentic Sicilian cannoli are to die for. For just €5 you can take out delicious pizzettas, cartocciata,and a choice of dessert.
Via Catanzaro, 30-36 | Tel. +39 06 4423 6024 |
You may also like: Best Books to Read Before Or During Your Visit to Rome
Gianicolo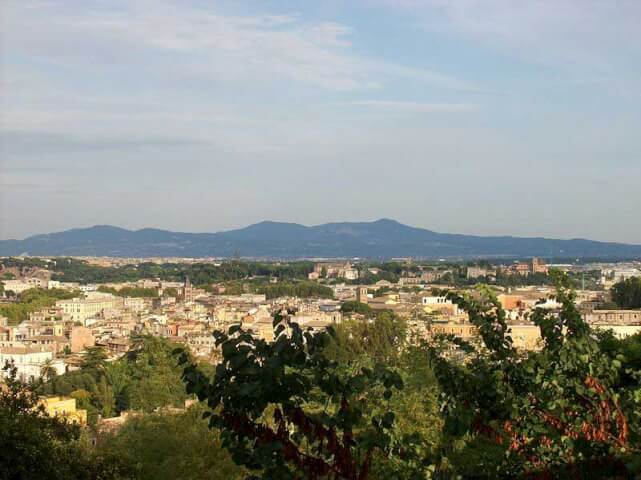 Janiculum, despite being the second highest hill in the contemporary city of Rome, does not figure among the proverbial Seven Hills, being west of the Tiber and outside the boundaries of the ancient city.
You can spend a lovely afternoon here at the tree-lined summit, enjoying some quiet time away from the bustling city chaos, sitting on one of the many benches, or simply taking in the extraordinary view of the Eternal City's innumerable domes and bell towers that pierce the skyline.
Transport: Bus: #15; Minibus #115
Where to buy picnic food nearby: ANTICA CACIARA – Trastevere's oldest cheese monger, where the windows are packed with baskets of newly made ricotta, which arrives daily at 5 a.m. from the neighboring countryside. The ricotta's popularity is such that by 11 am the store is already out of it. The fine old shop–in addition to delicious cheeses–sells salumi, breads and other delectable sandwich fillers.
Via San Francesco a Ripa, 140 a/b | Tel. +39 06 581 2815 |
You may also like: Did you know Travel Belles love picnics?
All photos from public domain, except for photo of Volpetti by Judith Works©
Tags: Best Picnic Locations in Rome