Cavite is a province in the Philippines and is among the most popular tourist destination spots for nature lovers. Also known as the Historical Capital of the Philippines and Land of the Brave, Cavite has been at the center of pivotal moments in the country's history. It is home to Filipino national heroes such as former Philippine president Gen. Emilio Aguinaldo. 
It is only 2 to 3 hours away from Manila; it is pretty easy to understand why Cavite is one of the first places to travel for tourists due to its accessibility. In addition, Cavite offers lush green landscapes, mountains, and scenic beaches for those looking for an adventure. With such a great selection of destinations for outdoor enthusiasts, it is no wonder why Cavite is among the best place to go camping. 
Best Camping Sites in Cavite, Philippines
For those wishing to experience the outdoor camping experience in Cavite fully, I have compiled a list of the best spots in the province to do so. This article will cover the top campsites in Cavite that I highly recommend you add to your travel bucket list. 
Patungan Beach in Maragondon, Cavite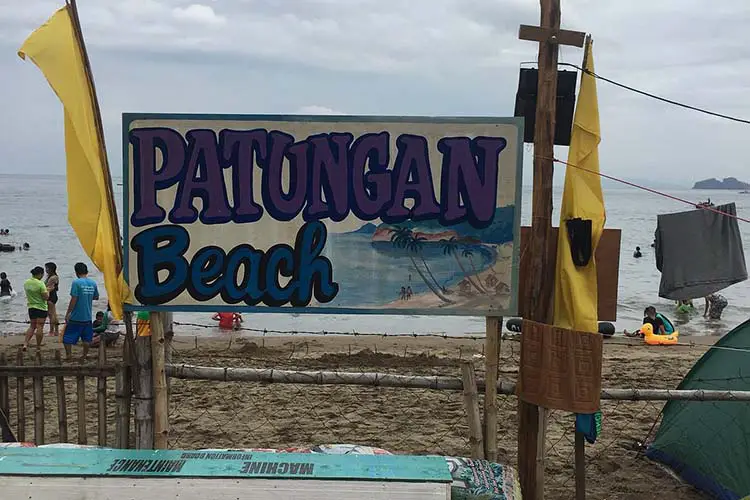 – A Stunning and Pristine Beach for Budget Campers
One of the best places to camp in Cavite is their beautiful beaches. Cavite is known for its beach resorts. If you look carefully, you will notice that beaches haven't been developed into resorts yet. These places offer a nigh untouched beauty and are almost hidden gems that you will need some work to get to. 
Patungan Beach is one such place that is perfect for camping and is located near the Kaybiang Tunnel. It is a direct tunnel through a mountain straight to Batangas, another popular destination for nature lovers. 
The place used to have an entrance fee, which was cheap, but it appears they dropped it now. Once you get to the beach, you will be greeted by a picturesque long stretch of sand surrounded by cliffs on both sides. You can opt to rent cottages if you want, but we recommend bringing your tent to get the classic Patungan Beach experience. 
Getting to Patungan Beach from Manila is also considerably more accessible today. Go to the PITX bus station, ride a bus that goes to Nasugbu, Batangas, and remind the bus conductor to drop you at Patungan Beach. 
Katungkulan Beach or Boracay de Cavite in Ternate, Cavite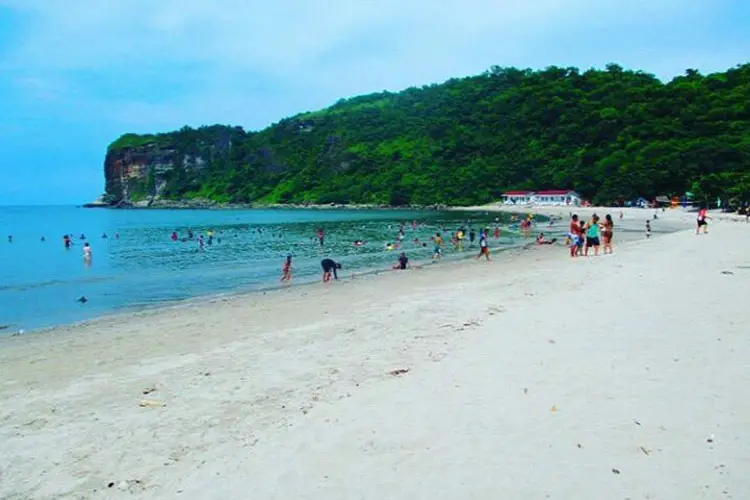 – Beautiful Beach Cove Away from the City
Katungkulan Beach or Boracay de Cavite, is a small cove that is located within the Gregorio Lim Marine Base. It got its name "Boracay de Cavite" (Boracay of Cavite) thanks to its off-white sands, which are pretty similar to the world-renowned white sand beaches of Boracay. 
Getting to the area is not difficult as it has been quite a popular destination for beach lovers and outdoor enthusiasts, but you will need to rent a vehicle. You can hire some tricycles in the area to get you there, and you can even ask the tricycle driver to pick you up afterward. However, since it is located inside a marine base, you must make prior arrangements and schedule your visit before going there. 
Mt. Pico de Loro in Ternate, Cavite
– A Popular Spot for Mountain Climbers and Campers in Cavite
For decades, Mt. Pico de Loro has been a popular destination for mountain climbers and campers. I have hiked to its peak before since it is pretty much mandatory for those who live nearby to climb it at least once. 
Mt. Pico de Loro has a distinct feature that you can see at the peak. Over at the mountain's summit is a monolith that looks like a beak. Hence the name Pico de Loro translates to Parrot's Beak. Fun fact: To some locals, Mt. Pico de Loro is also known as Bundok Buntis or Pregnant Mountain, as the outline it has during the early morning is that of a pregnant woman lying down. 
You can get to Mt. Pico de Loro from Manila within 2 to 3 hours. Then, take a bus from PITX bus station to Ternate, Cavite. Once there, you will need to ride a tricycle to the DENR Registration site. And hiking to the summit will take around 3 hours tops from the base one campgrounds. 
John Gil's Secret Place in Amadeo, Cavite
 

View this post on Instagram

 
– Camping with Comfort and Convenience
Located about 15 minutes from Tagaytay is John Gil's Secret Place campsite. If you are looking for a cozier camping experience, this is the best place to do so. The perfect time to go here is during the summer season. Since it is near Tagaytay, the campsite is situated in a high elevation area, and nights can be pretty chilly. 
What makes John Gil's Secret Place special is that you can rent the entire campsite for yourself. Renting the area will give you access to a transient house and sweet amenities like a kitchen and refrigerator. Then, of course, you can camp outside and enjoy the peaceful surrounding the good old-fashioned way. 
Campers are advised to bring their butane tank as the stove on the site does not have one. Also, remember to bring all necessary toiletries, food, and drinks. With the cool night air being expected, it is the perfect reason to use the bonfire readily set up on the campsite. If you want to go camping with a focus on comfort and convenience, John Gil's Secret Place in Amadeo, Cavite, should be on your shortlist. 
Riverfront Garden Resort in Maragondon, Cavite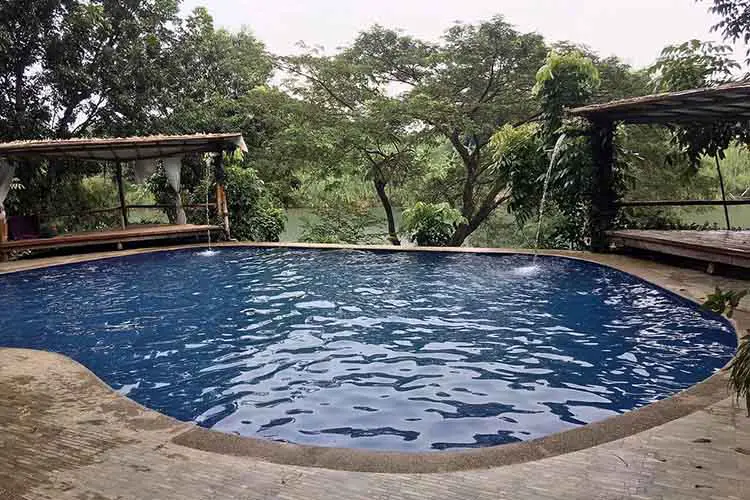 – A Quiet Resort with a Nature-Inspired Theme
The Riverfront Garden Resort gives outdoor enthusiasts and weekend vacationists a nice place to unwind and enjoy nature fully. Located beside and overlooking the Maragondon River, Riverfront Garden Resort offers many excellent amenities for campers. 
You can either choose to stay at one of their air-conditioned cottages that can accommodate a whole family or go with one of their many glamping tents for a more traditional camping experience. 
An on-site restaurant also offers breakfast, lunch, dinner, and alcoholic drinks to guests. For those who want a more convenient experience, we recommend you check out this Riverfront Garden Resort Day Tour. 
Currently, the day tour package is unavailable due to the Covid restrictions. Still, since the country is steadily opening up, you can expect it to become active again soon. Maybe it already is, depending on when you are reading this. 
Driftwoods Park in Indang, Cavite
– A Fun Activity-Filled Campsite for Beginners and Families
Located at the heart of Cavite and about 30 minutes away from Tagaytay, Driftwoods Action Park in Indang, Cavite is a campsite designed for families with its peaceful location and numerous outdoor activities to try out. 
The entire camping ground covers about 8-hectares of land and is pretty much separated from civilization- making it a perfect spot for nature lovers. There are four campsites in the area: Camp Manga, Camp Kawayan, Camp Santol, and Camp Mahogany. 
The park also offers several activities to guests and campers, such as bike trails, hiking trails, and an ATV trail with rentable ATVs available on the site. 
Kuya G Campsite in Maragondon, Cavite
– An Intimate Camping Experience Under the Night Sky
The Kuya G Campsite in Maragondon, Cavite, is a relatively new camping site for nature lovers. About 2 – 3 hours away from Manila, Kuya G Campsite will take some effort to get to, but the destination is worth it. The camping grounds are pretty far from the nearest town so expect the area to be soothingly peaceful. 
This campsite in Maragondon truly delivers the traditional camping experience. We recommend renting your vehicle; even a motorbike will do. The camp is available in Google Maps and Waze, which you can use for directions. The nearest landmark is the Bonifacio Shrine; you can ask the locals for directions once you get there. 
Backpackers' Inn Campsite and View Deck in Maragondon, Cavite
– Campsite Overlooking a Stunning Beach
The Backpackers' Inn Campsite and View Deck is a relaxing destination for those who wish to enjoy the perks of nature, camping, and the soothing ocean sound all at once. The location offers guests and campers some unique activities from swimming, boating, snorkeling, island hopping, and fishing. The campsite provides visitors with a genuine island life experience. 
You can see Crocodile Island, Carabao Island, and Mt. Tarak Bataan Corregidor at the shoreline. The campgrounds also provide guests with a kitchen, grilling station, solar-powered outlets for charging their devices, a portable swimming pool, and cottages. At night, campers can gather around the bonfire for some merriment.