Lago di Garda. Say it with me.  Like so many Italian names, Lago di Garda loses a tad of its luster in English pronunciation. Lake Garda is its English title, but in Italian the place name is nearly palindromic as it rolls from tongue to lips.
So I'll stubbornly say, Lago di Garda, and indulge in those rhotic repetitions, those sexy "r"s and "l"s.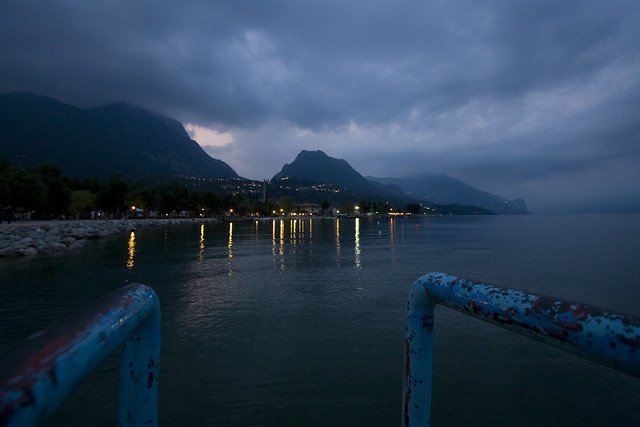 Slow down and take the time to fully enjoy them.  Lago di Garda.
The tourist destinations that dot the banks of this lake, such as Salo, Peschiera, and Sirmione, among others, doze prudently through the winter months.  But soon, resorts throughout the Garda region will start pruning and dusting for the coming season of tourists to this largest Italian lake.
You may also like: Visit The Quiet Italian Lake Orta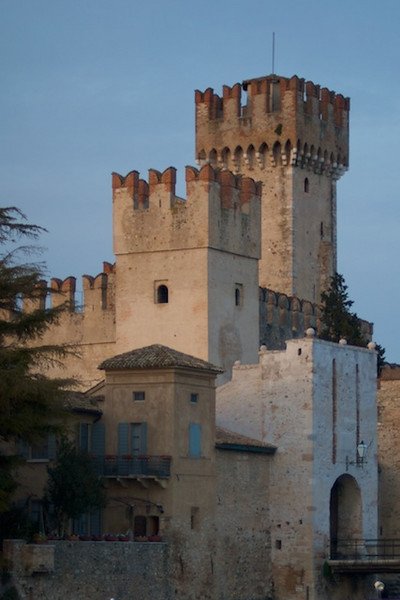 Here in mid-March- still the off-season, warming weather rouses the tiny castle town of Sirmione like a drowsy debutante.  I've chosen to visit Sirmione of all the towns around Lago di Garda because I have, admittedly, a girlish fondness for castles.
And all too fitting, my mom is with me on this trip to see a castle famously fit for a fairy-tale.
I anticipate from Sirmione a castle with a surrounding town of compelling faded glory.  Sirmione owns a glamorous past as a playground for Milanese Opera stars.  However, Sirmione's nearest station, Desenzano, is remarkably unglamorous.
Few riders disembark here, and a dutiful sole taxi driver waits for the odd far-flung guest. But Mom and I are arriving on the cusp of the season and things aren't yet in full swing.
Sirmione sits on the tip of a wick of land extending into flame-shaped Lake Garda. As our taxi follows the long road leading to the end of the peninsula, the mainland tapers then turns spindly until the lake is within view on each side of the cab.
We speed down the long isthmus to our hotel, which is a stone's throw from Sirmione's castle, the Rocca Scaligera.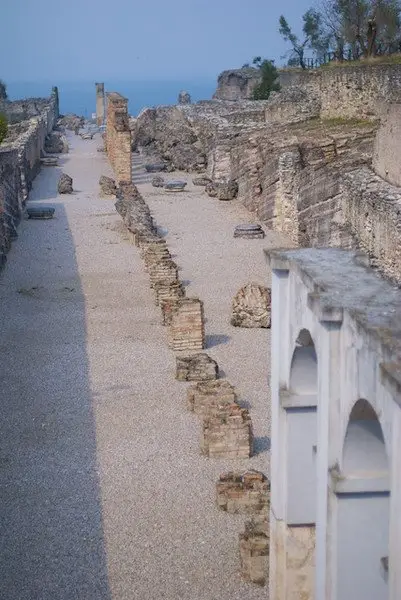 There's just something about castles, and the Rocca Scaligera doesn't disappoint.  At dusk, sunset hues illuminate its walls, its unique red brick and scalloped crenellations. When we arrive, we find that though the keep of the castle has already closed to visitors, the old town of Sirmione is behind the castle's outer walls.
Surrounded by water, the castle gate is the sole entrance to the heart of Sirmione. As such, a flow of traffic to and from the town precludes the castle gate from ever really shutting.
You may also like: Visit Chenonceau – The Castle Of The Ladies
Inside the castle gates lies an area of cobblestone streets with a church, homes, hotels, shops, gelato stands, and cafés.  The former home of Maria Callas is at the far end, and just beyond a cypress-lined park is Le Grotte di Catullo, the ruins of an emperor's lakeside palace.
As popular back in the emperor's day as today, a volcanically heated hot spring can be found on the town's west side. I'm utterly charmed by Sirmione, this fairy tale place. Not a faded glory, but a sweet hamlet with proud history and identity.
At the suggestion of our hotel's receptionist, we double back down the peninsula for our dinner. The trattoria she has suggested, the Antica Contrada, has even offered to give us a lift. The restaurant is modest in the front, but opens to gardens and a view of the lake at the back. Inside it's tiled, airy, and spacious.
The owner, Massimo, is on hand. Tan, handsome, and gracious, his silver-streaked hair flows in lovely waves as he leans forward, brows knit in concern, translating Italian and bringing order to our cravings.
Try a little of this, a little of that. He smiles at me and at my mother in equal turns with warm blue-grey eyes.  I love Italian men, Mom says as he leaves us to see to other guests.
We do enjoy every morsel of trout and coregone. Fished from the ancient glacier-formed lake, the coregone is delicately prepared.  Garda wine, olive oil, and fish served by the local boy turned restaurateur is a wholly organic and completely inimitable experience.
How is everything? asks Massimo, his eyes as blue-grey as the lake outside his restaurant, as though his ancestry had stared at the lake for so long their eyes reflected it.
I can't stop looking at them as we profess our love for the fish.  To my surprise, and without telling him I'm a travel writer, he asks me to tell people about Lago di Garda.  Tell them about my restaurant, about Sirmione. Who can resist him?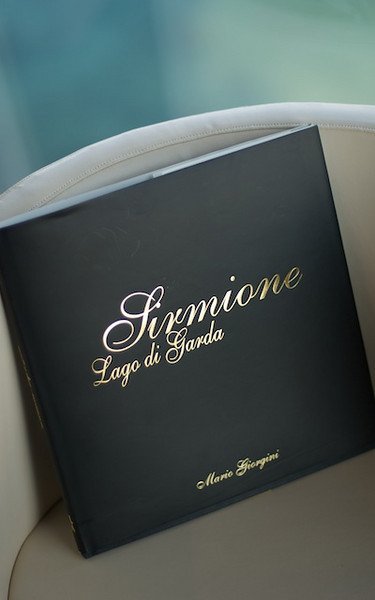 It's not often that someone asks me to bring people to their corner of the world.  Massimo, much less than in other places I've been, doesn't need to convince me for an endorsement.  I promise I will tell people about Sirmione.  I'll do my best to bring them here, I say.  Satisfied, he gives me a book of Sirmione photography as a gift.
So in honor of promises made:  Visit Sirmione– if you want to miss the crowds choose the sleepy, winter months or go in mid-March as the town gears up again for the high times.  Or, enjoy Sirmione from spring to fall for the full bustling resort experience.  If you stop in to see Massimo, please tell him I said hello.
You may also like: Rome Day Trip To Bracciano, Italy
Massimo's Restaurant: The Antica Contrada
Photos: A Book of Sirmione photos, past to present.  A gift from Massimo.
Sirmione's castle, The Rocca Scaligera (2 to choose from)
* First photo via flickr and Studio eLBee, other photos by and property of Karen Regn©
Pin For Later