For several possible reasons, one of my favorite stops on a recent trip with Eurail Travel was Trencin, Slovakia.
It might have been the shoes.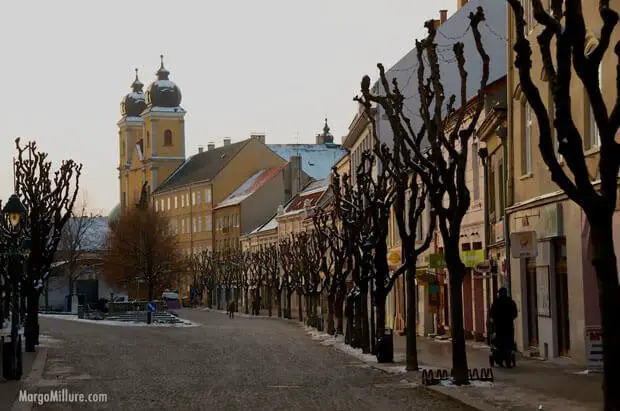 Like a seasoned shoe fitting engineer/fairy, with a certain no-negation allowed confidence, my new friend, Jill, said, "I can fit you."
No stranger to shoe challenges herself and researching comfortable travel footwear for an article, Jill had been watching me struggle on the shoe front over the first few days of our trip. In effort to "pack light," I had packed a little too lightly  – gasp  – leaving behind the pairs of shoes that would have been the most practical for this train trip to Slovakia, Hungary and Austria. I had observed that when it came to footwear, Jill's suitcases were much like Santa's sac, producing bounty that defied logic.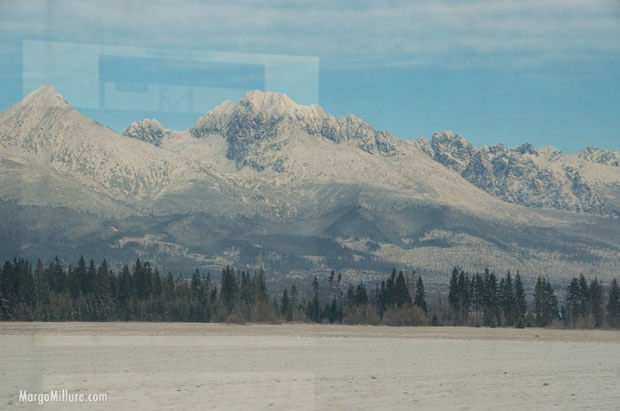 Still I had my doubts that the shoes she loaned me would actually turn out to be the magical touch I needed. My feet have been giving me trouble, especially when I travel for the past several years. Ok, actually giving me trouble pretty much every time I leave the house. As a former dancer with high arches, my theory is that my feet are too small to properly hold my middle aged body up. The density of me rest as if on two weight bearing Roman arches that confound the architects.
So Jill's shoes, one pair of what seemed to be 30 that she had in her bottomless suitcases, suddenly made me and my feet happy.
Reason number two: It could have been that Trencin was the right small village at just the right time during the trip
I adore big cities for lots of reasons, but following stops including Vienna, Salzburg and Budapest, at this point Trencin seemed to be just what I needed. In their size and simplicity, small towns at the right moment in a trip can be less stressful and easier to figure out in a short period of time.
In Trencin I felt as if we had been invited into the snowglobe to look around for a bit. The townspeople moved about the same speed as my feet, slowly enough to get a good look at without chasing them down the street or being rude. They were easy to talk to; I didn't feel as if I was in someone's way.
Besides, having fewer layers of marketing to foreign tourists means far more than just not having a McDonald's on the town square. There are rough edges everywhere, but in small towns the rougher ones are sometimes a little more contiguous, allowing a visitor a more accurate peek in.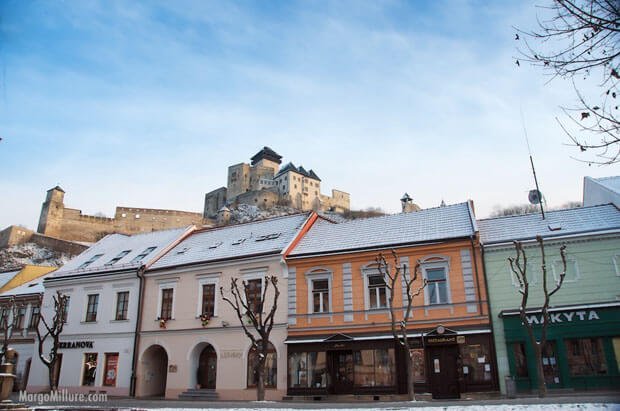 Located on the Váh River and in a protected valley, Trencin has been an historically strategic spot since Roman times.The town is dominated by its castle, which is built atop a steep rock. On the December day we were there, these geographical features seemed to make the town a "wind free" zone, a welcome benefit in the snowy subfreezing temperatures. (My South Carolina blood was thankful as well as my feet.)
Reason number three: The Hotel Elizabeth didn't hurt
Recently renovated the Hotel Elizabeth is a pleasing example of classic meets light-filled modern design. Additionally the town square is only a short five minute walk away.
Trencin's most significant landmark, a Roman inscription dating from 179 AD, can be seen from inside the hotel through a large window. Although it was closed for the season when we were there, there is also an outdoor terrace with bar stools overlooking the inscription that would undoubtedly entice in the warmer months.
After visiting the Piarist Church of St. Francis, I returned to the Hotel Elizabeth. Having seen a few churches already in the week, I actually found the Baroque St. Francis quite impressive, especially the trompe l'oeil ceiling and side altar sculptures. I missed the climb up the town's Parish Stairs, a covered stairway of 101 steps built in 1568, that runs from a small upper town square to Trencin castle.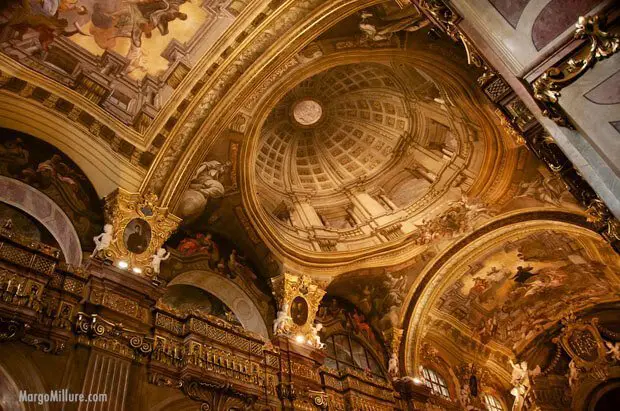 Instead I went to the Trencin Christmas market located on the main square and enjoyed some local specialties, where I'm pretty sure I met the Slovakian Santa. Then I returned to Hotel Elizabeth to experience their spa, where I got a much needed and very reasonably priced massage.
At dinner that night I looked at some of my traveling companions' twilight photos of the view looking down over the rooftops of Trencin's old town from the castle. I experienced a touch of tourist's remorse that I missed it until I remembered my feet and my Carolina blood. It was windy and colder up there apparently, not to mention the 101 steps. I was glad I hadn't pushed my luck.
Note: Thank you to Eurail Travel for hosting this trip! In case you're wondering the brand of the shoes I borrowed is Spring Step.
Pin For Later