"I want to see Sleeping Beauty's Castle. You know, the one built by the crazy king." I told my friend when discussing  a possible Munich day trip.
"You say that like there was only one crazy king in history," was her reply. She had a point. Not knowing how to get remotely close to correctly pronouncing Neuschwanstein Castle, I thought I could explain it in Disney terms and references to mad kings to get my friend to understand me.
The "mad" king was King Ludwig II of Bavaria. Neuschwanstein Castle, meaning New Swan Stone, is the most popular of the three designed by this king. Located about two hours from Munich, a visit makes for a nice day trip.
Although this ruler wasn't known for beheading his wives or fiddling while his city burned, King Ludwig's extravagance and eccentricity, along with the expense of building his castles, worried the Bavarian government.
Ludwig withdrew from his political responsibilities and continued building both castles and debt against the warnings of his cabinet. They had him officially declared insane.
Only a day after the declaration, both the king and the doctor, who declared him to be crazy, were found drowned in a lake, under 'mysterious circumstances'. Sadly, Neuschwanstein Castle was only partly constructed when the king died, and he was never able to see it finished.
Seven weeks after the king's death the castle was completed and opened to the public. Standing atop a high hill, the structure appears solitary and remote, as if in a distant dream, perhaps just as it had to King Ludwig. The castle, which inspired Walt Disney in his design of the Magic Kingdom and Sleeping Beauty's Castle, attracts over one million visitors each year.
You may also like: Christmas Markets In Germany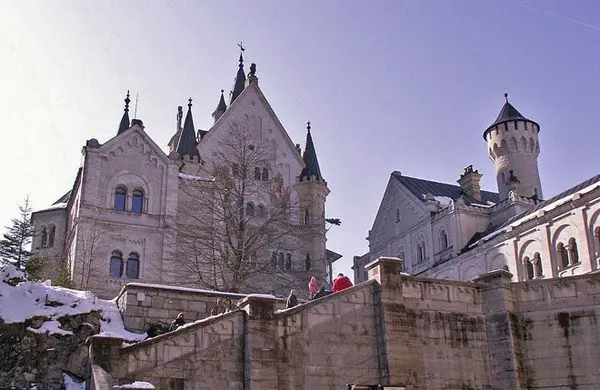 A visit to Neuschanstein castle starts with a brisk 30-minute climb, from the village of Hohenschwangau. If you'd like a more royal manner of arriving, there are horse drawn carriages that whisk you to the top of the hill, for a few euros fee. My friend and I climbed, arriving at the top breathless, from both the hike and the views.
The view from the castle wall and the nearby observation deck are of snow-capped mountains and deep gorges that drop straight down and spill out into the vast valley below. As it was early March, the valley was blanketed in a thick layer of white.
On our tour inside, we were escorted through most of the rooms and given a little history of both King Ludwig II and the castle. Walls are painted to tell stories from those in Wagner's operas. The king was Wagner's patron and, based on how many rooms were dedicated to Wagner's works, a huge fan.
The throne room was designed in the style of a church, giving a glimpse into King Ludwig's idea that kingliness was on the same level as godliness. The throne would have been placed where the altar usually is. It was never added to the room because of the king's death.
After our tour of the castle, we left Hohenschwangau for a stop in another Bavarian village, Oberammergau. Our bus took us through more views of snow-covered valleys and cross-country skiers making straight-lined snow tracks. We passed tiny villages with half-timbered houses and chalets, many with wooden terraces frozen under thin veils of ice and snow.
You may also like: Tips For Roadtripping In Germany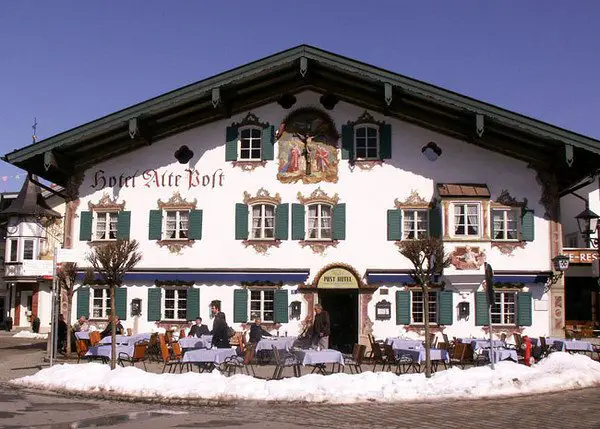 The village of Oberammergau is known for its showing of The Passion Play, its woodcarvers and it frescoed buildings. The villagers promised to perform the Passion Play after being delivered from the bubonic play. Now the story is shown every year that ends in zero.
We had a little time to roam around the village, shop, eat, and for some of us, play in the snow during our day trip.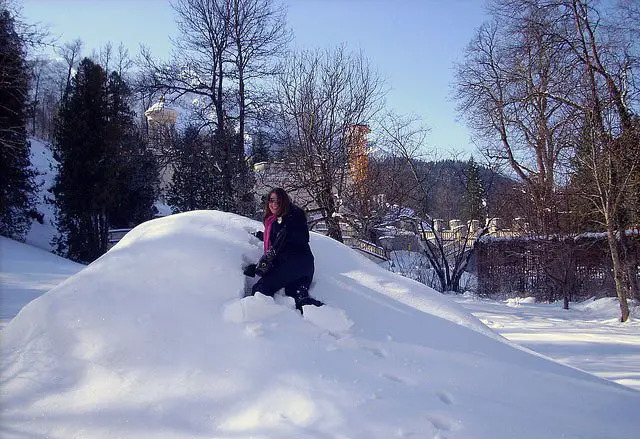 I grew up in California, where it never snows. For me, snow is almost as enchanting as Neuschwanstein Castle. I have to touch it, make footprints and snow angels in it, and throw a snowball or three. One thing I did learn: climbing a snow hill is so much harder than climbing up the castle trail.
Although I'm still not completely sure how to pronounce Neuschwanstein, I no longer see it as Sleeping Beauty's Castle. Instead, when I look at it, I see a story of an eccentric king and his "mad" visions.
You may also like: Chocolate and Castles in Astorga, Spain
How to Get there: Visit Neuschwanstein Castle
There are many companies that offer Neuschwanstein castle tours as a Munich day trip.
If you prefer to go on your own, you can also take the train from Munich to Fussen, about a 2-hour train ride. From Fussen take the bus to Schwangau and exit at the Hohenschwangau stop. The buses are usually marked "konigsscholer" (royal castles).
Germany's Railway site in English
Purchase your castle tickets at the ticket center before climbing/riding up the trail.
Regular Admission is 12 euros (for 2011)
Children under 18 are free.
You can also visit the Hohenschwangau Castle, the castle where King Ludwig II was raised.
Combination tickets for both castles are 21.50 euros.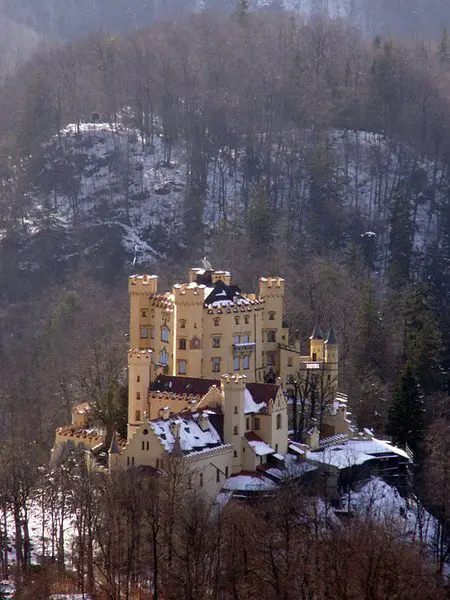 Pin For Later