Last Updated on
Cooking around the world:  a traditional Abruzzo fish specialty
Travel anywhere along the Adriatic Coast and you cannot ignore the traditional fish cuisine. Each locality has its own specialty such as stuffed mussels and stuffed squid, pasta with clams, fried fish, pasta and chickpeas, seafood soup and so on.
Not least, the Gulf of Vasto, where many dishes are still prepared by local mums in the traditional way.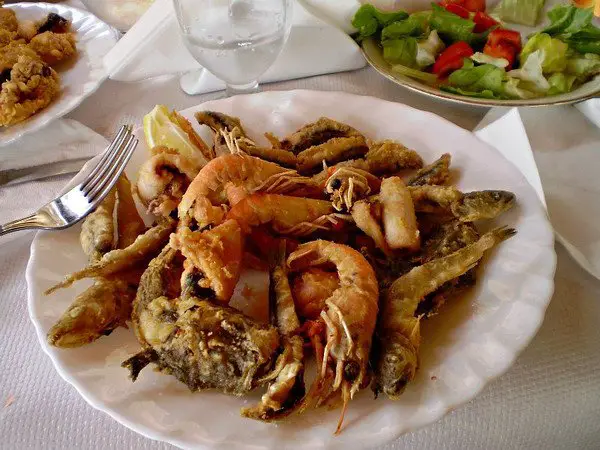 The most amazing thing about Abruzzo is that all portions are very abundant compared to the rest of the coast, so it is absolutely normal to ask the waiter for a 'doggy bag' to take home the food you haven't finished from your plate; very unusual in Italy.
As for Vasto the classic dish is the 'brodetto alla vastese', a fish soup. Like many coastal resorts along the Adriatic, it was traditionally prepared from what was left after selling the best part of the daily catch in the local market.
But in Vasto's case, most of this catch came from the iconic 'trabocchi' which dot a stretch of coast from Ortona to Vasto. There are so many that the coast has been renamed 'La Costa dei Trabocchi'.
A tremendous turnaround, as all the trabocchi once risked demolition during the construction of the original coastal railway. They have now been saved and are protected.
So much so, that we walked 2km along the disused rail tracks hugging the coast and the number of trabocchi in such a short stretch was impressive.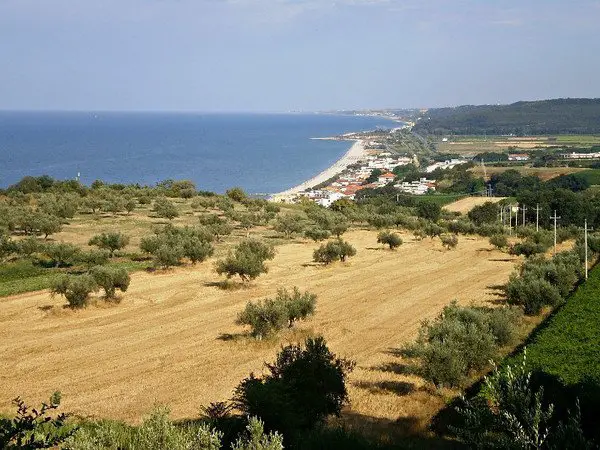 Today, the trabocchi are places to relax and enjoy the fresh sea air, although some have been transformed and offer refreshments or light meals. If you are very lucky they are the perfect places to enjoy a brodetto.
You need at least 5 different kinds of fish such as scampi, sole, clams, mussels, squid, etc and is it typically prepared with garlic, pepper, tomato, and local olive oil.
The result is a meal in itself, enjoyed with fresh crusty bread. Here is the local recipe:
Recipe for Brodetto alla Vastese 
1.5 kg mixed and cleaned fish
1 kg mature tomatoes
3 garlic cloves
2 sweet red pepper cleaned and chopped into squares
1dl extra virgin olive oil
salt
In a terracotta bowl place the tomatoes, garlic, peppers and olive oil with 2 liters of boiling water. Add the fish and cook on a low heat for 45 minutes. Serve hot with slices of toasted bread.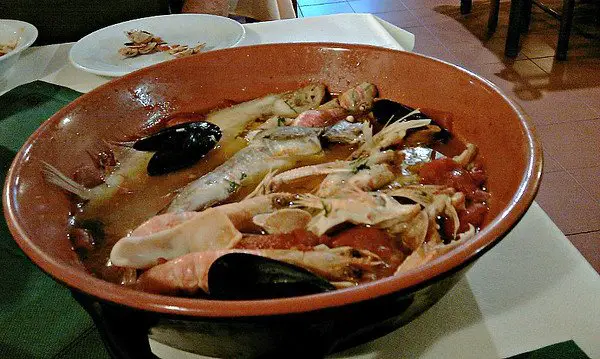 If you need a suggestion as to the best moment to visit Vasto then why not go during the week of the festival dedicated to brodetto soup. It is called 'Brodetto and Contorni.'
Selected restaurants of the city propose the classic dish in all its subtle variations for €20-€30. Most are located in the historical center of Vasto, but also the port and along the coast of the trabocchi.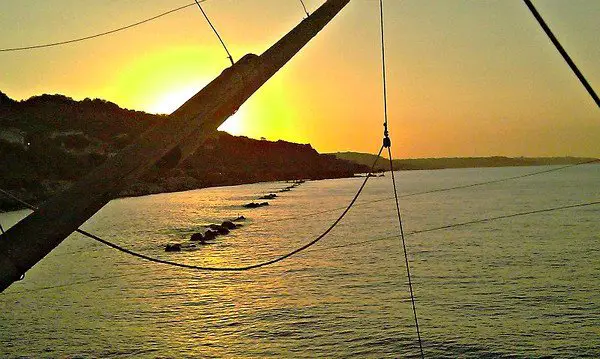 A brodetto enjoyed at sunset, either on a trabocco or in the piazzas of Vasto, is the perfect end to a day.
* All photos property of and by the author.
Pin for Later