Harrods Food Hall in London is gourmet heaven.
"Oh, I just love the color!" The super chic petite Asian lady, her feet barely reaching the rungs of her stool, unceremoniously grabbed my hand to take a closer look at my signature black nail polish.
A conversation about cosmetics and fashion ensued, until my neighbor to the right, an elegant British gentleman, chimed in, politely asking if he might offer the ladies a glass of his red wine and proceeding to discuss the respective merits of lamb chops, calf liver, and spare ribs.
This entertaining little scene played itself out in one of my favorite places to eat when visiting London: Harrods Food Hall.
Travel Belles have their favorite London restaurants, but here we are united in the love for excellent food and the best of British traditions.
Complete strangers become fast new friends because we are all here for a spot of indulgence of the palate and the eyes and love to share our pleasure. Nobody sits stony-faced on their stool, ignoring their fellow diners – oh no -comments are exchanged, recommendations made and glasses clinked; things you can never find in a stiff sit down restaurant.
Lively company is one of the reasons why I just love to eat at Harrods.
You may also like: Best London Restaurants
Of course, there is more. I prepare thoroughly for my Harrods food experience.
I approach via the perfume and cosmetics department on the ground floor, letting myself be enveloped by the scent of a thousand perfumes.
Then I proceed through the arches to the Food Hall and feast my eyes on the glorious art deco ceilings, skylights, chandeliers and marble counters before making my rounds to decide on what I will have today.
I love seafood, so my first stop is at the stall of my knife-wielding friend who always loves 'to pose for the press' as he calls it. Enticed by the display, I decide on half a dozen oysters on the half shell for starter; accompanied by a glass of champagne.
You may also like: Five Places To Bargain Hunt In London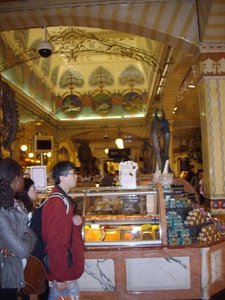 I slide off my stool and make my way to the meat stall where the best of Britain is already sizzling and the above little scene took place. The menu is written upon a whiteboard with daily changing specials but the standard fare of juice steaks is always to available.
That day I decided to go for lamb chops, tender and crisp and with plenty of meat on the delicate bone. Sometimes, when you order lamb chops you hardly find anything edible on your plate, but not so at Harrods. My neighbors had liver and a T-bone steak respectively and we all happily munched away, even sharing a morsel.
Parting company with best wishes, I proceed to the cheese counter to buy some bits and pieces to take home for later and then have a coffee and a sinful slice of chocolate cake at the coffee and pastry stall.
You may also like: Borough Market Photo Essay
Harrods Food Halls are vast and yet manageable.
You'll also find vegetables and an abundance of fruit as well as spices, oils and just about anything needed in a gourmet kitchen. I just love it that you can see, pick and choose the food you want to eat and then proceed to shop for what you want to take home, all in the same place where you can also enjoy a sense of history and tradition.
Harrods in London's Knightsbridge has been around since 1849 and you won't be admitted in sleeveless tops, cut off jeans and carrying a backpack. Style still rules which will be appreciated by a Travel Belle and adds to the pleasure of indulging for a while in a true gourmet heaven. When visiting London, don't miss it.
* Photo credits: Top photo by HerryLawford, next 2 by Inka Piegsa-Quischotte
Pin for Later