American tourists flock to wrong village in search of Downton Abbey
The Telegraph, 02 Sep 2013
I laughed out loud when I came across this article – my parents have recently moved to Downton in Wiltshire, so it just tickled me to think of confused tourists turning up in their local pub. Quite understandably, people come thinking it is the location for Downton Abbey, but in fact, not a single scene has ever been shot here. Still, I'd encourage you to visit – it really is a charming village, with thatched cottages and a village green which hosts a Cuckoo Fair each summer. There's even a grand old house and Victorian pleasure gardens, known as the Moot, which wouldn't look out of place on a Downton Abbey set.
Claire Carter and John Dodd report:
Tourism is booming and pubs report acting as unofficial tourism information offices in the village of Downton, as they welcome a mass pilgrimage of fans looking for the inspiration behind the lives of the Crawley family.

But legions of tourists are turning up to find they have made a mistake, as the village on the Wiltshire-Dorset border, clustered around a main road to Salisbury, has seemingly nothing to do with Julian Fellowes' drama at all.
UK flooding in pictures
Metro, 05 Feb 2014
While North America has been in the grip of a record Arctic winter, the UK has had pretty mild temperatures – but an awful lot of rain, which shows no signs of letting up. Parts of Somerset have been underwater since Christmas, while recent storms have seen gigantic waves battering the south coast, even removing the earth from beneath train tracks in Dawlish, Devon, leaving the rails hanging surreally in mid-air. The weather is wreaking havoc, but producing some dramatic scenes, as these photos from the Metro show.
 How to cook the perfect…Tattie Scones
The Guardian Word of Mouth Blog 08 Jan 2014
Felicity Cloake is the recipe developer for the Guardian's How to Cook the Perfect… series, which I follow obsessively. Cloake tries out dozens of recipes and finds out about the culture behind different dishes, before coming up with the perfect recipe. Since 2014 is shaping up to be Scotland's year, with homecoming events for the diaspora and Glasgow hosting the Commonwealth Games, it's just as well to have a few Scottish recipes to hand, and this one for the perfect Tattie Scones is a good place to start. These potato cakes can be eaten any time of day, but make a particularly good Scottish breakfast.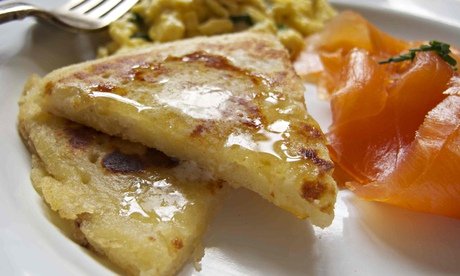 Felicity Cloake writes:
As well as being a peerless accompaniment to a fry-up, they are delicious hot with melted butter, or cold and blini-style with smoked fish and cream cheese. Proper Scots even like them scone-style with jam and a cup of strong tea. They're readily available in their homeland, but I've found them sadly difficult to source elsewhere – happily, they're pretty easy to make at home, even with a hangover.
Behind the scenes at one of the world's most popular film sets
Visit Britain Super Blog 29 Jan 2014
The first time I visited Greenwich, I was instantly smitten. The Old Royal Naval College in particular is a place of wonder, with a magnificent painted hall and grounds which exude heroic tales of old. Hollywood producers must have noticed this too, because the ORNC has featured in dozens of blockbuster films, including Les Miserables and Pirates of the Caribbean. 
Blogger Martin Dean interviewed Ian Allchin, the ORNC's estate operations manager, to find out about life on set and how he protects a building of such historic importance when Hollywood wants scenes of destruction. Allchin explains:
We've had requests to dig up the grass, bombs to explode and just really all sorts of special effects stuff. We just have to be really careful about the special effects stuff and get them over beforehand to test it.

It looked like they blew the windows out in the Painted Hall in Thor: The Dark World! They had a special machine that blew fake glass, but we had to check to make sure the real windows didn't get damaged!
Park Hill, Sheffield, Urban Splash Pinterest Page
Park Hill is a modern architecture success story. When I was a student at Sheffield University, Park Hill was a sorry sight, a worn-out, abandoned, concrete block. But since then, an ambitious project has completely revitalised it, providing new homes, including some designated for social housing, for which Park Hill was always intended. I particularly love its brightly coloured panels, which seem to move and change in the sunlight. The architects have stayed true to its 60s brutalist design, but they have had fun with it. It was even shortlisted for the prestigious Riba Stirling prize last year. This Pinterest page shows how it has become a treasured Sheffield landmark.
You can watch a short video about the Park Hill development on the Riba Stirling site.
Pin For Later