I remember it was a sunny morning in May two years ago when I first arrived in Hollókő with my family.
We spent a great long weekend there with lots of laughs, eating delicious traditional Hungarian dishes, hiking, relaxing, meeting new friends and talking until dawn with my dear folks. We will never forget these three special days.
Visiting this village would make for a wonderful Budapest day trip, as it is only 100 kilometers away.
This Palóc ethnographic village's name means 'Raven Stone'. And yes, a statue of raven welcomes you at the entrance of the village.
The name perhaps comes from the legend in which the lord of a castle stole a pretty maiden, whose nurse was a witch. The nurse made a pact with the devil to rescue the girl. The devil's minions, disguised as ravens, took the stones of the castle away and the castle of Hollókő was built on top of the rock here.
It is well worth and recommended walking up to the castle. The view from there over the surronding protected area (part of Bükk National Park) is indescribably beautiful.
Hiking around the castle is so relaxing. Wherever we went there was peace and silence, we could only hear the cuckoos voice or the crickets' chirping. The air was so fresh we could even bite it.
You may also like: Budapest And The Most Beautiful Cafe In The World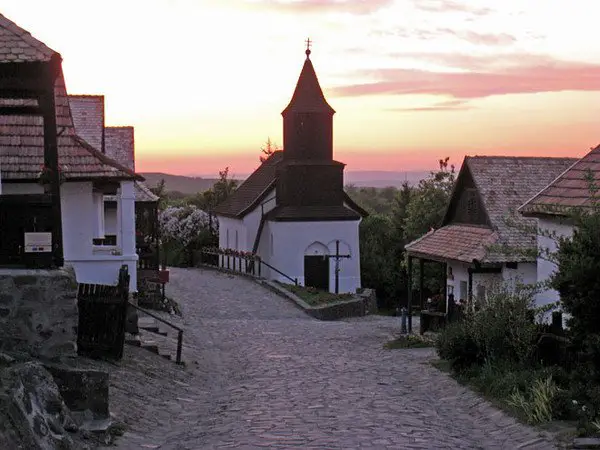 Hollókő is an outstanding example of a deliberately preserved traditional settlement and is a UNESCO World Heritage site. It is located in Nograd county, about 100 kilometres northeast of Budapest. The village hides among the undulations of the Cserhát hills in a picturesque, beautiful setting.
The traditional medieval village structure can easily be seen; the single long street has thin lots running of it at right angles. In the middle of the settlement, as if on an island, stand the small Roman Catholic village church.
The village has 67 protected buildings that are characteristic peasant houses with stepped gable roofs and porches with wooden breast walls decorated with open-worked carvings. There is also a village house, a post office, a nursery school, a few inns and restaurants.
You may also like: Photo Essay Of Szentendre, Hungary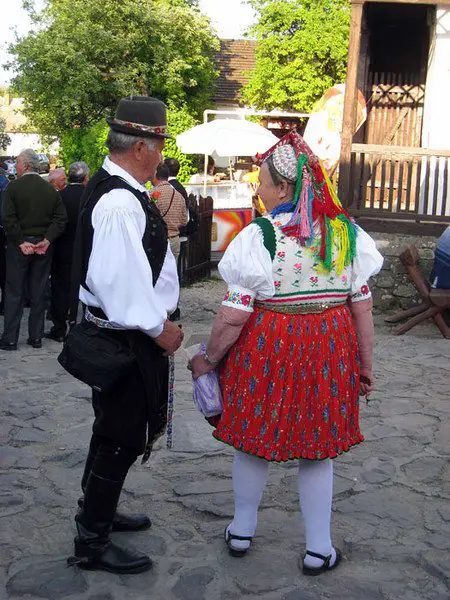 The most interesting thing that this is not an open-air museum, but a real, living village with warm hearted, friendly Palóc people. They speak in a special dialect and we loved listening to them.
It was such an emotional moment to see them retaining their traditions and colourful, richly decorated folk costumes that they usually wear at different festivals.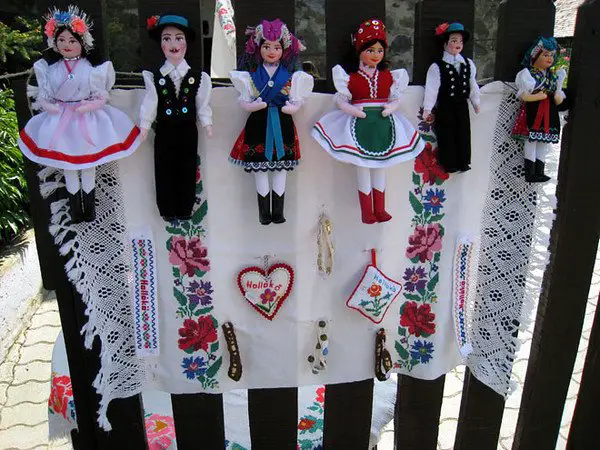 You may also like: A Train To Slovakia
Hollókő has an amazing atmosphere, and during our weekend visit we became filled with positive energy. The local people welcomed us as friends and proudly introduced us their culture and traditions.
We spent unforgettable days in this lovely village thanks to Elizabeth, our hostess; to Szabolcs, the owner of Katalin Inns; to Janos, his wife Maria and their six children, who showed us how to live under modest circumstances, but with the utmost contentment.
Their hospitality, friendship and love for all people are exemplary.
* all photographs by Zita Nagy, all rights reserved ©
Pin For Later