Will travel for artisan gelato: Yet another documented case of falling head over heels in gelato love with one of Italy's national treasures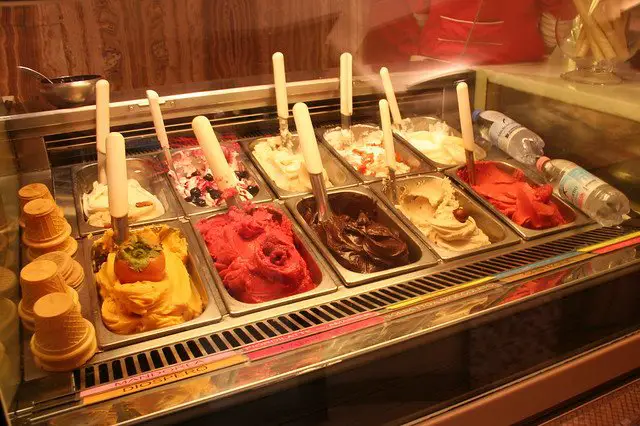 I once drove four hours to attend a maple syrup festival during the middle of a wintery storm. (There was an all-you-can-eat pancake buffet, after all). I've walked to the gas station in the middle of the night for candy because I didn't have any at my house. (Gingersnaps weren't satisfying any cravings that evening). But in addition to knowing that I have an addiction to sugar (a healthy one, I do declare, even though most doctors might disagree), I have also reached the realization that I will travel for food, no matter how far or how short.
I used to think there was a problem with traveling only to see or get specialty food. Most people plan trips to see the sights and meet the people. That's not entirely the case when you consider how much food in the world there is to be sampled. I may not remember all of the museums, but I guarantee I will remember the night I ate half of an Italian restaurant's veggie pizza because it was absolutely delicious.
Post trip, I may have even fantasized over a meal I had, or dreamed about it while I slumbered. Traveling for food is a hobby and thinking about food, even during my REM cycle, is an even bigger hobby of mine. I routinely dream of dancing cinnamon rolls and floating plates of pasta noodles.
Sugar Grom Dreams
But I had been dreaming about ice cream for three months before my most recent food travel experience. It was only appropriate then that last week I visited Florence, Italy, where I learned how food is really cooked and enjoyed some of the greatest meals of my life. Yes, this time it was either go big or go home, as the expression goes. More or less, I traveled more than 4,000 miles to get a cone of gelato.
Time to try new things
The first day I was wary about trying anything. Somehow, unlike any other time in my life, I felt limited by the fact that heavy amounts of pasta and bread were carb-bombs. So, I had to ease into my eating vacation. I started at the butcher shop, using my spotty Italian language skills to convey the fact that I hoped to get some prosciutto, as well as soft cheese and a small hunk of crusty bread. It went better than I expected and I ended up eating my piecemeal lunch on a patio overlooking a chapel. Satisfied with my semi-healthy choice, I thought about my dessert options.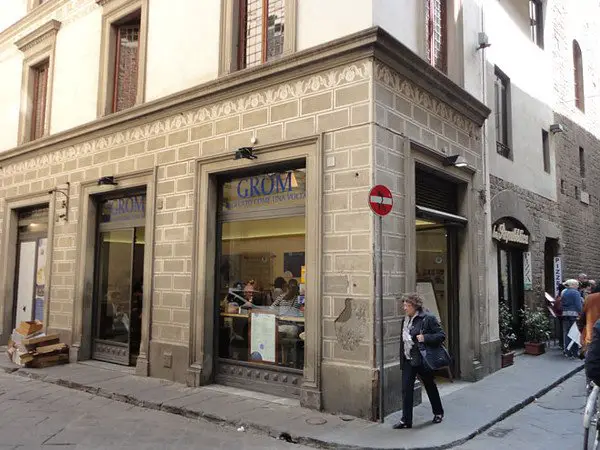 I don't withhold food at home, but I do try to maintain a healthy diet. I figured I was on vacation, though, and I broke down and got gelato from Grom, which was near the Duomo. In my opinion the gelato at Grom is by far the best in the city (I sampled the gelato at countless places and nowhere was quite as good). The ice cream is made with organic ingredients and they even have sorbet, too, for those with dairy allergies. I highly recommend the Pera (pear) sorbet for those who might find themselves anywhere around Florence or another Grom location anytime soon.
Gelato love at first taste
After my first gelato, I never looked back. I had to try an array of flavors–pistachio, mint, hazelnut, yogurt flavored, pineapple and coconut. I also had to get the dessert at least once a day (usually twice), because there's nothing like walking down the hot streets in the middle of the afternoon, holding a cool cup of gelato in your hand. The feeling of anticipation and delicious goodness hits the senses right when you stand in the doorway and smell the scent of freshly made waffle cones coming out of the oven.
Choosing between chocolate and yogurt
On my last night in the city, after a beautiful dinner, I also had my last Italian gelato (for now). I tried the yogurt flavor, which was made with real Italian yogurt. From that last lick of the cone, I told myself that traveling for food was nothing to be ashamed of and if I wanted to go even further from home to try something else, I was free to do it, because it wasn't going to be an everyday experience.
Now back home in the United States, I miss "Gelato Hour." I miss being able to walk into a shop, survey the flavors, ask for samples and leave with a waffle cone piled high with three different flavors. Although I can always get gelato from my neighborhood grocery, I'm sad to say, it's just not the same. As far as I'm aware, the local stores don't stock all of the "weird and unusual," flavors. Where else would you find black licorice gelato, if not in Italy? I might just make it my next cooking goal to make it myself. We'll see how this gelato love story unfolds …
*Photos by Thy, Kelly McClendon, and Missmeng
Pin for Later