Penzance proves to be just the place for a father/daughter trip
Penzance, a town in Cornwall, is on the tip of the southernmost peninsula of England. It is not a popular holiday spot by any means – heck, most people living outside of the United Kingdom have probably never heard of it. Most of the tourists are vacationers from other parts of the United Kingdom and go to Penzance for the "coastal" experience. This by far was my favorite place in all of Great Britain.
For me dream vacations often involve white beaches with sparkling blue water, palm trees and tropical weather, but thanks to my dad I know that sometimes when traveling, it's good to try something new.
My dad has had a fascination with Great Britain ever since he studied at Oxford for a year. Of course, after taking my sister and me there twice when we were young children, he passed that fascination on to us. Just last year, I had the pleasure of taking yet another family vacation to Great Britain, this time as an adult.
Although we traveled throughout the whole country, one location in particular was an exotic and unique destination unlike any place I had ever seen before.
Upon arriving in Penzance, we pulled our diesel powered rental SUV onto a steep, uphill cobblestone street directly across from Mount's Bay. This beautiful body of water transforms St. Michael's Mount into an island during high tide. Our hotel, Hotel Penzance, was quaint and delightful, and as soon as we unloaded our luggage, Dad and I took it upon ourselves to spend the night wandering around the town.
My dad and I have always had a special bond because we share a love of new experiences and adventures. We have been traveling together for years. We've gone across the U.S. together, to the United Kingdom, Italy and Germany. We like to do the same kinds of things: wake up really early to get as much done as possible, take pictures of absolutely everything, meander through the towns we stay in and just get lost for a while. Since I was a young girl, he's embedded it into my brain to take in as much of a new culture as possible and constantly challenge the way I think.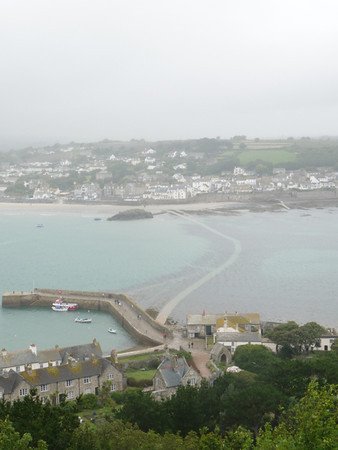 We walked out of the hotel and into the ancient streets of Penzance. We wove in and out of small stone alleys, many of which created pathways to the flower-infused backyards of locals. Once we found the public road again, we stumbled upon a little pub called Admiral Benbow's. It was loud and crowded, dimly lit and slightly smoky, but we found a table and ordered England's famous fish and chips and two pints of Guinness. The whole place was decorated like a ship out at sea, and conversations surrounding us were in Italian, French and English of every dialect. Apparently, this was the place to be for natives and tourists alike.
Despite year-round cool temperatures, the whole town was covered in green subtropical plant life. Distinct from the rest of England, when you're on the coast of Penzance, it looks more like a tropical garden.
While walking back to the hotel, we found a garden tucked back into a nook. We entered and saw that it expanded all the way to the water, full of plants and flowers I had never seen before. A little stone path wounds its way through all the shrubbery. Behind every corner, it seemed another surprise was waiting. Being there, I truly felt at peace and content, and I was so grateful my dad instilled a passion for travel in me.
Not only is Penzance the perfect town to explore if you want to see beautiful greenery and delve into a culture completely its own, Penzance also has rich history waiting for you there. Penzance was originally a harbor town for trade. It was on St. Michael's Mount where the first beacon was lit to warn the arrival of the Spanish Armada. After the Norman Conquest, it was given to French Monks, who built the church at the top of St. Michael's. It has since changed hands and has been the home of several prominent English families. There is even a legend about a heart-shaped cobblestone on St. Michael's; supposedly, a boy dug a pit surrounding the castle and a giant fell in. Even as his body withered away over time, his heart remained in the ground as the cobblestone-shaped heart.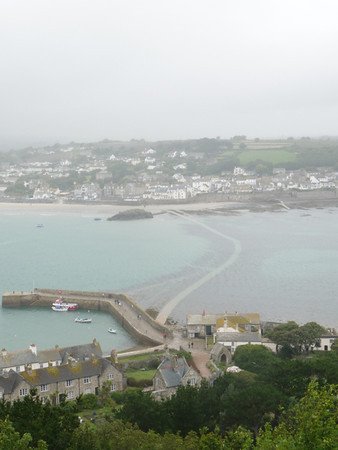 During high tide on the Cornish coast, getting to the mount from the mainland takes 10 minutes by boat. During low tide, a stepping-stone pathway in the sand leads straight up to the walls of St. Michael's. St. Michael's tide change is one of the world's most dramatic.
The castle may be toured by the public for a small fee, along with the sub-tropical gardens found beside the castle. There are tourist shops and restaurants speckled throughout the small island.
Penzance may not have a reputation for being an ideal vacation destination, but for those seeking a spot full of distinctive culture and rich natural and historic beauty, there is no other place quite like it.
*Photos by and property of the author, used with permission
Pin for Later