Whether you call them rain boots, wellington boots or wellies, it's true that most of us own a pair.
Rain boots can often be drab and unsightly items of footwear with many people wearing the same ones (you know, the dark green knee-high pair). So, in order to avoid clashes and boring choices, we've devised a list of our five favorite pairs of rain boots.
You may also like: 10 Tips For UK Budget Travel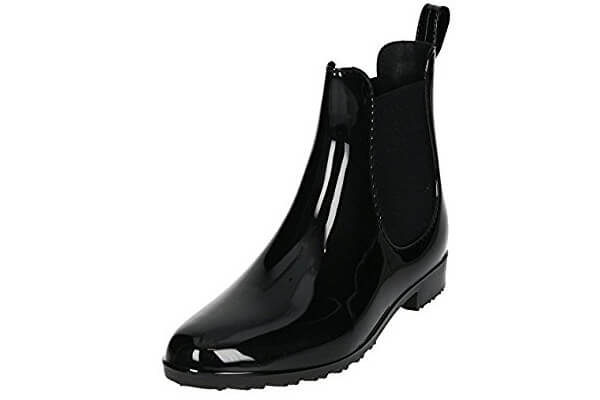 These rain boots are the epitome of cute and dainty. The black shine adds a certain degree of sophistication to them and we think they're lovely.
The cost of these Chelsea boot style wellies is relatively low. Considering the quality of the boots themselves, the £8-£16 price is ideal if you're looking for some waterproof boots to do light walking in.
At ankle height, they're not really suitable for mucking out a stable or walks through deep puddles. You wouldn't really want to trudge through any thick mud in those…unless you wanted to get dirty, that is.
However, they are perfect for dog-walking and autumn time all while carrying an elegance about them that many rain boots seem to lack.
If you're going for a stylish look while light walking or gardening, these boots are most definitely the ones for you.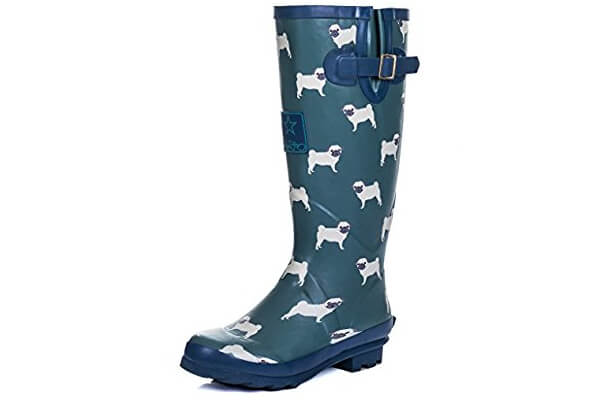 Slightly more expensive at £22 are the cutest pair of rain boots from Flat Festival Wellies
Our favorite design are the pugs. Pugs are everywhere lately and they are a fashion statement as well as pets. We love them because they look a bit grumpy but are cute. Just the right medium in a dog.
What does this mean for rain boots? Well, it means that pugs make just the right pattern. Especially when matched with an ever-elegant deep blue color.
So, with these boots you'll have established an admirable style and also practicality as they are a taller pair than the last. This means they are appropriate for mucking out that stable and trudging through calf-high mud.
And if you're an avid walker and still take the mucky path in the winter months, these rain boots will be more than suffice. Reviews have them as sturdy and durable – two ideal components for a good pair of wellington boots.
See special offers on
You may also like: 10 Must-Have Travel Items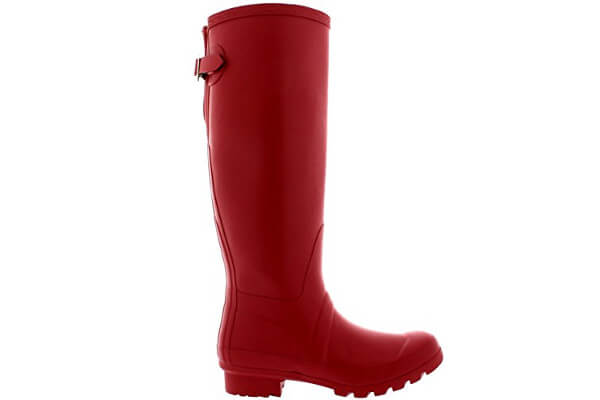 These boots are a lovely median between tacky and plain. They aren't too glossy or too drab. And in red, they are perfect for the lady who loves to make a statement – even in the rain.
Adjustable with straps at the back and available at a great price (£16.99-£18.99), these rain boots are a great find. With the tall design, they will once again protect you from deep puddles and mud.
We love the confidence that the bold red colour gives to its wearer – who would've thought that a pair of rain boots could do that? These boots really are an ideal, practical and fashionable pair in terms of price and style.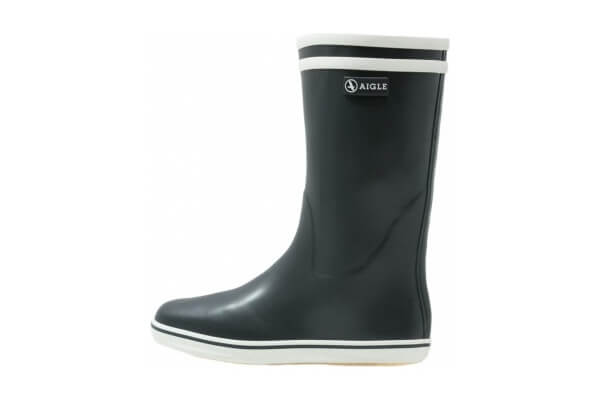 The colour of these Aigle rain boots are pretty ordinary. Deep blue is a safe choice indeed but it is the actual shape and style of the boots which makes them stand out.
It is the thin shoe of the boot that we really love – they are unlike any other on the list and have a vintage air about them. Perhaps it's the dainty appearance of the calf-height and unusual shoe that makes them so different (in a great way, of course).
At a higher price than the previous pairs, £27-£55 is considerably expensive when weighing up what you can actually do with them. They are definitely not ideal for heavy snow and are strictly rain boots.
The thin style means that they are a snug fit and won't do a fantastic job of insulating your feet in the ice cold snow. But, if they're what you're looking for then they will definitely be worth the money.
You may also like: Belles With Baggage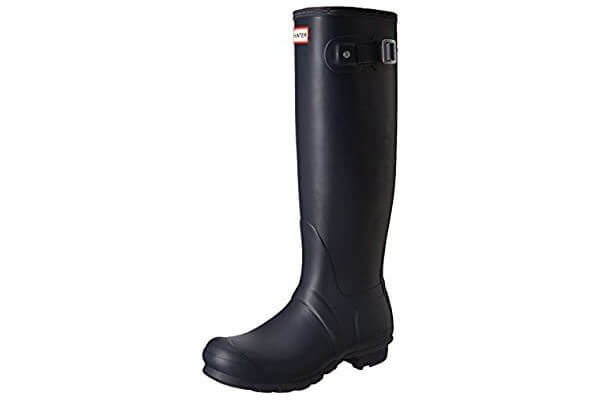 Hunter wellington boots have long been at the top of the rain boot hierarchy. They are sophisticated and in their plain exterior, manage to make a serious statement.
Known for their comfort, these Hunter boots will keep you warm as well as protected from the mud, rain and snow. However, they do come at a cost.
£59-£160 is a lot of money for a pair of rain boots. So, we only suggest purchasing these if you've really fallen in love with them; will use them every day or need them for your job or hobby.
They will do the trick and should endure all weather conditions, especially at that price.