Jessica, our favorite chocolate-loving Travel Belle, went in search of chocolate in San Francisco. She reports in with the tasty results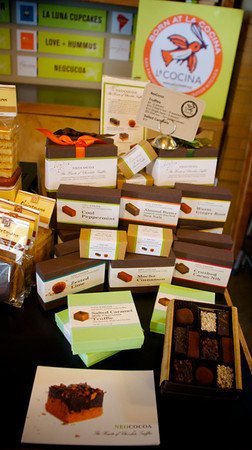 The San Francisco Bay Area is home to fantastic food and wine, making it a great place to travel for any Belle. There are fabulous restaurants and it is only a short drive from the wineries of Napa, Sonoma and Amador Valleys. It is also home to some wonderful artisan chocolate makers. Of course, there are several well-known chocolate factories from the bay area – Guittard Chocolate Company, Rechiutti Confections, Scharffen Berger Chocolate Maker and Ghirardelli Chocolate Company – but it is the lesser-known artisans that I tend to fall in love with.
​The first chocolate shop I visited was Poco Dolce on Third Street in the Dogpatch neighborhood of San Francisco. This company started with Italian pastries in 2003 but soon transitioned to making chocolate confections in unique flavors. Today, the company is well known for making handcrafted bittersweet chocolate tiles, as well as chocolate bars and toffee.
​The name Poco Dolce is Italian for "just a little sweet" and perfectly describes each bite you take of one of their confections. I went to the shop the first morning I was in San Francisco. It was overcast with misty rain – a typical fall day for this city. The Dogpatch neighborhood is an area that has seen the beginnings of gentrification in the past few years. The once empty warehouses along the water are now home to cafes, businesses, and shops like Poco Dolce. Entering the shop there is a retail space up front and working space towards the back. The simple clean design inside reflects the industrial feel of the neighborhood outside.
​Even though I had just finished my breakfast, I sampled several different confections (including popcorn toffee) before deciding to buy some burnt caramel toffee to take home. The flavors that I sampled in the store, as well as the one I brought home, were all unique and excellent. The toffee was buttery, delicious, and perfectly balanced by the bittersweet chocolate coating. Not to mention, it is was a perfect snack for a rainy day – and a new chocolate confection to fall in love with.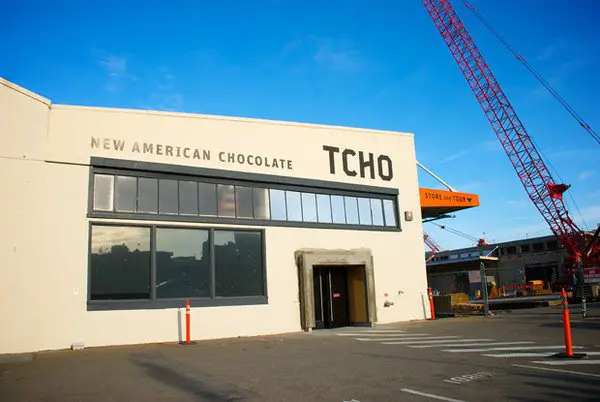 ​A few days later I visited a San Francisco chocolate factory and shop that is well on its way to becoming one of the better-known brands. Located at Pier 17 on San Francisco's Embarcadero, TCHO is an innovative company that focuses on making what they refer to as the "New American Chocolate." They were founded in 2006 and currently make four different dark chocolate bars (chocolatey, fruity, nutty, and citrus) and two milk chocolate bars (cocoa and classic). The Factory Store offers free, informative tours twice a day. Unfortunately, it was Saturday and the production line was quiet, however, it was still enveloped with the aroma of chocolate. Our guide began the tour with some obligatory background information about how chocolate is made and the history of the company. Then we donned hairnets and got to see the resting equipment used to make TCHO bars.
After learning about the different machines and seeing the metal pipes that transfer the molten chocolate from one apparatus to the next, it was finally time for tasting. We began with the dark chocolates: citrus, nutty, chocolatey and fruity. It was difficult to pick a favorite as they were all wonderful; however, I became particularly fond of the chocolatey. Next, we got to try the milk chocolates: cacao and classic. TCHO refers to these bars as "SeriousMilk" chocolate and they are a relatively new addition to their family of treats. First I tried the classic. This is the closest I have ever tasted to perfect milk chocolate. It was creamy with a wonderful chocolate flavor with caramel undertones. Just simple delicious milk chocolate…
Next, I tried the cacao bar, which is named after the tree that produces the beans that become chocolate. This bar was also delicious. I preferred the classic, but both were fantastic. That said, I think it is impossible not to fall in love with all of their chocolate bars. Before leaving, I bought some adorable boxes of little bars to take home and share with family and friends.
​The last chocolate I fell for in San Francisco was made by a small company called Neo Cocoa. This company makes what they refer to as the "heart" of a chocolate truffle. These exquisite chocolate confections have no hard coating or shell and are 100 percent creamy, rich chocolate. Unfortunately, they do not have a shop, but their delectable treats are available at a variety of shops around the Bay Area and on the web. I discovered them in the Ferry Building Marketplace at the La Cocina kiosk. The simple brown packaging caught my eye – there had to be something wonderful inside those boxes! These delicious morsels come in a cool array of flavors, such as zested lime, mocha cinnamon, toasted coconut, warm ginger root, crushed cacao nib, cool peppermint, and the flavor I purchased, almond butter with applewood smoked sea salt.
And the best part about my truffles from Neo Cocoa is that I bought the cute little box, then tucked it in my camera bag, and forgot about it. When I arrived home, I rediscovered the delightful box of truffles! Each "heart" was not too sweet, had a nice balance of chocolate and almond, and the smoked sea salt perfectly complimented the rich nutty flavor. Eating them back home in Washington, DC, was a great souvenir and a little reminder that there are always chocolates to fall in love within San Francisco.
On your next trip to the Bay Area, do you want to visit a San Francisco chocolate factory and store? If you're reading this, our guess is: Duh?!
All of these fabulous chocolates are available on the web. TCHO chocolate bars and Poco Dolce confections are also available at some Whole Foods Markets in the USA.
Poco Dolce
Shop / Production Kitchen
2419 Third Street
San Francisco, CA
TCHO
Factory Store
Pier 17
San Francisco, CA
Neo Cocoa
www.neococoa.com
Pin for Later