Having been to some more predictable vacation spots such as Punta Cana and the U.S. Virgin Islands in the past decade, I derive some pleasure from revealing my next destination to friends and their response being nothing less than surprise and confusion. There? Why There? Is it even safe?
The last surprising destination was none other than Ecuador. While this relatively small, Latin American country is well known for the Galapagos Islands, my adventure centered primarily on the dreamy and untainted town of Baños.
Located just 3 hours by bus from the capital city of Quito, Baños is a dream, filled with sprawling views of the Andes Mountains and a series of revitalizing natural springs.
While months could be spent in this region without getting bored, this list of top attractions could easily fill a week or two of relaxation, adventure, and awe-inspiring views.
So, once you return, and one of your friends still must ask But, what did you even do there?!, you'll have plenty to talk about.
Ride a Bike Down La Ruta de Las Cascadas (The Waterfall Route)
Admittedly, biking anywhere and everywhere is a fantastic way of seeing more in less time. Move at your own pace, get some fresh air and soak up the sunshine. But this route, in particular, combines harrowing passes with local traffic and adventurous options along the way.
At every turn there is an expansive valley of lush green mountains and the flowing Pastaza River. Rental bikes can be found all over the center of town but the service at Amazing Ecuador was top notch.
A mountain bike costs $10 USD for the entire day, but the simpler road bikes are sufficient enough and a total steal at $5 per bike.
Start early and enjoy the downward cruise. Definitely try one of the multiple ziplines along the route and do not shy away from the short hike to Pailón de Diablo. A small entry fee of $2 is required to hike a moderate path to the gushing waterfalls and then to cross a short suspension bridge with additional views. After all the hard work, enjoy a cold Pilsner with a seat overlooking the surrounding mountains.
While biking to the waterfalls is advised, do not be a hero and attempt the up hill climb back to town. You can hire a pick-up truck for the relaxing ride home, readily available, for just $5.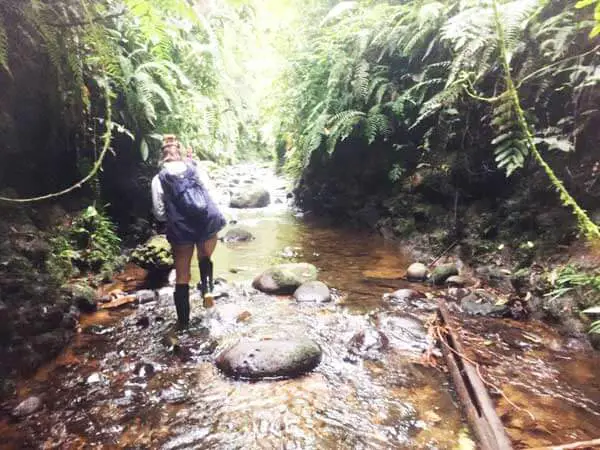 Sleep in a Jungle Tree House
While this adventure is slightly outside of Baños, it is still a must do and something to brag about for years to come.
The closest town that is technically located at the edge of the jungle region of Ecuador is called Puyo. It is only about an hour outside of Baños and boasts a notable change in climate. While Baños maintains a refreshing and moderate temperature, the Amazon region immediately hits you with a wall of humidity and foliage to match.
Beautiful flowers and trees line the mountains and valleys, creating even more stunning views of expansive tropical terrain.
Now, while "figuring it out" is a total blast in most parts of this country, I strongly recommend signing on with a reputable company who can guide you through the challenges of visiting one of the most dangerous regions of the world. Spiders, snakes, and other poisonous critters are very much a realistic concern.
Creepy crawlers aside, there is nothing like carefully stepping through what feels like untouched territory where the sun only sometimes sneaks through the heavy overhead canopy, lighting up the damp vibrant greens of the rainforest.
What could be even more fun?
If you find yourself with any open wounds while in this region (for me, deeply skinned hands and an elbow as a result of a biking spill), ask your local guide for what they call the Blood of the Dragon. Your guide will proceed to hunt down a much-coveted tree. He will then slash the tree and collect the blood like sap that seeps from its wounds.
That sap will form a paste on your cuts, ultimately expediting the healing process and disinfecting like nothing has disinfected before. They don't call the Amazon the world's natural pharmacy for nothing.
Embrace your night in the darkness surrounded by jaguars, crocodiles, and moths the size of your face, because the stars overhead will be well worth it.
Relax for a Whole Day Spa Treatment
The name-sake of Baños are the steaming hot mineral springs found throughout the small mountain town. And I must say, this is a must for any traveler looking to do as the locals do.
The most popular of the springs is Las Termas de la Virgen, located directly in town and is easy to find on account of the beautiful waterfall that serves as a beacon cascading directly into the facility.
Set your alarm clock for 5:30 am, throw on your swimsuit, and awake with the special knowledge that you are partaking in an old and wonderful tradition that people from all over Ecuador travel to Baños to enjoy.
A short walk or taxi ride to Las Termas will bring you to the no-frills, but fully authentic pools. Expect to pay a $2 admission fee and a $.50 rental fee for a swim cap. Once inside, you will disrobe, take a quick shower and store your things safely with a locker attendant and then join in the fun.
In the early morning you will encounter the smallest crowds and the cleanest water. I suggest starting in the largest, most comfortable pool where you will see many Ecuadorians doing light exercises, swimming laps, or just resting along the sides.
After acclimatizing to the heat, make your way slowly to the hotter, smaller tub where the pins and needles of the heat will indefinitely get your blood flowing. If the heat is ever overbearing, there is another colder pool or fresh cascading showers that will refresh you instantly.
This experience may last an hour, maybe two, but the soothing minerals of the tubs will ease every pain and sore you may have accumulated through your travels, and perhaps your time in the Amazon.
After your morning at the bath houses, the rest of the day can be spent eating a relaxing breakfast, drinking some of the worlds best hot chocolate, and indulging in a massage or two.
There is a massage parlor on every corner and each offers around the same price for a full body massage. Services can range from $20 to $100, for a 90-minute massage to reflexology or an ear cleaning. Do it all, and don't hold back.
Enjoy the World Above the Clouds
While Baños could easily take a full two weeks to truly enjoy, Quito deserves a bit of your attention as well.
The sprawling urban center is full of old colonial architecture, gothic cathedrals, and expansive parks that match those of the biggest cities in the world. What makes it worth the trip? The view from the top of the Teleférico.
Volcano Pichincha, an active volcano, rests at the top with a rigorous 3-hour hike for those who love a challenge, but the view from the gondola ride is already worth the $8 entrance fee.
If you have time, there is a small restaurant operated by a crew of local women just a short walk towards the base of the volcano climb. This may have been the best meal I had during my entire time in country.
Empanadas, pinchos (kebabs), grilled corn on the cob, and colada morada (a warm berry smoothie), were all on the menu and were the most satisfying bites at nearly 13,000 feet above sea level. This trip alone makes Quito well worth the trip.
While the beaches of the Caribbean and history of Europe are all great reasons to visit, the challenges and hidden secrets of less traveled destinations such as Ecuador, at times, can offer an even more fulfilling and note worthy experience. Take a chance. Book the ticket. And take in the glorious views.
Get inspired for your trip with a few good old Latin American road trip movies!
Pin For Later