In the end of all the places to visit in Provence, the village of Goult in the Vaucluse turned out to be the perfect place for not one, but two lunches.
You see lunch sometimes gives us trouble when traveling in France. Not the kind of trouble you hear tales of beleaguering the digestive systems of Westerners when visiting more exotic lands, but the kind of trouble that makes it impossible to find a place to eat lunch after 2pm.
You may also like: Paris Parks And Picnic Adventures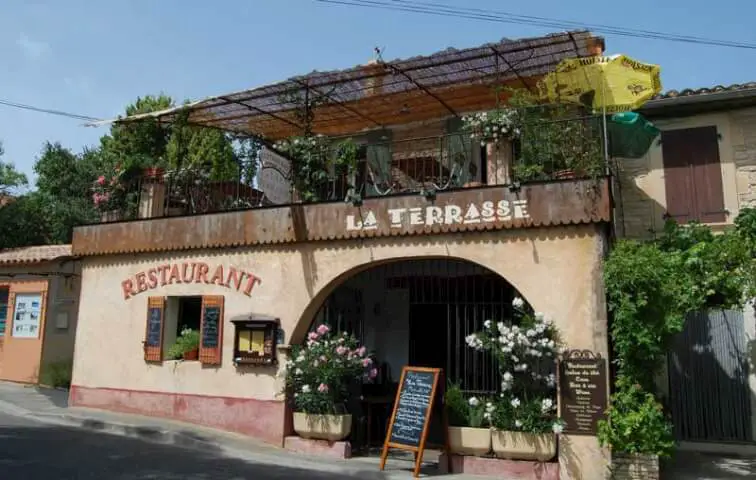 The entire issue of keeping fed and watered while traipsing around in a strange place, in a new time zone, can be an ambitious undertaking.
Will the day be remembered as good or bad, or perhaps better forgotten?
So when I, the planner of my couple-hood, appeared to have messed this one up on one of the first days of our trip to Provence, I felt I had failed.
In my defense I had a restaurant all picked out, with the backing of a personal recommendation, Garmin and a guidebook; but when we pulled up to our pre-chosen lunch spot, the parking lot was empty except for an array of work trucks. It was already 1:45pm.
Desperate times call for desperate measures, and we really had no choice at this point but to entrust ourselves to Garmin. The perky and dense GPS device was already in danger of falling victim to my impulses, which were to toss Miss Gar out the window.
But even in a precarious state of low blood sugar, I knew my relationship with "her" had become uncomfortably co-dependent. I had no hope of finding, much less reading a real map.
When "she" directed us to the nearby town of Goult, a small village I knew nothing about and wasn't on our list of places to visit in Provence, we had no choice but to trust "her."
You may also like: How My GPS And I Became Friends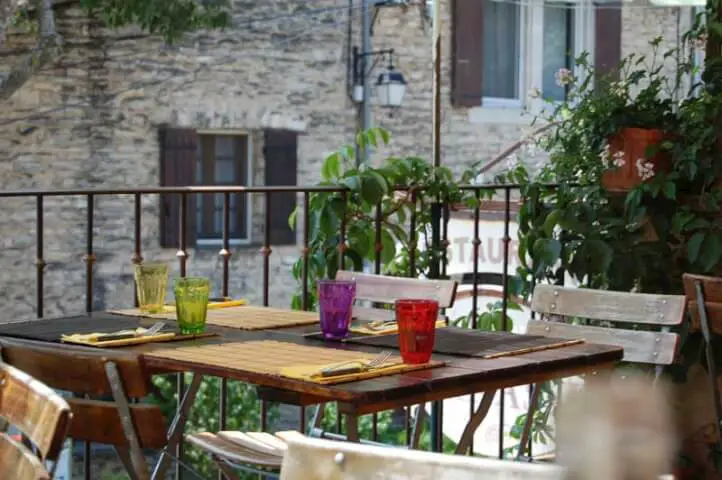 Goult could be the ugliest town in all of France, and its restaurants, the sketchiest. We didn't care. All that mattered to us was that a restaurant, or open grocery store, immediately dispense some form of nourishment.
So when we spotted La Terrasse on the way into town, things appeared to be looking up. As we approached the entrance a small throng of well fed lunch consumers were leaving.
But our hopes were quickly dashed.
The proprietor explained they were closed until dinner, and that the cook had already left.
"Perhaps a glass of wine?" he offered.
Breaking into the wine at this point could have led to the whole trip taking a turn for the worse, and we declined. I asked if there was an open restaurant nearby, emphasizing the pres d'ici.
"No madame," he said, by this point looking gravely concerned. That any restaurant would be open at this strange hour of 2:05 pm clearly was strange to him. We  must have looked as if we were going to pass out right there on the cool stone floor.
"I'm sorry," he said once again, gesturing with upward turned hands and shaking his head.  Due to lack of energy or will, we didn't budge, and I could feel him looking at us. A few seconds later he said, "I have an idea. I can make you sandwiches!"
He could have just handed us whole baguettes at that point, but he was probably concerned that we'd start gnawing on them right there in the middle of his wine bar.
Instead we were graced with a picnic fit for royalty, of ham sandwiches with tomatoes and a mild cheese that looked like brie, apples, bottles of water, and a half bottle of Cotes du Rhone rosé complete with miniature plastic wine glasses.
We thanked him profusely and in gratitude, tipped an obscene, well deserved amount. We planted our famished selves on a stone wall in the shade, and consumed everything down to the very last crumb and drop.
Fed, watered  and tipsy, we then spent the next two hours roaming around what was far from the ugliest town in France.
Goult may have lacked the tourist flash of nearby Roussillon or Gordes, but of all the places to visit in Provence, it possessed a quiet charm and refined beauty.
Neither of us wanted to leave. By the time we headed back to the car, and because I like to pretend, I took pictures of some of the houses that were offered for sale in the window of the local real estate office.
You may also like: Budget Restaurants In Paris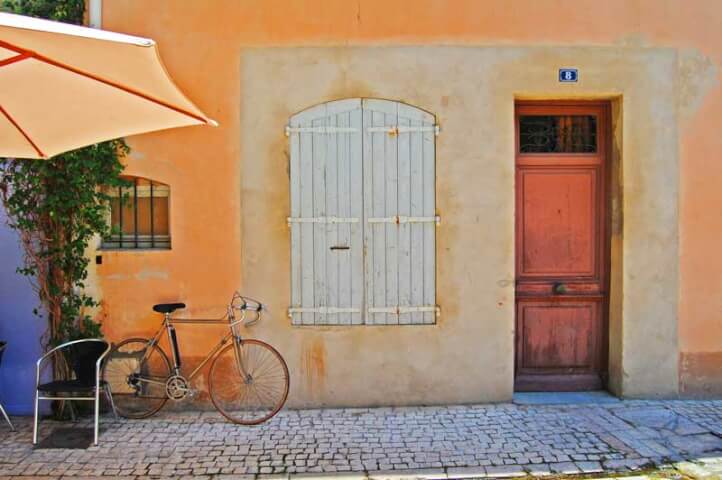 Last week I told you how my husband has favorite places, and I have favorite moments. My husband is used to me in my writing making the occasional generalization about our individual tendencies in order to make a point. But after reading my post, he made it clear that he too has favorite travel moments.
You may also like: Travel Moment Monday: Roussillion, Provence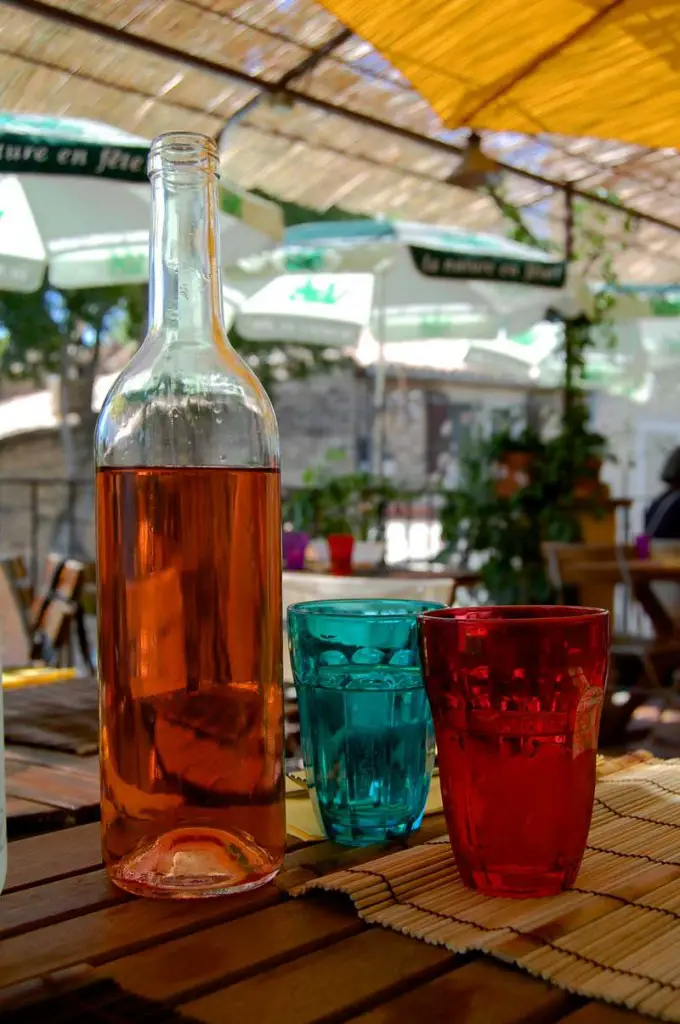 One of his favorite moments in Provence was that unplanned and generously presented and simple picnic in Goult. When we returned to Goult to eat the simple prix fixe lunch at La Terrasse, on the colorful, shaded second floor terrace was another. And I wanted to tell you that.
You may also like: Provence Photo Essay
La Terrasse
RUE REPUBLIQUE, Goult, 84220, France
Phone: +33 (4) 90722323
Pin For Later