In the center of the 7,107 Islands in the Philippine Archipelago, is a cluster of beautiful Islands called the Visayas – Cebu, Bohol, Negros, Romblon, Panay, Leyte, Guimaras and Samar. Their pristine white sand beaches, lush palm jungles, natural wonders and historical landmarks have become popular tourist destinations for foreigners and locals alike.
While there are many places to see in this region, bridging the gap between the many islands has become very efficient and affordable.
Transportation links by way of flights, ferries and bangkas ( Philippine outrigger canoe) make the journey equally enjoyable. Here are 15 fun and exciting things to do in the Visayas:
15 Best Things to Do in Visayas Philippines
1. Drop by the Philippine Tarsier Sanctuary in Bohol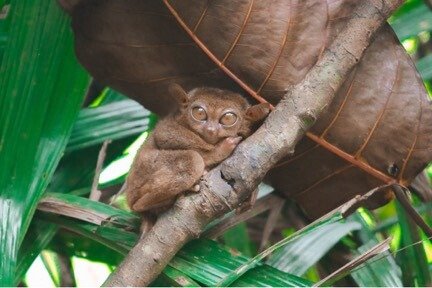 Found on the southeastern part of the archipelago, lives the Philippine Tarsier. These small creatures measure about 85 to 160mm in height, making it one of the smallest primates in the world. They have incredibly large eyes and are extremely cute with their 'Yoda" like features. They are carnivorous and primarily eat insects, lizards and small birds. What's also interesting is the fact that they can turn their heads 360 degrees!
Since they are nocturnal, it is important to observe silence when visiting one of the many sanctuaries in Bohol Philippines.
2. Ride a bamboo raft at Kawasan Falls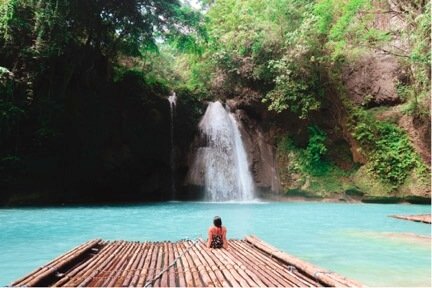 Situated in Badian Cebu is one of the most famous falls in the Visayas region, Kawasan Falls. The water here cascades into a beautiful turquoise pool of water, perfect for swimming. The surrounding greenery also makes for a picture-perfect backdrop.
What makes Kawasan Falls even more exciting is their bamboo raft activity. For a nominal fee, a tour guide will paddle you out on a bamboo raft toward the waterfall. Once you are under the fall, the pressure of the water makes for the perfect natural back massage.
3. Take a day trip to Kalanggaman Island
Kalanggaman Island is a postcard come to life. If you've ever dreamt of an untouched beach or a tropical paradise, x marks the spot on this secluded oasis. The sandbar stretches out far like a natural bridge over the ocean. Here you will also find powdery white sand, swaying palm trees and crystal-clear turquoise waters. It's the perfect place for a day of relaxation and snorkeling.
4. Swim with Whale Sharks in Oslob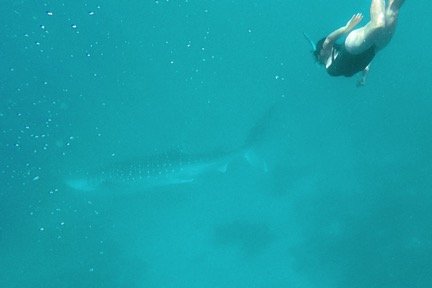 Swimming with Whale Sharks is one of the most fascinating attractions in the Visayas. They reach up to 15 meters in length, have flat heads, wide mouths and long tails. You can swim with these beautiful giants in an area called Oslob – just a few hours south of Cebu City.
While the words Whale and Shark may send some people running for the hills, 'Whale Sharks" is actually the world's biggest fish and eat only krill (or small shrimp). In other words, people are friends, not food.
5. Visit Boracay, one of the Top Ranked Beaches in the World!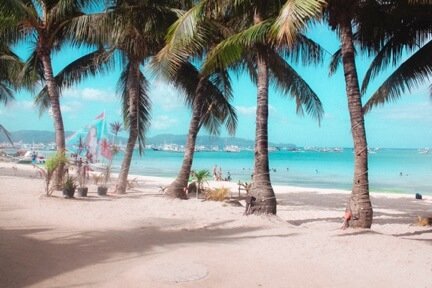 You may also like: Nine Must-See Stops In Cebu, Philippines
Escape to a dreamy white sand beach and experience nightlife at its finest in Boracay! This coastline is jam-packed with hotels, bars, restaurants and activities. Here, you can sip on a cocktail beach front, listen to music, sink into a bean bag chair and throw all your worries away.
6. Relax at Manjuyod Sandbar
Dubbed as The Maldives of the Philippines, Manjuyod Sandbar (also known as Sumapao Shoal) is a 7-kilometer stretch of white sand and shallow waters. Here, you can float in clear calm waters and escape the hustle and bustle of everyday life. It's best to visit between 5 am and 10 am when the tide is low. Cottages built on stilts can be rented for the day or for overnight accommodation.
7. Explore the Underwater Life at Malapascua Island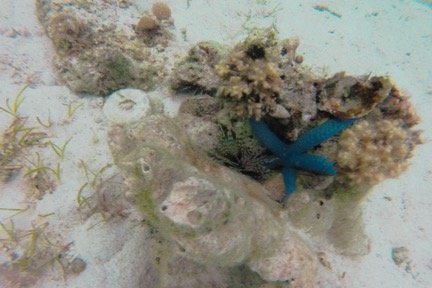 The huge diversity of marine life near Malapascua Island is what draws many divers in from around the world. While the list of wonderful creatures here is long, the area is most famous for its daily Thresher Shark sightings. The Thresher Shark is distinctive for its long tail that resembles a scythe. If diving into deep waters is not your cup of tea, you can also find great snorkeling! Here you can observe various forms of marine life, caves, and even shipwrecks!
8. Swim with Sea Turtles near Apo Island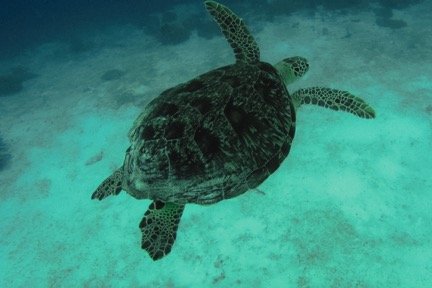 While Apo Island is known for being a premier snorkeling and diving site, it's also a one-of-a-kind destination for a reason. Near the shores of the Island and in shallow waters are an abundance of sea turtles! That's right, there is no need to swim far to see them. Apo Islands Sea Turtles swim close to shore. Be sure to bring your go pro.
9. Bantayan Island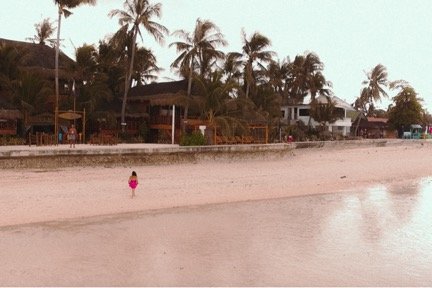 Experience the picturesque Island of Bantayan. The crystal-clear waters and tall coconut trees make this place the perfect Island getaway, sans the crowds you get in places like Boracay. If you're looking for a place to tie up a hammock and nap to the soothing sounds of the ocean, then Bantayan Island may be just the spot you are looking for.
You may also like: Memories of the Philippines' Beaches
10. Take in the Beauty at Tumalog Falls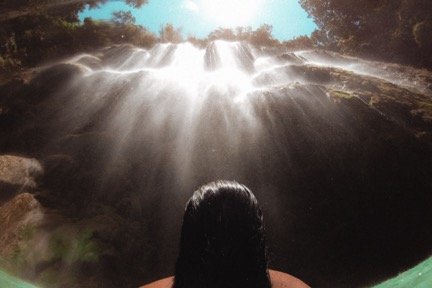 Tumalog Falls is a magical place. Cold water, drizzles like mist down a tall mossy coated wall. At the base of the falls is a shallow turquoise pool of water, perfect for swimming. Do not miss a trip here if you are planning a trip to swim with the whale sharks in Oslob.
11. Visit the Chocolate Hills on Bohol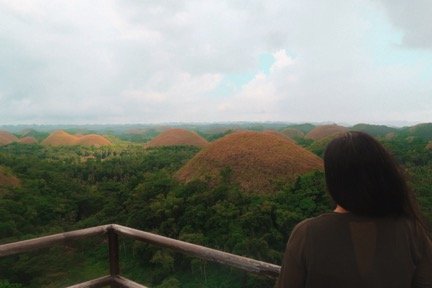 The Chocolate Hills are not only one of the most famous tourist attractions in the Philippines but also the world! There are 1,200+ conical shaped grass mounds that are spread over 50 sq kilometers. The hills are a brown color during the dry season and resemble chocolate kisses (hence the name 'Chocolate Hills').
Until this day, these formations remain a mystery to geologists. Some people believe the hills are a natural wonder. Others suggest they are man-made. There is even a tall tale that said a giant cried many tears which created these mounds. Whatever the case may be, the Chocolate Hills are worth adding on your bucket list.
12. Pulanbato Falls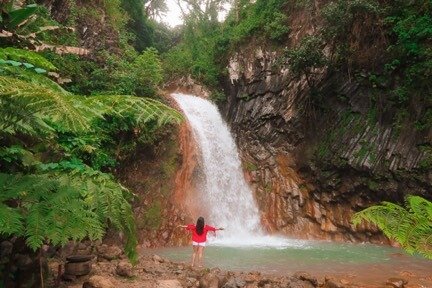 Located on the Island of Dumaguete and in the town of Valencia Negros Oriental, lies the majestic Pulangbato falls, aka Red Rock Falls. Here you will find clear and cool waters cascading down onto red rocks and red rivers. Definitely not something you see every day. Just a short distance from the falls are a few hot springs worth soaking in.
13. Go on a historical journey through Cebu City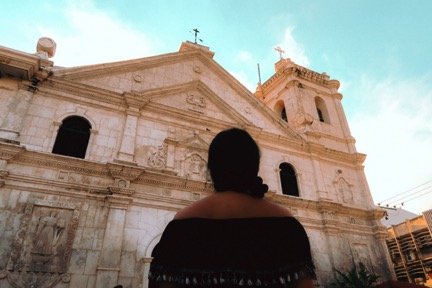 Cebu City also named the 'Queen City of the South', is home to many historical monuments and landmarks. You need not leave the city to see structures left behind during the Spanish Colonial Era. Mixed into this heavily urbanized metropolis, sits many historical sites such as Santo Nino Basilica (the oldest Roman Catholic Church in the Philippines – as pictured above), Magellan's Cross, Fort San Pedro, the Yap-Sandiego Ancestral House, Colon Street, Casa Gorordo, Lapu Lapu Monument and the Cebu Heritage Monument.
14. Visit Temple of Leah, Cebu's very own Taj Mahal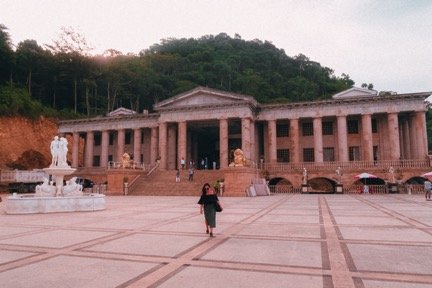 While this temple may not have a long history, it can be said that Cebu officially has its very own Taj Mahal. Business tycoon, Teodorico Adarna, erected this large edifice in 2012 as a symbol of love for his late wife, Leah Adarna.
The temple is now one of Cebu's most visited attractions and serves as a shrine holding the memory, collections and treasures of Leah. Without a doubt, the Greek and Roman-inspired building serves as a truly unique photo backdrop in the Philippines.
15. Virgin Island in Panglao Bohol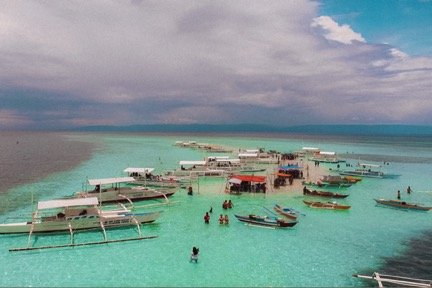 A visit to Bohol would not be complete without a trip to Virgin Island. This Island is essentially one big natural water pool. Boats line the outer rim of the sand bar while visitors swim in its crystal-clear waters. It's also a great place to try local foods. Here you can order everything from fried bananas on a stick (also known as banana que) to raw sea urchins. It's the perfect place for sun, fun, food and relaxation.
We hope you enjoyed our list of the best things to do in the Visayas Philippines! Do you know of any other places in the Visayas worth visiting? Be sure to drop your suggestions in the comment section below!