Looking for a good value city break in Europe? Then visit Porto.
Porto's Ribeira at night
First, the problem with city breaks is that they're never really breaks, especially when you live in a city already.
By swapping London for Rome or Paris for Stockholm for the weekend, you're certainly getting a different cultural experience as well as a change of scenery, but what you may not be getting is a rest.
Big cities are concrete whirlwinds, which don't even pause when days of rest are thrown in their path. And almost always they're also far from friendly to the pocket: if you're looking for value, you have to be prepared to hunt for a bargain.
When visiting Portugal's second city, Porto, I found it was possible to escape the rat race for a weekend and return relatively refreshed, with a wallet that didn't feel as though it had accompanied Paris Hilton on a shopping trip.
Unlike much of Western Europe, Portugal still offers travellers excellent value for money, even in the main metropolises of Lisbon and Porto. No matter where in the country you find yourself, accommodation, food and most sights are reasonably priced, with free entry to many monuments on Sunday mornings bringing the cost down even further.
When visiting Portugal's second city, Porto, I found it was possible to escape the rat race for a weekend and return relatively refreshed, with a wallet that didn't feel as though it had accompanied Paris Hilton on a shopping trip.
Spanning the Douro river in northern Portugal, Porto is primarily a working city (as the Portuguese saying goes, 'Coimbra sings; Braga prays; Porto works and Lisbon shows off'). Put those industrial images out of your mind straight away, though: it's also stunning.
Although there's plenty to see and do and the city caters well to tourists, they're far from its primary concern: even in the UNESCO World Heritage Ribeira quarter, life goes on unaffected by the visitors wandering its lanes.
Cats lounge in spots of sun on doorsteps of houses in varying states of repair; grocers peddle fruit and vegetables to the neighborhood; old ladies keep a beady eye on passers-by as their washing flaps in the breeze.
Despite its work ethic, Porto maintains a low-key, laid-back feel which allows you to forget you're in a city and slow down to the Portuguese pace.
What to see and do
For a bird's eye view of the city and an idea of the lay of the land, visitors can climb the thigh-toning steps up the Clérigos Tower (Torre dos Clerigos), one of Porto's landmarks.
In the distance, you'll spot another iconic sight, the double-decker Dom Luis I Bridge, which links Porto with Vila Nova de Gaia on the other side of the Douro. It's over in Gaia that visitors can sample the drink that put Porto on the map: port wine.
Once your legs have recovered from all that stair-scaling, have a peek inside the nearby Lello & Irmão Bookshop (Rua das Carmelitas 144), an ornately-decorated, wood-panelled delight that has been featured in the Harry Potter movies.
The opulent interior makes Lello one of the world's most beautiful bookshops; it's well worth pausing in the café area upstairs for a cup of coffee and the chance to admire its carved bookcases and ceiling.
It's over in Gaia that visitors can sample the drink that put Porto on the map: port wine.
Also in central Porto, you'll find the Portuguese Photography Centre (free), a former prison housing a temporary photographic exhibitions as well as a permanent collection of cameras.
Nearby is Portugal's first dedicated art museum, the Museu Nacional Soares dos Reis (free Sunday morning, otherwise €5), which features the work of the local sculptor from which it takes its name, in addition to a vast collection of Portuguese art from the sixteenth to twentieth centuries.
For more up-to-date art, you'll have to take the fifteen-minute bus journey from the city centre to Serralves, Porto's contemporary gallery.
Set in a huge park which features such delights as a pink art deco mansion, a rose garden, fountains, a lake and a farm housing species from northern Portugal, you don't really even have to like art very much to enjoy Serralves.
The changing exhibitions (there is not a permanent collection) feature work by international artists, but if they don't appeal just skip the gallery (€7) and head straight for the park (€5).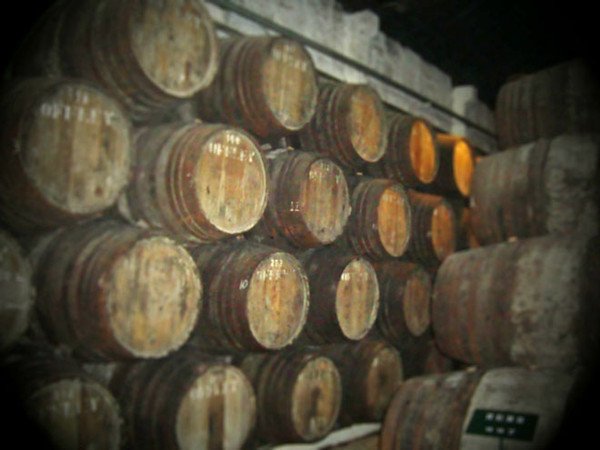 Back in town, the riverside Ribeira's streets are ideal for wandering. It's also home to a number of sights, included the Gothic and deconsecrated São Francisco Church; its interior a riot of gold and its crypt a macabre mausoleum containing thousands of human bones.
After a recovery drink in a waterside café, it won't be long before the brand names atop the port lodges tempt you across the bridge to taste some of the hard stuff.
Port is a fortified wine made from grapes grown in the Douro and brought to the lodges in Gaia to age in huge barrels.
Croft and Taylor's still offers free tours of their lodges, explaining the different styles of port and ending with a tasting, while other companies charge a fee of up to €5. It's well worth trekking up the hill to Taylor's, as they offer both a white port and a Late Bottled Vintage as part of their free tasting.
If you're feeling inspired to learn (and taste) more, port bar Vinologia in the Ribeira offers tutored tastings of ports mostly produced by smaller independent companies.
You may also like: Portugese Wine in Porto
On the morning after all that port tasting, you may need a bracing walk along the nearby beach to clear your head.
Board the tiny wooden tram #1 on Rua Infante Dom Henrique and clank along the coast to Passeio Alegre, from where you can take an hour-long walk along the rocky coast to the curiously-named Castelo de Queijo (Cheese Castle) before taking the bus back to the city centre.
For much of the year, the cool water of the Atlantic keeps all but the hardiest of swimmers out of the sea, but once summer rolls around even the wimpy might be tempted to dip their toes.
You may also like: Best Things To Do Outdoors In Portugal
Where to eat
Portuguese food is served in famously belt-busting portions. It can also be excellent value for money: no matter where you are in the country, you'll always be able to find somewhere to eat for under €10.
In Porto, lunchtime is an excellent time to go upmarket: contemporary restaurant O Caçula (Travessa de Bonjardim 20) serves up a three-course feast of international-influenced dishes for just €6.50 from Monday to Friday. If you're visiting at the weekend, don't despair: most dishes are priced around €10 and wine starts at just €1.50 a glass.
If you're looking for something even less damaging to your budget, head for student favourite Piolho d'Ouro (the Golden Louse) in Praça de Parada Leitão.
An old-school diner with communal wooden tables, Piolho serves up standard Portuguese fare (grilled fish and meat) as well as burgers and hot dogs, all around the €5 mark. Alcohol is similarly bargainous, which is probably why it turns into a packed drinking den as midnight approaches.
For student-free dining, head to Churrasqueira do Infante in the Ribeira for tasty grills in plentiful portions.
Where to stay
Portugal has some excellently-equipped independent hostels which offer private rooms as well as dorm-style accommodation.
One of Porto's best is Rivoli Cinema Hostel, close to the central boulevard of Avenida dos Aliados. The movie-themed rooms are comfortable and spacious, and there's a lounge and roof terrace if you're in the mood to relax.
Twin rooms cost around €40 a night depending on the season.
If hostels just aren't your thing, Porto has other budget and value options including Pensão Duas Naçoes, a no-frills hotel in the centre with rooms from €25.
You may also like: Lisbon Travel Tips
A weekend in Porto may tone your thighs as you scale the Ribeira's hills, educate your palate as you taste different varieties of port and leave you feeling invigorated but relaxed after a beach-side stroll. The best news? It definitely won't leave too great a dent in your bank account.
* All photos, Kate Turner ©
Pin for Later