Summer in Sicily: it's hot, it's sticky, and all you really want to do is eat ice cream all day. However, that's not such a great idea if you also want to wear a bikini.
Luckily, the Sicilians invented granita, which is just as delicious, but with none of the fat of gelato. That means, of course, that you have absolute license to eat it morning, noon and night.
And the best thing? I've done all the research to find you the best places to go, along with good times of day to visit. (It's a tough gig, but somebody has to do it… )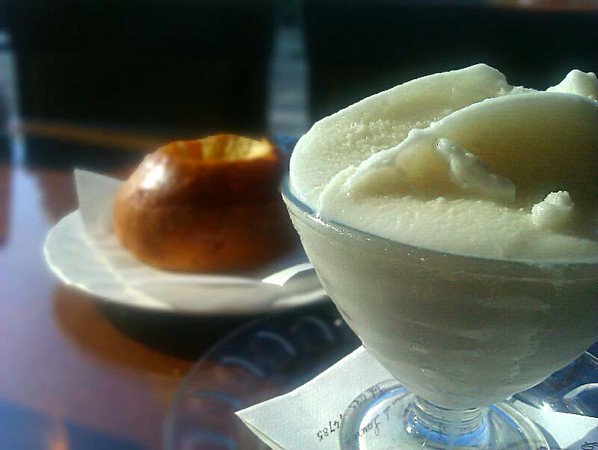 You may also like: Visiting Italy As A Vegetarian
The story goes that Sicilian granita was originally an Arab idea. They brought iced sherbet to the island, and the Sicilians adapted the idea and ran with it.
Made from ice and sugar blended with fruit or other natural ingredients, it knocks the socks off sorbet, its closest cousin. In Catania, where I live, granita is generally smoother than on the west of the island, and the most common flavours are mandorla (almond), pistacchio, limone (lemon) and cioccolato (chocolate), although you can and will find many others beside.
Once you've chosen your granita, you can decide whether to add cream (panna) or a brioche.
My preference is for plain granita in the afternoon or evening, but at breakfast time a brioche is a must. When it comes to the addition of cream, I find it too heavy with my favorite flavors, mandorla and pistacchio. However, on a summer evening, fruit flavours like gelsi (mulberry) or fichi (fig) topped with cream are utterly delicious.
When I asked some of my students where to get the best granita in Catania, they told me to go to Cafè de Paris, at Viale Ruggero di Lauria, 25. It's a longish walk along the lungomare, which gets too hot to do later in the day, so I recommend going there for breakfast and sitting at a table in the covered outside area while you eat freshly-made-that-morning granita and brioche.
Cafè de Paris prides itself on its breakfasts and has its own bakery, so you can be tantalized with the smell of fresh pastry as you watch the sun rising over the sea, and the whole of Catania passing by on their way to work. Best start to the day ever.
Mid-morning, head to Dulcissima, at Via Dalmazia, 81, which is run by a lovely lady called Silvana. She makes her gelato and granita by hand every day, so the choice of flavours is limited, but it's guaranteed that whichever one you choose will be delicious and as fresh as fresh can be.
You may also like: Choosing Artisan Gelato
Make sure to set aside plenty of time when you go in; she loves to chat to her customers! The first time I visited Dulcissima, I ended up sitting on the yellow bar stool at the side of the counter in the tiny shop for nearly an hour, gossiping about life, the world and everything in it with Silvana and her husband, Maurizio, while spooning down some of the best granita I've ever eaten.
Silvana is originally from the west of the island, so her mandorla granita is chunkier than the traditional Catanese style. The almonds are chopped fresh and the sweetness of the sugar complements their slight bitterness, while the ice refreshes. One bite and you'll be hooked.
If almonds aren't your thing, however, she also makes delicious dark chocolate and zingy lemon granita, as well as varied gelato flavours and pastries. Highly recommended.
Spinella, at Via Etnea, 300, is a Catanese tradition and well worth a visit. Situated opposite the gardens of Villa Bellini, at the junction of Via Umberto, it's been there since 1936 and is constantly full.
Gelato, granita, pastries, savoury foods – they do it all. One of the best ways to spend a summer afternoon in Catania is to snag yourself an outside table at Spinella and watch the world go by.
You'll probably have to queue, but there isn't generally too long a wait, so chat amongst yourselves and start thinking about what flavor you're going to have. The service is often grumpy, but the granita more than makes up for it. My standard combination, mandorla and pistacchio, is delicious here.
On their own each one is good, but there's something about the two combined that turns this into a glassful of utter heaven. Grab yourself a spoon and tuck in.
Another Catania institution, Caffè Europa is situated close to the lungomare, at Corso Italia, 302. It's been there since 1962, when Corso Italia was little more than a wasteland.
Nowadays, it's the most fashionable shopping street in Catania, and Caffè Europa is always full of people sitting outside to see and be seen. An added bonus is that the cakes and ices here are seriously good.
You may also like: Why Italian Hot Chocolate Is The Best
It's one of my favorite places for hot chocolate in the winter, but in summer I replace the hot chocolate with granita, sit down and treat myself to a relaxing half-hour of eating sweet stuff and watching the fashionistas go by.
At night, head for Ice Cafe Comis at Piazza Bellini, 8/9. This area is known locally as Teatro, due to the Teatro Bellini which stands on its southern side.
It is where young (and young-at-heart) Catanese congregate to drink, chat and eat granita after they've done their nightly passeggiata, or stroll, along Via Etnea. The granita at Ice Cafe Comis is fantastic, but what really makes it worth going to is that Teatro is an absolute haven for people-watching.
I once saw a middle-aged couple, dapper and elegant in retro 50s-style clothing, out for a walk with their pet. It was the woman who caught my eye first, with her perfectly coiffed hair and stylish clothes.
Then I looked down at her feet and realised that the animal she had at the end the leash was not a dog, but a cat, as beautifully-groomed as she was, enviously eyeing the granita the woman held in her other hand as she talked to her husband.
Granita and the Catanese: what a wonderful combination.
Photo: Kate Bailward ©
Pin for Later