There are so many things to do in Asheville with your dog (and you can bring your humans along too!).
When visiting somewhere I often say to myself, "I've got to bring so and so to this place." Last time I found myself saying this, I was referring to Asheville, North Carolina. I was talking about my daughter and one of my best belle friends, Lily.
Lily is a labradoodle, which I am still not convinced is actually a kind of dog. A poodle/labrador retriever mix, the labradoodle, according to the American Kennel Club, is considered neither mutt, nor purebred. Perhaps a whole new species? After traveling with her to Asheville last month, I am more convinced of this than ever.
There are other of Lily's kind all over the place!
You may also like: Silver For Winery And NC Wine
I was slightly nervous about traveling with Lily, as I recently realised that I hadn't traveled with her for 14 years! (Yes, that's in dog years.)
Hotel Indigo Asheville with its chic minimalism and vibrant urban vibe may not be the first place you think of staying when traveling with your pet. But from the moment we walked in the door and received the warm greeting and explanation of the hotel dog drill from the front desk staff, any concerns disappeared.
For a morning walk we strolled along a shady section of the gently flowing French Broad River at French Broad River Park. We followed that up with a romp at the fenced-in dog park. Like her sisters Lily should wear sign: "I lack pack mentality."
North Carolina in general, and Asheville in particular, is full of places that are friendly to humans, canines and whatever it is labradoodles are. One thing that I really like about it is that there are many establishments that were human-friendly long before they became "dog friendly."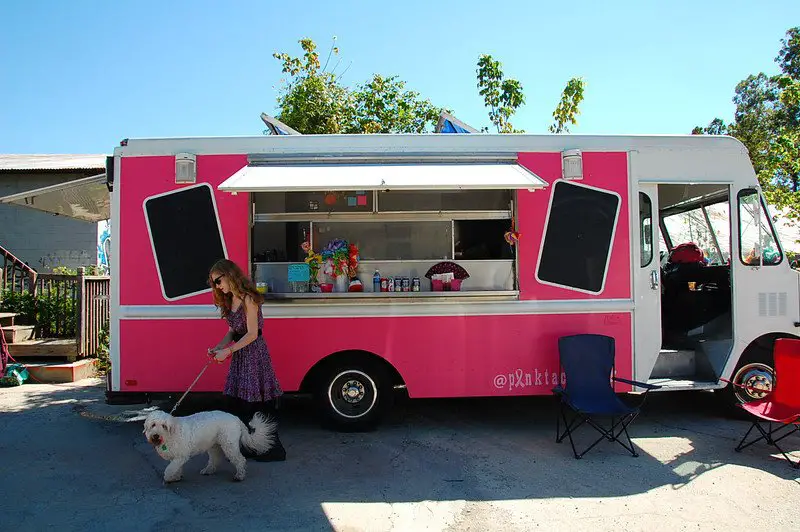 After our visit to the dog park, we wandered through a flea market that we just happened to spot while driving around the River Arts District.
Although it would be full of its own challenges, it occurred to me that being a woman traveling solo accompanied by her dog could potentially have both safety and social benefits.
Battery Park Book Exchange (… or "where they speak dog")
Finally we made it to the place that started this whole, "let's take our dog to Asheville" concept. The Battery Park Book Exchange was brought to my attention this past June in some material sent to me by Explore Asheville.
To call Battery Park Book Exchange simply "dog-friendly" is misleading; "all-being-friendly" is more apt.
What dog-loving belle wouldn't fall in love with a place that is totally dog-centric and also a used bookstore/champagne bar?
Meg and I both thought it was great how almost everyone who worked at Battery Park Book Exchange came over and introduced themselves… to Lily. When one gentleman asked Lily her name, I swear she swooned. The way he responded to her, I'm pretty sure she answered him in her native language.
You may also like: Greenville, SC And Sophistication
Generally restaurants in Asheville with outdoor seating allow (and many encourage) patrons to bring their dogs, but dogs inside restaurants are a big "no-no."
Dining with Lily reminded me a little of dining with my children in their younger days. (I'm still the same age!) It's not optimal, especially for food lovers who enjoy savoring the dining experience in a foodie metropolis such as Asheville.
That said, there are many options in town to enjoy the same great food the area is known for as the rest of humanity, all while accompanied by your dog.
You may also like: Retail Therapy In Highlands, North Carolina
None of us were ready to go home come Sunday morning. We took a couple of hours before leaving the area to drive along the Blue Ridge Parkway (there are several entrances in the Asheville area.) It just happened to be September 11, and I can't think of any place I would have rather been.
My only wish was that I could go back to the Asheville now as the leaves are at peak season!
Now we want to know: Have you traveled with your dog? What are some of your favorite places to visit?
* Author received a media rate for this stay. Opinions expressed are her own.
Pin for Later