Batangas is another popular tourist destination in the Philippines. Traveling to Batangas from Manila will take you under three hours on average. Known as The Land of Rolling Hills and Wide Shore Lands, Batangas offers a handful of breathtaking beaches lush greenery and is home to one of the world's smallest volcanoes. 
Due to its historical sites and numerous outdoor attractions that nature enthusiasts will surely enjoy, Batangas is an excellent place for campers. Additionally, Batangas is well-known for its delicious delicacies, which should satisfy your palate. Finally, if you aim to relax and unwind away from the city, Batangas offers a cavalcade of options for you. 
Best Places to Camp in Batangas, Philippines
Below is a list of places I highly recommend for fellow nature lovers and campers. These spots in Batangas perfectly capture the land's beauty and even offer you a handful of exciting activities to make it a truly memorable adventure. 
Mount Gulugod Baboy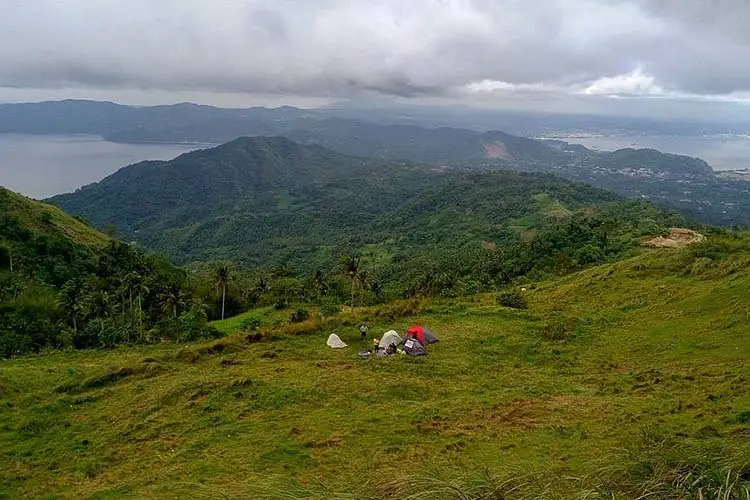 – A Pretty Laid-Back Mountain Camping Experience 
Besides beaches, Batangas is also home to many stunning mountains. One of the best mountain trails in the area is Mount Gulugod Baboy. The hike is relatively easy and is suitable for beginners as it is a pretty straightforward trek to the top. 
I highly recommend you camp overnight to fully enjoy the experience as few can match the sunset and sunrise view that Mount Gulugod Baboy can deliver. You can also go straight to the beach, which is pretty much a stone's throw away from the mountain. Take note that there is an entrance fee, which is relatively cheap. You can also hire a tour guide for about P500 or $10. 
I also suggest you ask the guides or locals there as to which place near the summit you can pitch a tent as it can get quite windy over there. I was also pleasantly surprised to discover that there are restrooms and stores near the mountain's summit, which is incredibly convenient. 
Mount Maculot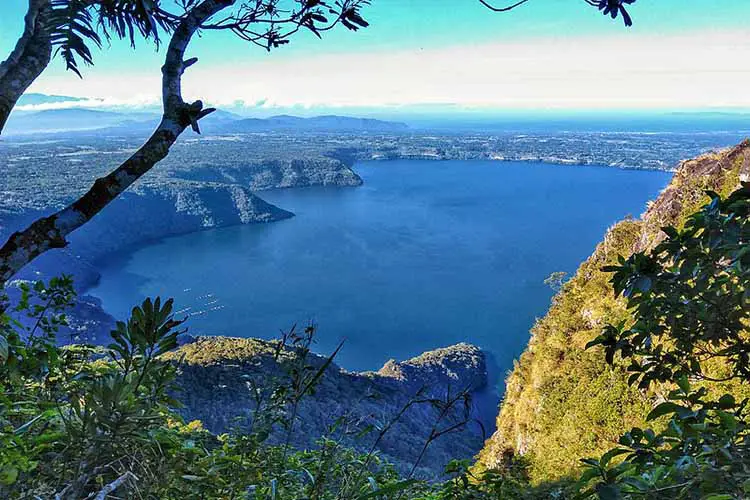 – The Best Mountain View in Batangas
Offering one of the best views of Batangas, Mount Maculot is another must-visit location. However, beginners don't need to worry as the hiking trail to the summit is pretty chill and won't be too much of a problem. You can pick three routes to the top of Mount Maculot:
The summit

Grotto (an artificial place of worship and rest for the weary)

The Rockies (basically, the peak with the best views) 
You can either rent a tent or bring one of your own. A mountain guide can get you to the campsite for around P800 or $15, while an additional P100 or $2 fee can take you to the summit. Additionally, you can find restrooms near the grotto. 
I recommend you go for the Rockies as it offers a full 360 view of Batangas. I promise that it is certainly worth the additional challenge.
Mount Manabu
– A Classic Mountain Hiking and Camping for Adventure Seekers
Batangas offers truly perfect mountains for beginner climbers while still delivering breathtaking views. Another such example is Mount Manabu, which has a pretty relaxing mountain trail with numerous rest stops in between. In addition, the trek to the summit will only take a couple of hours and has a pretty comfortable ascent, so carrying a tent and other essential camping equipment won't pose too much of a hassle. 
The thick forest trail also offers a lovely shade from the blistering sun, which further helps make the hike quite a relaxed affair. Getting to the campsite is pretty easy, but I recommend hiring a guide if this is your first rodeo. 
The campsite is quite large and can easily accommodate up to 20 tents. I also advise you to bring a plastic bag for collecting your trash. Please be a responsible camper. 
Manuel Uy Beach Resort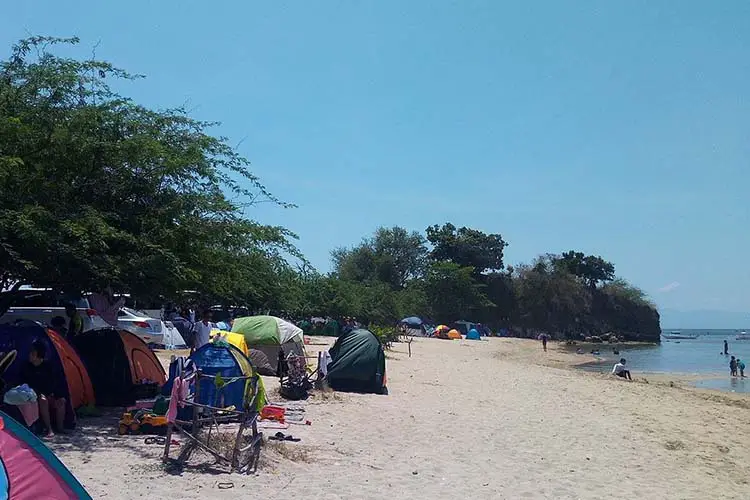 – Soak in Some Fun in the Sun in this Serene Seaside Camping Ground
With several activities available and convenient facilities to make your stay as relaxing and comfortable as possible, the Manuel Uy Beach Resort delivers a cavalcade of fun for all. The beach is about three hours away from Manila, and we do not include the traffic in this guesswork. That said, I recommend you leave Manila in the early morning to avoid most of the guaranteed traffic. 
Once you get there, the resort can offer you tents for a price, which is why I suggest you come prepared and bring your own. The campsite has access to restrooms, and the shoreline where you can pitch your tent is just perfect for sunrise viewing, with the crashing of waves and cool morning breeze being the icing on the cake. 
Of course, you can also do several of the activities offered in the resort, such as an island hopping tour that will bring you to Starfish Island, among other stops.
Bituin Cove
– A Hidden Gem Amidst Batangas' Many Natural Treasures
Bituin Cove is one of my most highly recommended spots in Batangas for beach camping. The stunning turquoise waters and calm waves can wash away the stress from your mind in an instant. I have been to Bituin Cove a couple of times, and I plan on visiting again soon. 
The beach itself is not that well-known yet. Expect to have a pretty peaceful overnight stay if you decide to camp at Bituin Cove. Take note that there aren't any modern restrooms or amenities, but there is a Pozo where you can get water and a pretty basic comfort room. 
You will also need to pay an entrance fee, camping fee, and environmental fee. Optional expenses include a tent and cottage rental. There is a small store there where you can purchase food and drinks, but it is not guaranteed to be open every day. 
To get to Bituin Cove, you will need to ride a bus from Manila to Nasugbu, Batangas. Once you arrive at the terminal, you can hire a tricycle to bring you to Barangay Calayo, specifically Calayo Beach. Then, ask around where you can ride a boat to take you to Bituin Cove.
Verde Island
– An Emerald Tropical Paradise
With its kilometer-long white sand beach, Verde Island offers a verdant and relaxing environment ripe for that perfect beach camping experience. The campsite provides extra convenience for guests with solar lamps to illuminate the camping grounds at night and a cooking area. Note that electricity is only on from 6 pm to 10 pm and only double-sized tents are permitted at the campsite. 
I recommend planning your visit to Verde Island from January to May as the weather is relatively calm during this period. It is not yet tourist season, as well. The island is not exactly huge, so activities are pretty much limited down to "R & R." However, you can hire some of the boats there to go island hopping. 
Fortune Island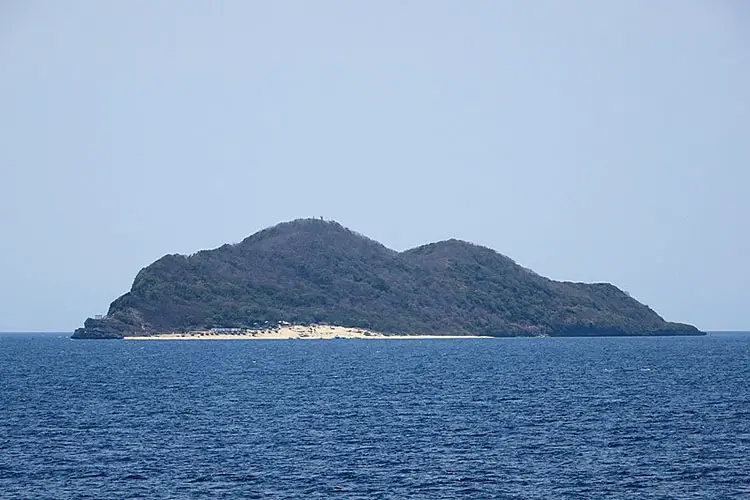 – Camping in One of Batangas' Most Unique Landmark
Fortune Island features a set of Greek Ionic columns with a distinctly unique Greek aesthetic. This was once a private island that was turned over to the government and is now a popular Batangas tourist spot, 
The ambiance of the island captures its distinctively Greek inspiration. Surrounded by a vast and clear blue ocean, you can see why this is also a popular campsite for couples. For thrill-seekers, you can go cliff diving, and for those who want to relax, there are cottages for rent on the island as well. 
If you are interested in visiting this popular Batangas travel spot, I recommend checking out this pretty affordable day tour for your convenience.