Traditional Hungarian Christmas dessert with poppy seeds and honey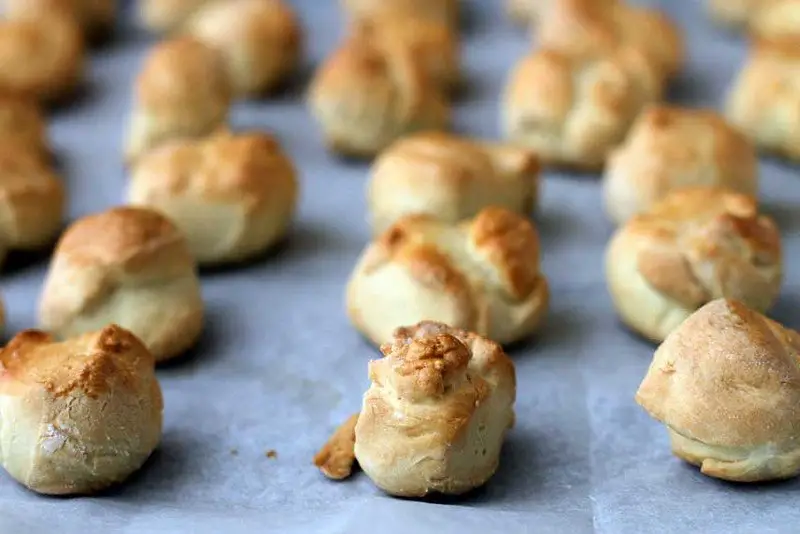 This dessert brings back so many memories from my childhood. In Hungary, the Christmas tree is decorated on the Holy Night (December 24) in immediate families. For us, Christmas is a private, family holiday and we don't go to parties. Most families decorate the tree together, but some families keep the tradition that the tree should be a surprise for children, who believe it is brought by angels.
When I was a child I entered the room with my brother only when the small tree bells rang. Everything was magical: the smell of the Christmas tree lit candles and sparklers on the tree. Gifts were laid around the tree with small labels saying who they were for. We usually sang one or two Christmas songs, then opened the gifts and spent the night together.
The menu for Christmas Eve in Hungary is very traditional. We usually have fish soup made from carp, followed by fried carp with french fries or potato salad. As a dessert, we eat beigli, a special pastry roll filled with poppy seed or walnut.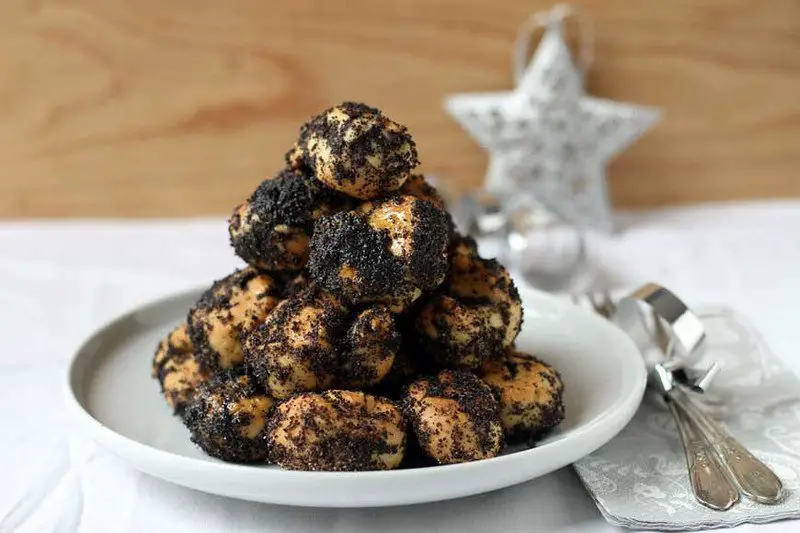 Also a Christmas classic, mákos guba is a dessert made with poppy seeds and honey. Poppyseed is a popular ingredient all over Central-Eastern Europe and there are many dessert recipes in the Hungarian cuisine that call for it.
Mákos guba is baked in the belief that the poppy seeds bring good luck and lots of money in the new year. A quick way to make it is using a day-old, dry kifli, a crescent-shaped pastry, but you can use any type of roll or bread. I make it the traditional way from yeasted dough as I learned from my grandmother.
Mákos Guba, Hungarian Christmas Dessert Recipe
Ingredients (serves 2):
20 ml lukewarm milk
1 + 5 tsp sugar
12 g fresh yeast
280 g all-purpose flour, sifted
40 g unsalted butter, melted
1 egg yolk
1 egg white, for the glaze
pinch of salt
5 tbsp honey
10 tbsp ground poppy seeds
boiling water
Directions
Before you start making the dough, keep all the ingredients at room temperature for an hour.
In a small bowl dissolve the yeast and 1 teaspoon of sugar in 10 milliliters of lukewarm milk. Let it stand until foamy, about 5 minutes.
In a large bowl whisk the egg yolk with 5 teaspoons of sugar and a pinch of salt. Then add the melted butter. Add the yeast mixture and the remaining lukewarm milk. Gradually add the flour and use a wooden spoon to combine the dough. When the dough holds together, it is ready for kneading.
Turn the dough out onto a well-floured surface and knead until smooth, shiny and elastic (about 10 minutes). Place the dough in a buttered bowl, turning to coat evenly with butter. Cover with a tea towel and let it rise in a warm place for an hour, until it's almost doubled in size.
Pinch a small piece from the dough and on the floured surface roll it out (with your hands and palms) to form a 10 cm-long rope (diameter 2-3 cm). Repeat with the remaining dough. Cut each rope into small (2 cm long) pieces and form them into small balls with your hands. Place them on a baking sheet, cover with a tea towel and let them rise again for 30-45 minutes.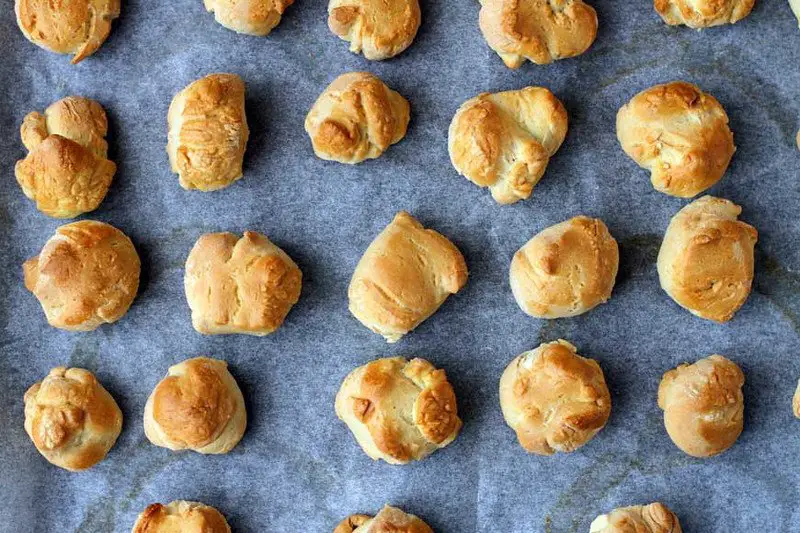 Preheat the oven to 180°C (350°F). Brush the balls with the remaining egg white. Bake until golden brown for about 30 to 35 minutes.
Place the baked balls in a heat-proof bowl and add in boiling water, just enough to cover. Let them soak for 3 to 4 minutes, then drain.
Place the balls in a serving bowl, pour honey over them and sprinkle with poppy seeds. Mix with a spoon and serve warm.
*All photos by Zita Nagy ©
Cooking Around the World takes place each Friday. Visit the archives.
Pin for Later