One of the best parts of travel is discovering new foods.
Luckily when I arrived in Bogotá, I was equipped with great foodie information from a friend who is married to a Colombian and has made several trips to the capital city of Colombia.
I had five days to experience the culinary delights of this city, and here I share my list of food in Bogota that you simply must try.
You may also like: Traditional Foods In Argentina
The Hearty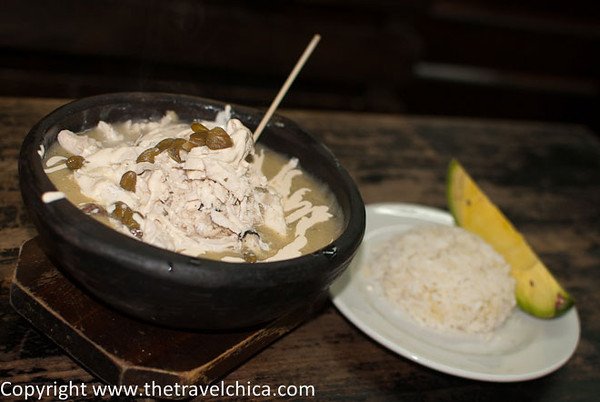 Ajiaco (above) is a savory and satisfying traditional soup. It is made with generous proportions of shredded chicken, potatoes, corn, and avocado. The soup is topped with fresh cream and capers.
Sancocho is a delicious soup made with any kind of meat cooked with corn, potato, yucca, and local spices. You can find sancocho made with fish as well, but ask if the fish has bones before ordering. It is a bit difficult to enjoy a soup with teeny bones invading every bite.
You may also like: Cooking Around The World: Peruvian Potatoes
The Sinfully Delicious
The arepa is a common breakfast or afternoon snack in Bogotá and is usually considered to be comida rápida (fast food). There is quite a bit of variety in Columbian arepas, which makes them all the more fun to sample.
The actual arepa is the flat, round unleavened patty. It can be made with cornmeal or flour. It can be grilled, baked, or fried. The arepa is then stuffed or topped with, well, almost anything. Traditional toppings include cheese, meat, eggs, or chorizo.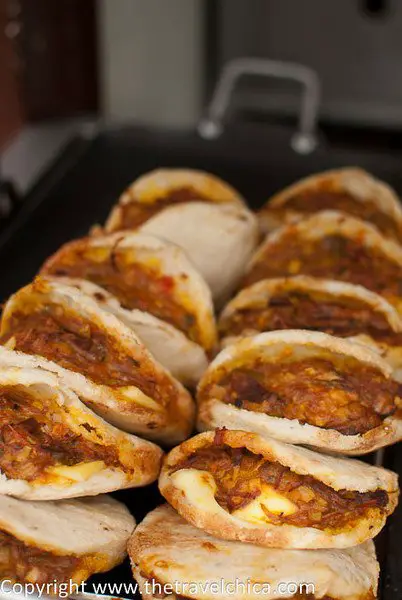 You may also like: The World Of Wine In Mendoza, Argentina
This delicious drink will warm you up on those cold days in Columbia. Chocolate Santafereño is a cup of hot chocolate served with a large chunk of cheese and bread. You drop the cheese in the chocolate to melt, which adds an interesting flavor and makes this sweet drink more savory.
The Fresh and Healthy
After trying the food in Bogota listed above, you might be craving something healthy and on the lighter side.
Fresh fruit is everywhere in Bogota. You can buy it at the many small stores in the streets of the Candelaria historic neighborhood. There are also convenient fruit carts, especially around the main square, where you can get a cup of pre-sliced mango, papaya, or pineapple. It is the perfect healthy snack when you are out exploring for the day.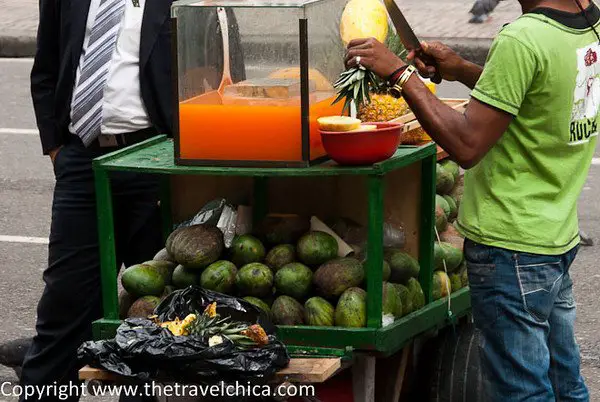 Also, keep an eye out for the fresh-squeezed orange juice carts. There is nothing better than watching a vendor make your orange juice right in front of you. Ask for it sin azucar (without sugar) for an even healthier option.
Have you been to Bogota? What is your most favorite food in Bogota?
All photos by, and property of the author.
Pin for Later